By Diego Allessandro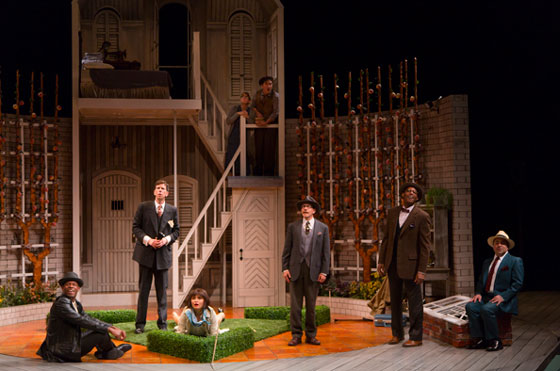 (RED BANK, NJ) -- The Two River Theater in Red Bank has chosen to open its twenty-first season with an ambitious choice, the seventeenth century play "The School For Wives" by Molière, known today as "The Shakespeare of France." The play, translated from the original French by American poet Richard Wilbur who specializes in the French comedies of Molière and dramas by Jean Racine, was written in 1662. Directed by Mark Wing-Davey, veteran director and actor of the stage who rose to prominence in the U.S. in 1992 with an acclaimed production of Caryl Churchill's "Mad Forrest" at the New York Theater Workshop, "The School For Wives" keeps the audience in stitches with laughs as big as its rotating set designed by David Gallo.

Reimagined from the seventeenth century to a small town in France in the 1950's, the play follows the wealthy middle-aged Arnolphe who has chosen the name of Monsieur de la Souche and plans to put into effect the final act of a plan to take his ideal wife. Having stashed the young and beautiful Agnès at a convent most of her life, she now lives in a house he owns under the name de la Souche as his ward. After returning from a ten day trip out of the country, Arnolphe returns to find out that his young soon-to-be-wife has fallen for the idealistic and trusting Horace. Unaware that de la Souche and Arnolphe are one in the same, Horace confesses his plan to whisk her away from Arnolphe and enlists his help. Arnolphe and his dimwitted servants Alain and Georgette scheme with Arnolphe's inside knowledge of Horace's plans to tear the couple up and save his honor.

The play features an amazing cast headed by Robert Stanton as the jealous Arnolphe. Stanton, who admits to being raised in a house with a strong maternal presence, believes the title to be a meta-title; a lesson in what man a lady does not want to choose for a husband. Wanting to avoid having a wife who cheats on him, Arnolphe schemes not only to deny young love but to keep her weak and unenlightened; scheming that constantly blows up in his face with a big laugh. Korey Jackson, who plays young suitor Horace, brings all of the excitement of young love to life genuinely. Jackson believes the setting of the play, 1950's France, helps to keep the issue of the treatment of women universal. The chemistry between Stanton and Jackson is evident from their first moment on stage with Stanton playing an upscale Wile E. Coyote to Jacksons determined Road Runner.

Phillipe Soo is charming and delightful as Agnès who proves to be brighter and gutsier than Arnolphe is aware. Deep within her performance is the right balance of vulnerability and idealism one would expect of a mid-twentieth century young woman. Real life brother and sister Carson and Bree Elrod play Arnolpe's servants Alain and Georgette. Charged with keeping Agnès locked away and tending to the house they steal each moment their characters are engaged with each other or the main characters and receive the biggest laughs of the night. Their Three Stooges like comedic performances are a highlight of a strong cast. Carson Elrod, who is proud and pleased to be working closely with his sister, however believes that the play is growing more relevant with the situation currently brewing in the NFL since the Ray Rice tape went public.

Stanton also believes the play to be every bit as relevant now as it has ever been. He said that though gay rights are advancing nationally in America, it seems that womens rights are "rolling back." He cited the political fight between the two major parties over Roe V. Wade and the issue of companies supplying contraceptives to women per the Affordable Care Act in his explanation on his views on Arnolphe and the message of the play. Right he is, even within the story Arnolphes good friend Chrysalde, played by Billy Eugene Jones, warns Arnolphe that men who tighten their jealous grips on the women they love in an attempt to avoid "playing the cockolds role" are merely condemning themselves to play the part.

One does not need to be a Francophile to enjoy "The School For Wives" nor does one need an appreciation of the history of theater or socio-sexual politics. There are laughs aplenty throughout for any theater goer and a lesson at its heart.

The play will continue through October 5th and the theater has a special for patrons under thirty to see the play up front for $20. Tickets can be purchased by phone at 732-345-1400 or via www.tworivertheater.org. An audio-described performance has been scheduled for October 1st at 1 P.M. and an open-captioned performance will take place October 4th at 3 P.M.