By Gary Wien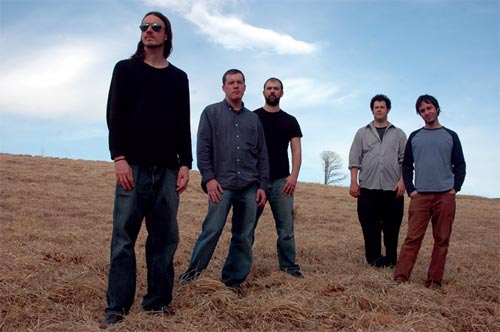 Scarecrow Collection is the latest band from New Jersey to sign with a major label. The North Jersey based band will release their first CD ("Radio Frequency Disaster") on Harmonized Records in March and will celebrate with a CD release party at Mexicali Blues in Teaneck on Friday, April 20th.

"Mexicali Blues has kind of been our home base," said guitarist Nick Setteducato. "When we started playing live we were playing North Jersey and New York and we were only doing one or two shows a month. Then once the lineup got set, we started taking things a bit more seriously and Mexicali was pretty much our home. It's got this great stage and a great sound system and some of the nicest people running the place. They're all about live, original music, which really makes the difference. People notice that too. We have people who want to see us there. The crowds have been growing and hopefully the CD release will just be the culmination of all that. We're actually going on tour following the show, so it's going to be like a big goodbye party too."

The band is comprised of five pieces - Ed Fritz on keyboards and vocals, Mike Sojkowski on bass guitar, Joe Fee on drums, Gerard Fee on guitar and vocals, and Nick Setteducato on guitar and vocals. As with many jam bands, Scarecrow's sound is a blend of many different styles, but what really sets the band apart is the way pop music plays a bit of a role. It's that pop sensibility that allows Scarecrow Collection to create studio records that would fit on the playlists of many different radio stations as opposed to jam bands that might be limited to just jam related shows. Gerard, who is the primarily songwriter, is drawn to a lot of singer-songwriters and that is reflected in his lyrics as well.

"We're definitely more in creating songs," said Setteducato. "We don't try to make the song a vehicle for the jam; we almost do the opposite. If there's room for improvisation or extension at the live show then that's cool, but if not then the song can stand on its own."

"We've got all of these different influences but I think - especially with this album now - we'll come across better," he adds. "We're just trying to sound like us now."

To get that sound, the band abandoned the modern ways of recording and returned to the days of analog tape. When you hear tracks from the new record, you can actually hear a difference. It sounds new, but familiar in a way.

"We did it all on analog tape to get that warm 70s kind of album," explained Nick. "It's a sound that's kind of missing in a lot of the newer stuff. Everyone has their own digital studio now, so we consciously worked on the songs. We knew exactly how we wanted them to sound and how we were going to record it and all that."

The title of the disc - "Radio Frequency Disaster" - comes from a lyric in the opening track "I Won't Leave You There." It sort of reflects on the state of the radio industry today with things like satellite and internet radio joining the game but less and less of the big time DJs like in the past.

"I read about David Byrne who used to write the lyrics for The Talking Heads and not knowing what they meant until after they recorded it," said Setteducato. "This was kind of like that."

The band's record deal along with their new booking agent will allow Scarecrow Collection to begin taking their live show to new areas of the country. Even though Scarecrow Collection boasts an impressive number of festivals on its resume, the band really hasn't toured that much. This will be only the band's second real tour outside the area, but the timing couldn't be better for them. In addition to the new release on Harmonized (a label that includes such popular touring acts as RAQ, Lotus and Perpetual Groove) the band's following and respect in the jam band world is at its highest level yet. Last year, Scarecrow Collection played The Gathering Of The Vibes music festival for the third straight year, but this time the band was put on the main stage and literally opened the festival in front of thousands of jam band fans!

"It was the first music of the weekend and it was on the biggest stage we ever played on and probably in front of one of the largest crowds we've ever played in front of," said Setteducato. "That was one of those things that I'm sure will always stick with us. It was just a really great experience to look across the stage and see Ed at his keyboards and he's farther away than he's ever been!"

The list of festivals Scarecrow Collection has played during the past few years includes The Black Potatoe Music Festival (Clinton, NJ), Strange Creek Music Festival (Greenfield, MA), Stonehenge Music Festival (Kellyburg, PA) and the previously mentioned Gathering Of The Vibes (Bridgeport, CT). It was actually at a festival that Harmonized Records approached Scarecrow Collection. They liked the band's live set and told them to send some of the rough mixes they were working on. A few months later, the band became the newest member on the label's roster. Not bad for a band who's roots were started years ago at an open mic in Montclair, New Jersey.

One thing that probably won't change is hearing people ask them why they don't sound like Bruce Springsteen or Bon Jovi if they're really from New Jersey. According to Setteducato, the band not only hears that from people when they're on the road, but they even hear it in Jersey as well!

"It's funny because I get in arguments about New Jersey with people," he explained. "People drive through New Jersey and all they see is the turnpike. I guess we're just a product of all these different backgrounds, so it really has nothing to do with New Jersey until you hear us talk!"

---
Gary Wien has been covering the arts since 2001 and has had work published with Jersey Arts, Elmore Magazine, Princeton Magazine, Backstreets and other publications. He is a three-time winner of the Asbury Music Award for Top Music Journalist and the author of Beyond the Palace (the first book on the history of rock and roll in Asbury Park) and Are You Listening? The Top 100 Albums of 2001-2010 by New Jersey Artists. In addition, he runs New Jersey Stage and the online radio station The Penguin Rocks. He can be contacted at gary@newjerseystage.com.
---