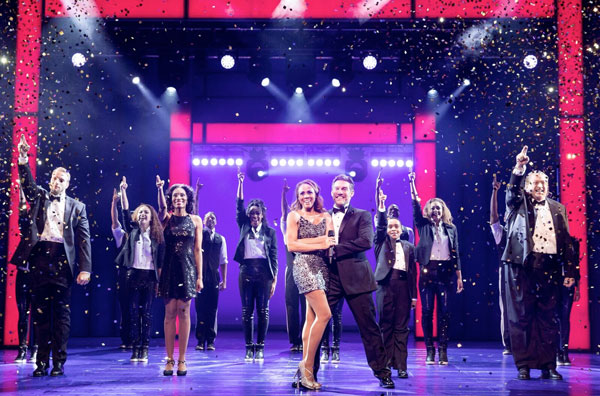 Romantic. Thrilling. Colorful. Incredible vocals sung to a playlist of pop songs from the '80s and early '90s. For all of these features and more, it is not hard to fall in love with The Bodyguard at the Paper Mill Playhouse in Millburn. 
It is no surprise that The Bodyguard kicks off its North American premiere at one of New Jersey's theatrical gems, the Paper Mill Playhouse, which received the 2016 Tony Award for best regional theatre. The play is based on Lawrence Kasdan's 1992 film The Bodyguard, which features pop superstar Whitney Houston and Kevin Costner. Houston herself is considered a legendary New Jersey icon, having roots from Newark and East Orange.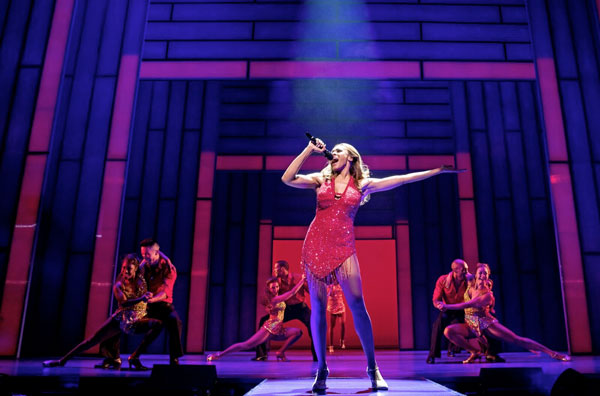 This production of The Bodyguard is a must-see (and must-hear!) because of two dynamic songstresses who effortlessly belt out Houston's greatest hits. Deborah Cox powerfully delivers 13 songs in this production, most notably "I Have Nothing," "I Will Always Love You," and "One Moment in Time." Cox herself is a Grammy Award-nominated recording artist who made her Broadway debut in the lead role in Elton John and Tim Rice's Aida. 
When discussing this role, Deborah Cox is quoted in The Record as saying, "It's big shoes to fill. These songs are iconic, and people have expectations. I think that we want to represent this show, this property, as best we can, so there's a lot at stake. And also, we want to tell a story. It's not a jukebox musical. This is a real piece of art, of theater. It's a compelling story."
The second vocal powerhouse on stage is Jasmin Richardson who brilliantly delivers "All at Once" and "Saving All My Love." The audience savors a double treat when Cox and Richardson sing together, most notably in a stunning duet on "Run to You."
---
The article continues after this ad
---
---
Rounding out the principal cast are Judson Mills (Walker, Texas Ranger), capably taking on the role of Frank Farmer; Alex Corrado (Gotham, Hannibal) as Tony Scibelli; Charles Gray (The Color Purple, Grease) as Bill Devaney, Rachel's personal security guard; Jonathan Hadley (Jersey Boys, A Class Act) as publicist Sy Spector; Douglas Baldeo (Kinky Boots, Motown) and Kevelin B. Jones III (Idlewild Music Festival) alternating in the role of Rachel's son Fletcher.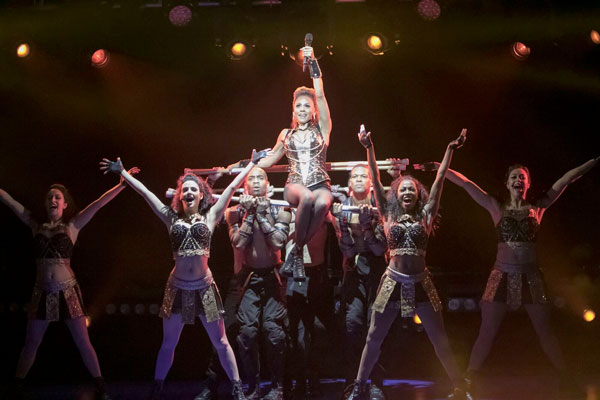 Kudos must be given to the entire production staff. Thea Sharrock (Equus) is the director, and the book is written by Alexander Dinelaris (Birdman). The musical direction is under Matthew Smedal and the choreography is by Karen Bruce (Strictly Come Dancing). 
The Bodyguard tells the story of superstar Rachel Marron (Deborah Cox), who receives death threats from a clever-yet-menacing stalker (Jorge Paniagua). Her entourage hires former Secret Service agent turned bodyguard Frank Farmer (Judson Mills) to protect Rachel. 
With top hits and a possible Oscar on the way, Rachel is not willing to give up her freedom and rigorous concert schedule to protect herself, which directly conflicts with Farmer's urgency to guard her at all costs. Both Marron and Farmer are more interested in taking charge and setting their own agendas. So it comes as a surprise to both when they find themselves falling for each other. A love-triangle develops as Rachel's sister, Nicki Maron (Jasmin Richardson) also comes to care for the handsome and protective Farmer. 
The plot thickens as the stalker gets access to Rachel's son, Fletcher, and later, to Farmer's home in the country. Does Rachel make it to the Oscars? How is the love triangle resolved? Is the stalker captured or does he succeed in harming Rachel and/or her family? All is answered by the play's conclusion.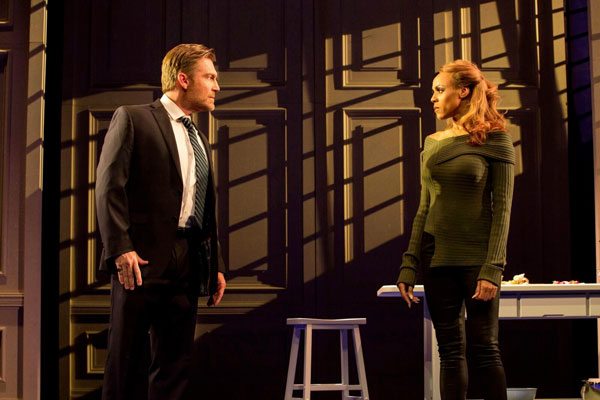 The production takes clever use of film montages, a scrim curtain, and colorful lighting (Mark Henderson) that make the viewer feel at times like he or she is actually at a rock concert. Houston's pop hits like "I Wanna Dance with Someone" and "I Get so Emotional" are cleverly interspersed throughout the show. There is even a fun use of karaoke to "Where do Broken Hearts Go?" which smoothly transitions into a captivating performance of "I Have Nothing." 
By the show's ending, audience members erupt in a standing ovation. If you have an opportunity to see this production, do so. And if you do, make sure you stay until after the curtain calls, as you are in for a fun and special surprise!
"The Bodyguard" is running at the Paper Mill Playhouse in Millburn through January 1. Afterwards, the production is set to tour nationally. For more information call 973–376–4343 or visit PaperMill.org.
All photos by Matthew Murphy except for the third, which is by Jerry Dalia.