By Gary Wien
originally published: 04/26/2020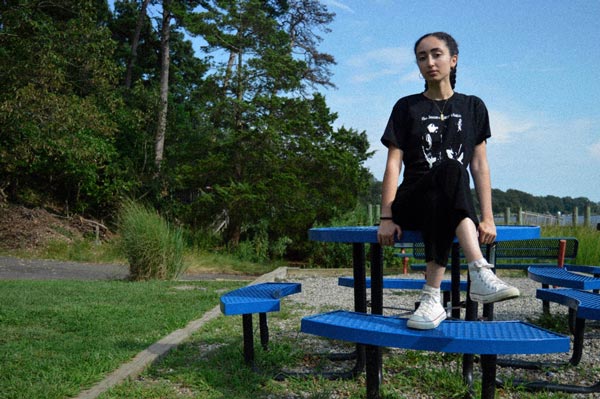 Because of COVID-19, most of us have had to learn how to adapt to the changing world, and sometimes that's difficult. In the midst of social distancing and quarantine, things can seem disheartening, but ultimately we know we're all taking these precautionary measures so we'll be better off in the long run. But for those on the front lines of this crisis, social distancing isn't always an option. Sara Barry of the band Teen Idle has organized Songs from Quarantine - a compilation of quarantine songs that is meant to benefit those impacted by and on the front lines of this crisis. New Jersey Stage spoke to her for more information on the project, which is available online.
Tell me about the compilation. How did the idea come about?
When we were in the early days of the pandemic and kept hearing news about places shutting down, as well as concerts and tours being cancelled, I remember feeling pretty disheartened about the state of the world, as I'm sure everyone was. But one day I woke up with this realization that, since everyone is in the same predicament, most people would love to involve themselves in something to help the days go by. I started to see the different projects people were doing to pass the time—baking decadent desserts, tie-dyeing, making DIY decor, journaling, etc.—and I dabbled in all these things but wasn't really satisfied.
I realized that most artists and musicians were sitting around with this unfulfilled creative hunger, so I wanted to capitalize on that. As I started to think of what type of collaborative project I could put together, COVID-19 seemed to be spreading faster and faster, which is when I realized the project should probably address the crisis directly. At first, I just wanted to do a cover song where various musicians would record their parts and contribute different instruments, so I posted on social media asking who'd be interested in collaborating on something like that. As the days went by though, I got tired of that idea.
Then I came across this Bernie Sanders benefit compilation that a few musicians organized to help raise money for his campaign, which I thought was brilliant (regardless of the unfortunate outcome of the campaign itself). So I started to think it'd be cool if someone brought a bunch of songwriters together to create a COVID-19 benefit compilation. Then I figured, instead of someone else, I could just do it myself.
---
The article continues after this ad
---
---
Has anyone you know contracted COVID-19? Or do you know anyone working on the front line?
A couple of my sisters friends from college have gotten it and either recovered or shown no symptoms. But unfortunately we have a family friend who just passed away from the virus, and he was only in his 50s. I can't imagine what their family is going through. I see people still not taking social distancing seriously, but the impact of the virus becomes so much more immediate once you know someone affected by it.
You've got artists from 5 different continents on this which is remarkable. How did the bands come on board?
At first I wanted the project to be pretty homegrown, so I reached out to some NJ artists and asked if they'd be interested in writing an original song for a quarantine compilation. I asked a lot of Asbury bands I love, some of whom were already friends, and for the most part people were very responsive and receptive. We've got Deal Casino, Max Connery (Sonic Blume), and Teen Idle (my band) on the compilation representing Jersey.
After having some local artists on board, the project still seemed like it could be bigger and bolder, so I decided I should go on Bandcamp and try to find really good songwriters outside of NJ. That website is where I've discovered some of my favorite music, so I figured it'd be a good bet. Then at some point, I decided I wanted this thing to be international, just like the scope of COVID-19 itself, so I started searching super specific keywords on the website, like "Egyptian alternative rock" or just searching the website by country. After that, I sent more emails than I can remember and hoped some of these artists would want to be involved.
How does it make you feel that so many artists took part in this?
I couldn't be happier with how the project turned out and I'm grateful that all the artists involved, a lot of whom were strangers before this project, trusted me with their music and this compilation. I wanted to represent as many genres on the compilation as I could, so I'm happy the final product ended up reflecting that. I'm also excited because I feel like the comp gives artists who might not have otherwise been discussed in the American indie rock scene a chance to share their music with a new audience. I'm noticing that a lot of the featured artists, who were previously strangers, are now supporting each other's music, which makes me very happy.
In addition to the music being available digitally, people can buy a limited-run cassette as well. What is the idea behind offering a cassette rather than a CD?
CDs are easy to make, but they didn't seem right for this project. I feel like people tend to listen to CDs mostly in the car, and considering pandemic life, no one is driving much, if at all. I also can't remember the last time I bought a CD. A few months ago I joined the roster at Green Witch Recordings, a vinyl and tape label based in NYC, and they turned me onto the idea of putting this compilation on cassette. There's a lo-fi quality to tapes that I like, and I really just wanted everyone to own a bright yellow cassette.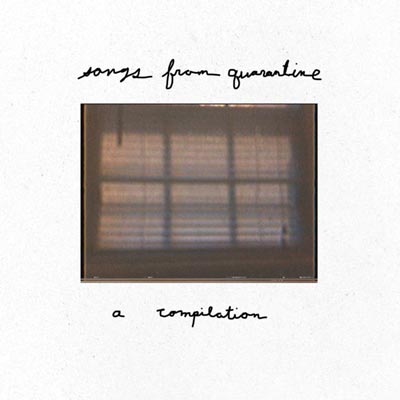 How have you been doing in quarantine? Have you learned anything about yourself during this time? What are you most looking forward to doing again?
I'm actually doing well. During the first week or so I was losing my mind, but everything seems pretty mild and tranquil now. I've been doing random projects to keep busy, including promoting this compilation, and I feel like I'm enjoying this time of self-reflection. You'd think this would be the perfect time to write music, but for whatever reason I can't bring myself to write anything new, except the song I did for the compilation. Instead I've been exercising, reading, and enjoying the comedic relief of memes made from the president's press briefings. Once this is all over, I'm excited to finally start the part-time job that I got literally days before this all started.
Tell me a little about your band. Where can people get your music? What are your webpages and social links?
Teen Idle is my solo project, or band, whatever you want to call it. It started when I was in my senior year of college. I was having a frustrating year and figured it'd be the perfect time to become more serious about songwriting, so that was all I did in my free time. I did a songwriting project where I wrote a song every day for a week and uploaded it to Bandcamp, and then I was kind of like, "hey, this is actually fun," so I kept writing and writing.
I've been writing songs since I was around 14, but these songs felt like they were more mature. I really like when solo artists have a band name/musical alias, like St. Vincent or Soccer Mommy, so I decided to call the project Teen Idle. I actually haven't played my first show yet, because I was pretty consumed with songwriting, recording, and production the past year, but once concerts are allowed to happen again you can expect to see some Teen Idle shows in Asbury.
Social Links - Instagram: instagram.com/teenidlemusic / Twitter: twitter.com/teendilemusic / FB: facebook.com/teenidlemusic / Bandcamp: teenidle.bandcamp.com
Finally, anything you'd like people to know about the compilation that we haven't got into?
100% of the profits of the compilation are being donated to the World Health Organization's COVID-19 Solidarity Response Fund. The cassettes have almost sold out in the pre-order—which is awesome—so if you want one, I'd get it soon! The compilation is available here.
---
Gary Wien has been covering the arts since 2001 and has had work published with Jersey Arts, Elmore Magazine, Princeton Magazine, Backstreets and other publications. He is a three-time winner of the Asbury Music Award for Top Music Journalist and the author of Beyond the Palace (the first book on the history of rock and roll in Asbury Park) and Are You Listening? The Top 100 Albums of 2001-2010 by New Jersey Artists. In addition, he runs New Jersey Stage and the online radio station The Penguin Rocks. He can be contacted at gary@newjerseystage.com.
---