By Gary Wien
originally published: 08/27/2019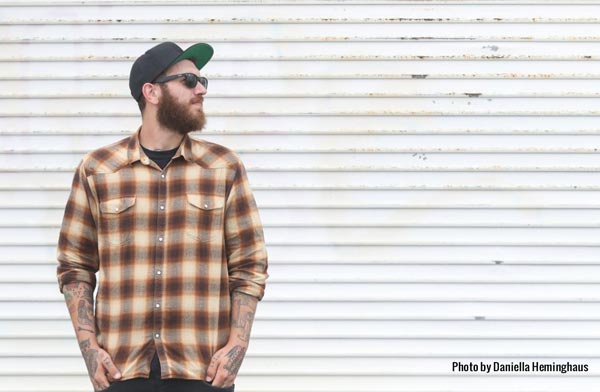 Morris County native Sammy Kay didn't think he had anything left after his third album, Untitled.  He was battling mental health issues and substance abuse.  He was tired of touring and didn't know what his future would hold, but he still believed. In fact, he ended Untitled with the song "I Believe." 
It's good that he kept the flame burning because the recently turned thirty year old has got an absolutely brilliant album called Civil/War coming out in October.  The folk/Americana styled album focuses on five aspects of mental health: depression, anxiety, addiction, and the themes of empathy and understanding.  The songs sound confessional, but Kay swears they aren't.
"The whole record was a weird one because I sat on these songs and started writing them a long time ago - pretty much after Untitled came out," explained Kay.  "They just sat because it was just to write and get out what I'm seeing as I'm working this job.  The thing about the whole record is nothing is about me.  It was about the things I was seeing, but weirdly everything I wrote about on that record was foreshadowing the shit that, in turn, has happened in my life since then… which is fuckin' weird."
Kay says there are two songs on the record which are autobiographical: "Orange Swirls" and "Vape City Bruh."  The others just sound true to life because of the way Kay sings and presents them.  His raspy voice emits the brunt of pain and longing.  It's the voice of a guy who has seen more things than most people will see in a lifetime.  He's toured the world, playing with or onstage alongside such iconic bands as The Gaslight Anthem, Mumford & Sons, American Aquarium and The Bouncing Souls.  
Kay is one of the rare Jersey artists who plays more shows outside the state than at home. He's spent time living in Brooklyn and Los Angeles over the years, but there's no denying the Jersey in his songs.  Fans of Gaslight Anthem looking for something new will love Civil/War.
---
The article continues after this ad
---
---
Ironically, "Orange Swirls," which closes out the album, was not even supposed to be on the record.  Kay had an off day while on tour and booked some studio time.  As he was driving from Asheville, North Carolina into Raleigh, he found himself stuck in traffic and the song just came to him.  They finished it that night and Kay sent it off to fellow songwriter Matthew Ryan.
"He's been a good friend and one of the best people I could have in my life period," said Kay. "I send him everything I write and he tells me his critique.  He just said this song needs to be on the record.  The conversation went like this: What do you think about this song? This needs to go on the record.  Really? This needs to go on the record.  How's the weather today? This needs to go on the record!"
Kay says part of his hesitation stemmed from the song being more about his life than the others, but it's a powerful song to end the album. It's nostalgic, hopeful, and fits the album's message perfectly.
"I don't like writing about myself because I don't want to have to think about myself," he explained.  "Some of those Fourth Street Singers songs were so autobiographical that now going back, I don't want to sing them.  I don't want to play them.  So, I've been trying not to write as much about me and have been trying to use 'us' and 'we' as much as possible.  I try not to write as much 'I.' I'll put glimmers of my life into stuff now, but Fourth Street Singers - half of that record is about me wanting to go into rehab and the other half was written about how I'm in rehab.  It was yearning to sober up and then sobering up.  It's a weird thing to have to revisit every night.  It's like how I don't like to write about girls I'm dating because down the line you're going to have to revisit it."
It's probably a good thing that so many musicians have faced their own battles with alcohol because it means many people are out there to support Kay.  He's found kindred spirits across the Americana and punk landscape — even performing at a festival which included an AA meeting backstage.  Kay goes to meetings regularly, but doesn't have an actual home group.  Instead he goes to different meetings to hear their stories and talk to people.
He admits that he stopped going to meetings completely for a while, but a special needs kid changed his life in many ways such as attending meetings again.  Kay had gone through a period in which he struggled to hold on to a job.  A girl he was dating suggested he should start working with this special needs kid and it turned out to be a great move for both of them.  He began seeing the world through this guy's eyes and experiences. What he learned most of all dealt with empathy. 
"It came down to realizing that I had forgotten what it was like to walk in other people's shoes," said Kay.  "And he helped my mind have a reawakening, an understanding, of what it is to be a good person.  What it means to love unconditionally.  That let me go back to these meetings with an open mind."
It's a cliche to say that artists need to go through hell in order to create their best work, but it does happen to many artists.  Kay thinks he likely benefited from the path he traveled as well.
"I don't think I'd be writing as good songs if I didn't sober up," said Kay.  "I've lived a good life.  I just turned 30.  Realistically, I shouldn't have lived to 30, but I've gotten to do a lot of cool things that many people only dream about.  I actually don't think I would change my life at all at this point.  Everything that's happened has driven me somewhere to get better - to be the best person, you know?"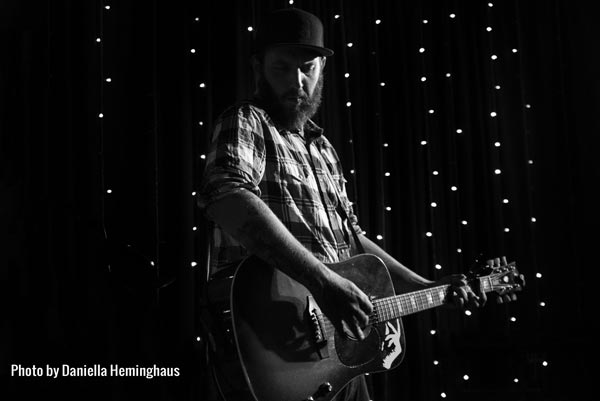 Even touring is great for Kay these days. He mentions spending a little time recently out in California where he walked into a bar with some friends. The bartender left his shift to go out and purchase some glass Cokes for him, gave him his number and told Kay to call him the next time he'd be coming because they love having him there and want him to feel comfortable.
"It's kind of weird because you're running a mile a minute on tour," explained Kay.  "Especially when I'm by myself because there's so much stuff that I'm doing all of the time.  So, hanging at the show and playing the show are the relaxing parts.  Once we get to the show and are loaded in it's just fun.  I started doing this thing this year, saying I don't want to play by anybody else's rules but mine.  Just these rules I have in my head.  One of them is when it's not fun anymore, don't do it.  I'll drive ten hours to make $300 and spend $260 of that on gas so I can play for 45 minutes to 30 people in Oklahoma City.  I'm not doing this to get rich.  I'm doing this because it's something I enjoy doing.  So if I'm being forced to play by rules I don't enjoy and it becomes a burden, why would you do that? I'd make more money flipping burgers at McDonald's."
Over the summer, several of the songs on Civil/War have premiered on websites across the globe.  Bloggers have largely praised the work and, thanks to social media, fans have been able to tell Kay their thoughts as well.  Recently on Twitter, Kay had a conversation with one fan who was overcome after about hearing "Try To Find." The person tweeted, "I can't even deny crying over this one. This is absolutely beautiful."  Kay responded by saying, "Sorry bout that dude. There's only 2 more bummers on the record. Maybe 3. Actually 8 more. There's 8 more bummer songs. Sorry. Not sorry. Maybe a little sorry."
When asked about that exchange, Kay replied, "The record came out sad, but like that weird, hopeful sad.  I'm gonna bum you out, but we're going to feel good about being bummed out.  I'm starting to realize that's my m.o."
One of the songs released early was "Thoughts & Prayers" which includes the biting line, "Your thoughts and prayers ain't saving no one's souls."  It's the only overtly political tune of the ten found on the album.  It was released as a single shortly after the mass shootings that took place in El Paso, Texas and Dayton, Ohio, but the song was not inspired by any one particular shooting or even the collective nature of the mass shootings.  Kay says it was about the state of the country and racism itself.  He's had personal experience of seeing Proud Boys (a far-right neo-fascist organization) at concerts and even returned money to one after learning he had contributed to Kay's Kickstarter campaign for Civil/War.  You could say Kay is someone that walks the walk when it comes to his beliefs.
"I have a problem with the concept of hate," said Kay.  "The thing that bothers me is that kids are being taken from their homes because of where they're fuckin' born and sent to a fuckin' concentration camp… and a large chunk of the country thinks that's alright.  And that large majority's grandparents fought against the Nazi's in World War II against this.  So, that's the issue at hand.  Somehow in 2019, hate is acceptable.  It's just the fuckin' concept.  I had friends that were there in Paris and Vegas. Music is supposed to be an escape.  It's designed to be an escape.  Going to a concert is a way to get out of your life for 45 minutes.  That's not the case anymore."
Kay released "Thoughts & Prayers" with "Forgotten Ones" in both digital and a limited edition 7" viny.  All proceeds from the single will be sent to The Brady Fund and Everytown for Gun Safety.  
"I was never raised on religion," continued Kay. "I spent more time in churches going to see hardcore shows in the early 2000s than I ever did attend church.  So, for me, I didn't understand religion.  I still don't.  Until five years ago when I sobered up because they talk about a higher power and the spiritual aspect of life.  I didn't understand that so I started reading all the books just to see where I would land and who I would look to for guidance.  At the end of the day, none of these books say anything about hate.  It's just about trying to be the best person."
The album was produced by Pete Steinkopf and features contributions from Pat Kelly, Alex Brumel of Westbound Train, The Mercy Union's Rocky Cantese, Matthew Benneti of Toy Cars and Will Romeo.  Kay will celebrate the release of Civil/War on Friday, October 4th at Crossroads in Garwood.  The night is headlined by John Moreland and will include sets by Darrin Bradbury and Ferentz & The Felons.  It's a show for a record that would never have seen the light of day without a successful Kickstarter campaign.  He was looking to raise $20,000 and wound up raising $23,352 from nearly 300 backers.
"Nobody heard a single song," said Kay.  "That's the thing that continuously blows my mind.  Everything was just blind faith like the last couple of records.  About 2/3 the way through I was like I don't want to post about this anymore.  I don't want to send any notes.  I feel like I'm begging and I'm not a beggar."
Sometimes it's good to have people believe in you.  Just like Sammy Kay hoped they would at the end of Untitled.  Turns out they were listening after all.
---
Gary Wien has been covering the arts since 2001 and has had work published with Jersey Arts, Elmore Magazine, Princeton Magazine, Backstreets and other publications. He is a three-time winner of the Asbury Music Award for Top Music Journalist and the author of Beyond the Palace (the first book on the history of rock and roll in Asbury Park) and Are You Listening? The Top 100 Albums of 2001-2010 by New Jersey Artists. In addition, he runs New Jersey Stage and the online radio station The Penguin Rocks. He can be contacted at gary@newjerseystage.com.
---