originally published: 03/13/2017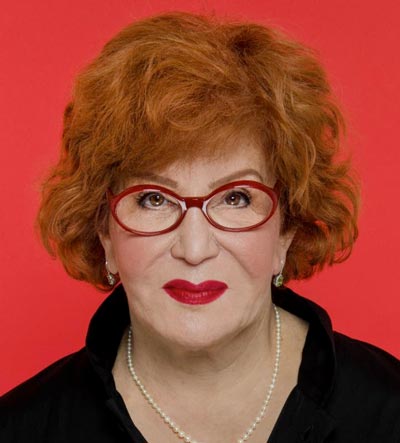 (ATLANTIC CITY, NJ) --   Iconic TV talk show legend and Emmy-Award winner Sally Jessy Raphael will receive the "2017 Lifetime Achievement Award" at the Garden State Film Festival (GSFF) taking place in Atlantic City, March 30th through April 2. Raphael is being honored and recognized for her outstanding body of work and contributions to the television and film industries. She was the first female talk show host on TV, and her signature show, The Sally Jessy Raphael Show, was the longest-running female-hosted talk show in television history. Raphael also had memorable cameos in several films, including The Addams Family and She-Devil.
Margaret Fontana, GSFF Executive Director, says, "We are so pleased to present the '2017 Lifetime Achievement Award' to Sally Jessy Raphael at the Garden State Film Festival this year! Throughout her career, Sally Jessy has been at the forefront of the television, film and media industries, blazing a path and leading the way for all women in media today." 
In addition to receiving the "GSFF 2017 Lifetime Achievement Award," Sally Jessy Raphael will also participate in a panel discussion at the Festival on Saturday afternoon, April 1 at 4:30 p.m. in Resorts Hotel & Casino - Green Room. The intimate panel discussion, titled "Hollywood Then and Now," will also feature Producer Monika Henreid (daughter of Hollywood Actor and Director Paul Henreid, best known for his role as Victor Laszlo in Casablanca) and Batman Executive Producer Michael Uslan will act as moderator. Attendees at the Garden State Film Festival will have the opportunity to enjoy this panel discussion, in addition to workshops, networking events, parties and film screenings taking place at Resorts Casino Hotel and nearby venues in Atlantic City during the four-day star-studded Festival.
Admission to the panel discussion is $14 in advance or $15 at the door and is included in the Weekend Pass for the Festival. A GSFF Weekend Pass offers access and entry to all events at the Festival - excluding the Awards Dinner - and is available in advance for $45 through the GSFF website at www.gsff.org or at the Festival for $50.
The Garden State Film Festival runs from March 30-April 2, 2017, with networking opportunities, workshops, cocktail parties, and 216 films from over 24 countries being featured during the event. For a complete schedule and film listings, visit the GSFF website at www.gsff.org.
---