By Gary Wien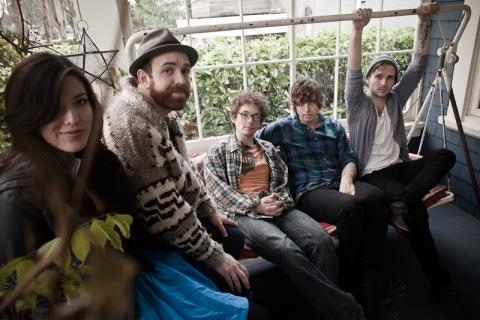 (ASBURY PARK, NJ) -- In just five years, Said The Whale has become one of the most popular bands in Canada. Based in Vancouver, the power pop/rock band won the JUNO Award for New Group of the Year in 2011. They have played New York City and Philadelphia a couple of times before, but will make their New Jersey debut tonight at the Saint in Asbury Park. It's another one of those shows you'll be kicking yourselves a few years from now if you miss it.

I first heard of Said The Whale a few years ago on the Iceberg channel on Sirius satellite radio, which largely plays Canadian bands. When the band released the single, "Camilo (The Magician)" it was played on that channel practically every other hour. NewJerseyStage.com spoke with Tyler Bancroft from the band via email about their goals on taking their success in Canada to the U.S.

"Breaking into the US is hugely important to us, so we'll definitely be working as hard as possible in the States over the next few years," said Bancroft. "We're a fairly realistic bunch though, so we realize that overnight success is rare. We'll have to win over the States like we've begun to win over Canada, one person at a time."

The band's shows in the tri-state area have largely come from appearances at CMJ, which makes this week an important step. In addition to playing the Saint on Thursday, the band has shows set for The M Room in Philadelphia on Friday and Pianos on Saturday before heading up to Boston for a gig at P.A.'s Lounge on Sunday.

"Our last NYC show was great though actually... this weekend will be a litmus test for sure," said Bancroft.

Tyler admits that he doesn't really know much about the Asbury Park music scene, but says, "I'm all ears if any locals would like to fill me in on the folklore."

Said The Whale is touring in support of the band's latest release, "Little Mountain". You not only can listen to every song from the album on the band's website, but can also see videos shot for each song. According to Bancroft, these videos were largely intended to be played online but a few have found their way on to television as well.

"People's go-to place for looking up a song these days is YouTube, and generally what a person finds is a ripped version of a song with incorrect lyrics attached it, general poor quality, etc," explained Bancroft. "This way we have some control over what people are finding when they search for our music."

Personally, I've been hoping this band would make a stop in town for a few years. I'm excited to see them and guarantee this will be another one of those special music nights in Asbury. Doors are at 7:30pm, admission is $10 and Pilots in Orbit are also on the bill.

The Saint is located at 601 Main Street in Asbury Park, NJ.
---

Here's the story of the band from their website (http://www.saidthewhale.com):
In the five years since Said The Whale formed, the band's hook-heavy, pop-rock sound has propelled them to successes that include a nationally televised documentary, a JUNO Award victory, and a seemingly endless series of tours around the globe. In an age of overnight internet sensations, theirs is a true grassroots success story that has allowed the group — featuring dual frontmen Tyler Bancroft and Ben Worcester, drummer Spencer Schoening, keyboardist Jaycelyn Brown and bassist Nathan Shaw — to take its place among the Canadian indie rock elite.
After uniting in early 2007, the band wasted no time in releasing the EP Taking Abalonia, which was reissued the next year with seven new songs as the debut full-length, Howe Sounds/Taking Abalonia. Said the Whale put out the follow-up LP Islands Disappear in 2009, and quickly won over a legion of new followers when the crunchy power-pop hit "Camilo (The Magician)" became one of the most played Canadian songs on Modern Rock Radio in 2010.
Audiences all around the world quickly began to take notice of the fast-rising musicians, who performed at increasingly high-profile gigs including the Vancouver 2010 Olympics and nationally televised Canada Day celebrations on Parliament Hill. In 2011, the band toured in the U.S. and U.K. and earned international praise from Consequence of Sound, We All Want Someone to Shout For, You Ain't No Picasso, and BBC Radio 6. Back home, Said The Whale won a JUNO Award for New Group of the Year, and the U.S. tour was chronicled by the nationally aired, CBC documentary Winning America.
Following the teaser EP New Brighton, all of the band's efforts have culminated in the new full-length Little Mountain, out on March 6, 2012. Named after the band's home neighbourhood in Vancouver, the 15 track collection was recorded at the city's Blue Wave Productions studio by returning producer Tom Dobrzanski (The Zolas, We Are the City). The producer's experience working on both of the band's previous albums meant that he was able to help the Whales realize their clear vision for the project, which they fine-tuned during an extensive two-month pre-production period.
"Tom is amazing to work with because he's a friend and in the studio he becomes like the sixth member of the band," explains singer-guitarist Bancroft. "He knows how we operate and he knows how to make us perform our best, and is able to capture it on record."
The recordings were then handed to mixer Jack Joseph Puig, a multiple Grammy winner who was selected in part because of his work on Weezer's lauded Pinkerton. Bancroft admits that this brush with one of his heroes was both "terrifying and rewarding."

With the help of these studio collaborators, Said The Whale has crafted its most adventurous effort yet; with juggernaut production values, intricate song suites that explode out of the speakers, and tracks that blend seamlessly into one another, it finds the group defying rock conventions without sacrificing any of their pop smarts. More diverse than previous albums, Little Mountain is a multi-stylistic tour-de-force that ventures into everything from soaring, horn-laden cabaret ("The Reason") to jaggedly syncopated rock ("We Are 1980") and effervescent guitar pop ("Loveless").
As always, singers Bancroft and Worcester retain their unique voices, but their work has never sounded so cohesive; the tracklist was carefully selected for front-to-back listening, and the five-piece's all-inclusive collaborative approach to songwriting helped to forge the bond between noisy electric stompers and intimate acoustic ballads. Tellingly, all five members share equal writing credit.
"Ben and I came to the table with our songs in more of an unfinished state than usual, which allowed the rest of the band to be a little more creative," observes Bancroft. The album even includes the band's first-ever track sung by a member other than the two frontmen, as drummer Schoening takes over lead vocals on the flat-out-gorgeous piano serenade "Seasons."
With the new wave-tinged single "Heavy Ceiling" already making its mark on the Canadian rock/alternative charts and videos for all 15 album tracks to exclusively debut online, Little Mountain is shaping up to be one of the landmark rock albums of 2012. And if the last five years have taught us anything, it's that Said The Whale will continue to win over audiences the old fashioned way: with relentless touring, killer songs, and big-hearted passion.

---
Gary Wien has been covering the arts since 2001 and has had work published with Jersey Arts, Elmore Magazine, Princeton Magazine, Backstreets and other publications. He is a three-time winner of the Asbury Music Award for Top Music Journalist and the author of Beyond the Palace (the first book on the history of rock and roll in Asbury Park) and Are You Listening? The Top 100 Albums of 2001-2010 by New Jersey Artists. In addition, he runs New Jersey Stage and the online radio station The Penguin Rocks. He can be contacted at gary@newjerseystage.com.
---