By Gary Wien
originally published: 07/24/2018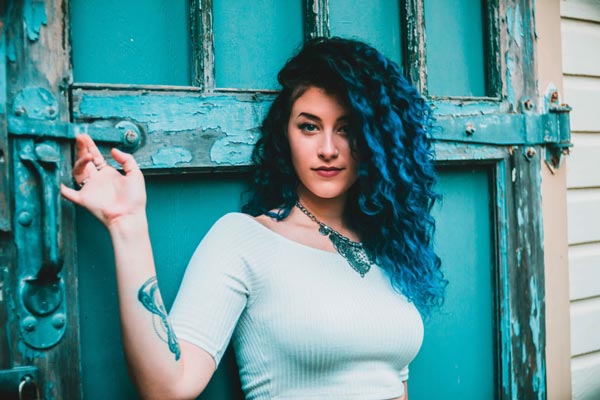 This is an exciting time for Sofia Khorosh, a singer-songwriter who performs under the stage name S0F. She recently graduated from Rowan University and on July 10th announced her next big move - one that immediately caught our eye.
She announced on social media that she would no longer book any more cover gigs and was going to focus exclusively on her original music.  As someone who had been doing a mix of cover and original shows since she was 15, this is a huge step.  During the last 8 years, she booked every cover gig she could find - restaurants, bars, wineries, weddings, private parties - she did it all.  The money was nice, but her schedule was booked with shows that didn't let her be the artist she wants to be.
"Above all else, I was just tired of being background music," said SOF. "I've been writing my own music for as long as I've been singing, and even longer than I've been performing live professionally. I want to be an artist first and foremost, and I believe that starts with strictly performing my own songs from now on. I paid my dues and got a lot of experience out of cover gigs, but it's time for me to move on and grow."
In March 2017, S0F was one of 27 songwriters to be invited to Judy Stakee's Songwriting Retreat in California. Stakee has over 30 years of experience as an executive in the music industry, including 20 years as Vice President of Creative at Warner. She was responsible for developing and signing artists like Sheryl Crow, Katy Perry, Gavin DeGraw, and Joy Williams.
While at the Retreat, S0F participated in cowriting sessions, networking, and gaining insight from Judy Stakee herself.  This fueled her passion for writing.
---
The article continues after this ad
---
---
"Judy's retreat opened my eyes to so many new ways of writing and I found inspiration in a lot of new places," explained S0F. "While I was there I met with other songwriters who were only interested in writing for other people and that's where I differ— writing is my bread and butter, but so is performing."
Unfortunately, original artists have far less places to play and earn far less than artists who perform covers. Some people think it's a New Jersey thing, but it's basically the same wherever you go.  Venues believe people want to hear music they already know more than hear something new.
On her social media post, she spoke about the cover gigs. "At first, I loved it. Being able to put a smile on people's faces when they heard me cover their favorite songs was so rewarding. I got to meet so many cool people, pay my bills, and do my favorite activity of all time— sing!"
"But it was also hard work— sometimes I'd be performing for up to 4 hours in not the most ideal conditions (90 degree days on the Jersey Shore boardwalk, yikes!) Other times it was just hard for me to accept that I was essentially background music. The audience wasn't there to hear S0F  (except for my parents)— they were simply there to eat dinner or have drinks with some ambiance. Despite all of that though, playing these cover shows helped me to feel comfortable and confident onstage and I'm so grateful for that constant practice."
She admits that these gigs sometimes felt like a factory job - somewhere between running through the motions and feeling like an artist.  
"That isn't to say I didn't ever enjoy it," she explained. "I've had so many great audiences over the years, and it's definitely fun covering a song I really enjoy and getting good feedback. Sometimes I'd sneak in an original or two and someone in the audience would dig it— that made it all worth it."
Now that she's graduated college, she intends to spend more time writing. Not having cover shows will allow her even more time to write, but leave her with less income.  She has moved back home to East Brunswick to save money and plans on looking for a job within the next few months, but after spending her entire life up until now in school, she isn't in a rush to start working. Plus she still has shows booked until the end of the year to provide an income.
"When I was mulling over the decision to quit cover gigs, the issue of money was obviously something that came up, but ultimately it's about my happiness and what will benefit me in the long run," said S0F. "Short term, cover shows will make me more money but I'll continue plateauing as an artist. I'd rather evolve and have less money than the latter."
Her musical journey has led her to opening spots for artists like Chris Barron (Spin Doctors), Walking Dead star Emily Kinney, Collective Soul's Ed Roland, and country star Eric Paslay.  She's also been part of several Glen Burtnik shows (Summer of Love and British Invasion) and has made fans from her support of charities. She's performed benefits for wounded veterans at Lyons Veterans Hospital, Light of Day shows (for Parkinson's Disease research), and the Candlelight Epilepsy Awareness concert series.
S0F plans to move out of New Jersey sometime - possibly even before the end of 2018.  She doesn't know where she wants to go yet, but she knows what type of artist she'd like to be.  When asked if there is an artist she'd like to model her career after, she immediately says Lorde.
"I think she's a genius, and I deeply admire her authenticity," said S0F. "She's so unique and unapologetic. That's what I aspire to be." 
To get there, she knows the music has to come first. In the past, she has tried doing everything at once - branding, performing, writing, and recording (even while attending college).  She even put out a new single each month for six months one year, but now recognizes that quality is better than quantity.  And quality will come one step at a time.
"A big problem I've had throughout the entirety of my career is feeling like I'm in a rush or running out of time," she adds. "I'm not sure why— it's probably some form of anxiety, but I'm not sure. I've released music in the past that I wasn't fully in love with because I felt like I just needed to have something out. I'm realizing now that if I don't love it, I can't expect other people to. I know I'll feel more fulfilled releasing music when I'm proud of it and I feel ready to, so I don't have any planned release timeline at this moment. All I can say is I want what I release next to be unlike anything I've done before, and I know fans will understand my meticulousness."
---
Gary Wien has been covering the arts since 2001 and has had work published with Jersey Arts, Elmore Magazine, Princeton Magazine, Backstreets and other publications. He is a three-time winner of the Asbury Music Award for Top Music Journalist and the author of Beyond the Palace (the first book on the history of rock and roll in Asbury Park) and Are You Listening? The Top 100 Albums of 2001-2010 by New Jersey Artists. In addition, he runs New Jersey Stage and the online radio station The Penguin Rocks. He can be contacted at gary@newjerseystage.com.
---