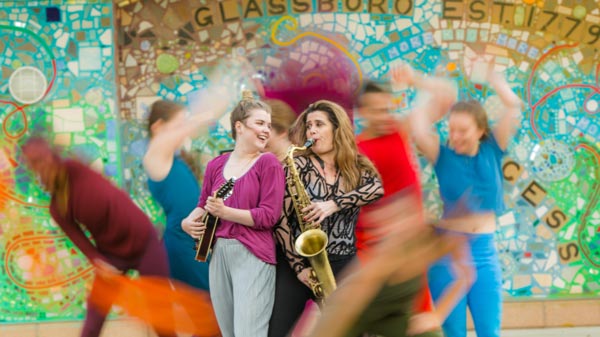 (GLASSBORO, NJ) -- Devised through a guest artist residency with internationally-renowned Brazilian performer Christiane Matallo, an original piece entitled House of Murals has its world premiere as part of the mainstage season presented by the Department of Theatre & Dance at Rowan University from November 30 through December 10 in Tohill Theatre on the university's Glassboro campus.
Playing at the intersection of tap, samba rhythms, improvisation, modern dance, and theatre, this new work has been developed by Matallo with faculty members Corinne Karon and Dr. Leslie Elkins, as well as student performers, to bring a "human mural" to life the stage. Utilizing research and workshops, this collaborative effort seeks to explore migration – the movement of people from one place to another with the intention of settling - and the literal and figurative search for home and how, through rhythms of bodies and voices, people truly exercise freedom.
Hailed as "the Carmen Miranda of Tap" by The New York Times, Matallo started her dance studies in São Paulo, Brazil, when she was just over two years old. She went on to perform and study, earning a degree in Dance from UNICAMP (Universidade Estadual de Campinas) and going on to teach tap in New York City; conduct research; work on projects related to integrating art and technology; and complete a post-graduate degree in Theater Arts. In 1995, she opened her own dance studio in Brazil in addition to founding and directing the Brasil International Tap Festival. Her work is known internationally from her participation in tap festivals around the world, as both teacher and performer. In addition to all that, she has toured to numerous countries, produced instructional videos, designed tap shoes, helped introduce tap to Brazil's Carnival, and choreographed for the musical theatre.
The cast, with students from across New Jersey and beyond, includes Reise Bridgers of Hamilton; Alex Brown of Northfield; Michelle Campbell of Colonia; Kelly Connors of Barnegat; Marisa Considine of Burke, VA; Kayla Cousins of Pemberton Township; Liz Culver of Safety Harbor, FL; Eduardo Delgado of Rockaway; Kyleigh Errico of Brick; Brooke Foster of Burlington; Jelan Gaston of South Orange; Shannon Harkins of Pennington; Hailey Hubbs of Mount Laurel; Kyle Jacobus of Hagerstown, MD; Grace Koller of Pitman; Sabrina Mazotta of Glendora; Cayla McLaughlin of Millstone Township; Haley Migeot of Pitman; Pascale Molina of Bradenton, FL; Robin Purtell of Point Pleasant Beach; Nicole Rich of Glendora; Adriana Santilli of Lumberton; Chelsea Sharp of Souderton, PA; Caroline Strehl of Washington Township; Kylie Westerbeck of Fredericksburg, VA; Andrew Diaz of Freehold; Kate Krisulevicz of Point Pleasant Boro; Lucas Fertakos of Chatham; Jayce Williams of Newton; and Mike Grubb of Mullica Hill.
House of Murals begins with a discounted public preview performance on November 30 (tickets: $10 and $5) and runs December 1, 2, 8 and 9 at 8:00pm and December 3 and 10 at 2:00pm in Tohill Theatre, located in Bunce Hall on the campus of Rowan University, Route 322 in Glassboro. Tickets are $15, general admission; $10, seniors/non-Rowan students/alumni/staff/military. Rowan students are admitted free with valid ID, based on availability. Purchase tickets online at rowan.tix.com. For additional information, call the box office at (856) 256-4545 or email arts@rowan.edu.
---
The article continues after this ad
---
---
This program has been made possible by funds from the New Jersey State Council on the Arts, a partner agency of the National Endowment for the Arts.
photo by David Cimetta