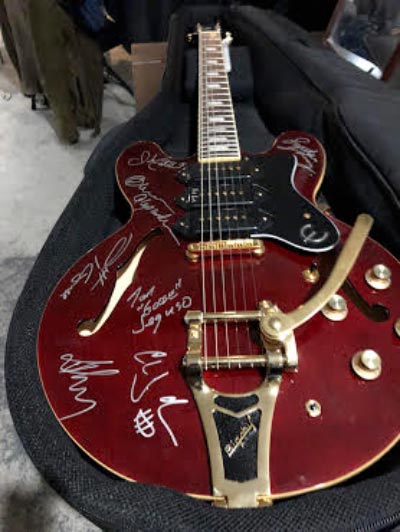 (ASBURY PARK, NJ) -- Rock Against Dementia Asbury Park will take place on Sunday, March 25th at the Wonder Bar in Asbury Park.  There will be performances by:  Sophia Montalbano, Rose Lees, and James Sleeman Trio; Dave Vargo,  Neal Masty & Friends, Pamela Flores, the Vic Della Pello Band, and a tribute to Glen Campbell by Billy Simmons.   A raffle will be held for a brand new Epiphone Custom Riviera P93 Electric Guitar list price over $900 - Autographed by Asbury Park icon, Southside Johnny.
The guitar is currently on display at Russo's Music (619 Lake Avenue) in Asbury Park. Drawing will be held in New York City at the Alive Inside Foundation headquarters. Tickets are $20 each and can be purchased at Russo's Music or online.
Area musicians are donating their time and talent to raise funds to support the mission of the Alive Inside Foundation and locally to expand a new non-profit program that connects Youth to Elders living with dementia using Music as the bridge to connection – called "Connection Thru Music".  Tickets $15 can be purchased at the Door or online at: https://www.flipcause.com/secure/cause_pdetails/MzAyMDM=
The Asbury Park event is one among over 80+ locations set for the weekend of March 24/25 from all over the US and on 3 continents.   The goal of the Worldwide Rock Against Dementia Event, is to increase awareness of the impact of the rising incidence of Alzheimer's disease and other forms of dementia and the need to support organizations that provide respite services, reduce stigma and build hope for families dealing with the challenges of living with dementia in a positive way.
Proceeds from the day's event will go to benefit the Alive Inside Coalition and local non-profit partner Caregiver Volunteers of Central Jersey.   Inspired by the award winning documentary Alive Inside about the power of music and its ability to connect those with dementia to sense of self and to memories otherwise lost, "Connection Thru Music" trains and supervises young volunteers to visit elders living at home with dementia; learn their life story and share their favorite music. This leads to a deep sense of empathy in the students, increased joy & connection for the elders with dementia and provides hope their families.  
---
The article continues after this ad
---
---
Caregiver Volunteers of Central Jersey has offices in Toms River and Freehold. The non-profit manages volunteers to provide services at no cost to elders living at home to help them remain independent.  It runs an Alzheimer's Respite Program that provides a weekly "time out" for family caregivers of a loved one with dementia.  For more information, visit www.caregivervolunteers.org
Event Sponsors include:  Arbor Terrace of Middletown/Shrewsbury & Chelsea Senior Living; Wonder Bar Sponsor: Harrogate  Other sponsors include-Lakehouse Music, Russo Music, Homecare Assistance; Dental Home Services, Holisticare Hospice and UMH Communities/HomeWorks.
ROCK AGAINST DEMENTIA worldwide was conceived & developed in Cleveland, Oh. USA in March 2014 at a screening of the Sundance Film Festival Award Winning Documentary film 'Alive Inside', to support the mission of the Alive Inside Foundation and held globally for the first time in 2016.   Rock Against Dementia events in 2017 occurred in 62 Cities across 12 Countries. This year the number of locations holding events is expected to be in 22 countries with new events are being added every day!  Globally organized by the Purple Angel Dementia Awareness Campaign.   
The US Lead event in 2018 is being organized by the Alive Inside Foundation at at The Cutting Room in New York City on Friday, March 23, 2018.   The Alive Inside Foundation is non-profit, our "Coalition of the Caring" is dedicated to healing loneliness and disconnection in all our lives, especially in the lives of the very young and the very old. They partner with communities to connect the generations and shift our relationship with life, aging and growing up.  
The Wonder Bar is located on Ocean Avenue in Asbury Park, New Jersey.