By Gary Wien
originally published: 09/01/2016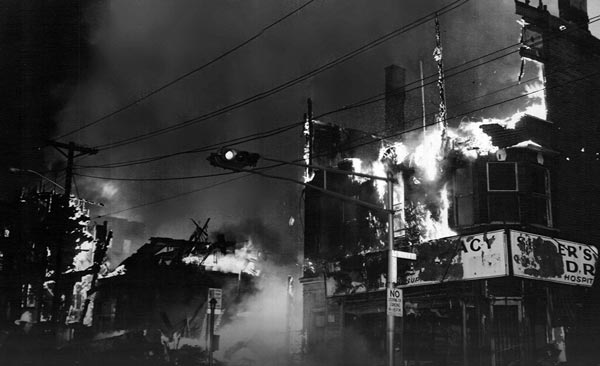 For whatever reason, students in school are taught the distant past rather than recent history.  Schools rarely teach the lessons learned in the sixties or inform students about the problems encountered in the areas they live.  The Newark riots, which took place for 6 days during the summer of 1967, is a perfect example.  While kids today are growing up seeing violence in places like Ferguson (Missouri), Baltimore (Maryland), and Milwaukee (Wisconsin), few outside of Newark probably ever know about the racial problems and riots that tore the state's largest city apart. 
Hiding the ugly side of our histories is why history always repeats.
Filmmaker Kevin McLaughlin does a wonderful job in telling the story of the Newark riots and detailing how the city has spent the last 50 years trying to overcome that violent week in the film Riot.  The film will be screened at the Newark International Film Festival taking place September 9-11.
"I think there was an effort to forget about it because it was such a tragedy," ex plained McLaughlin, who grew up in Newark.  "People in Newark especially were kind of ashamed of it.  It created such a stigma of being from Newark. I ran into so many people who told me all through their lives, as soon as they said they were from Newark, people would literally turn around and walk away.  I think the riots were the reason behind that."
Riot is basically two documentaries: the first part takes you inside the riots with actual television news footage, photographs, and the memories of those who were there.  McLaughlin talks with Newark residents, firemen, police officers, and members of the National Guard who were deployed there.  The footage is shocking to say the least.
---
The article continues after this ad
---
---
The second part of the film deals with the aftermath, the stigma left by the riots, the city's rapid loss of population, political corruption, and the signs of rebirth found in the city today.
McLaughlin, who has written, produced, and directed over 400 film and video programs, spent five years working  on the documentary film.  He was able to interview many of the mayors and influential people from Newark over the past half century.  The film was an idea he had thought about for many years until a friend of his father's pointed out that he was racing against time.
"My dad was a Newark fireman (who is seen in the film) and when I mentioned the idea of the film to his friend (a fellow fireman) he said, 'Well, if you're going to do it, you better do it soon," recalled McLaughlin.  "That sunk in and I started going on it.  Since I interviewed so many senior citizens, I had a fear that someone would not be around by the time it was done and Clement Price (a noted historian from Rutgers University) turned out to be the one."
There were others who passed away before McLaughlin had the opportunity to speak to them, but he was still able to get a nice mix of Newark residents and those who found themselves directly in the battle zone.  There are stories of firemen trying to avoid being shot as they attempted to put out the flames; policemen caught in rather unfriendly fire from fellow officers; and a look at how unprepared the National Guardsmen were for the conflict.
The National Guard members who normally would have covered the area were away on a training mission, so Guard members from the farms of South Jersey were called upon.  Many had never seen Newark at all, so simply being in the city was a strange experience. And being thrust into a war zone was a total nightmare — especially since many likely joined the National Guard to avoid being sent to Vietnam.
Making things even worse, Guard members were forced to work with limited outdated military weapons and limited ammunition.  Some actually found themselves in a riot zone without any ammunition at all.
"It was a figment of the government's imagination that this was a military unit.  This was literally the Knights of Columbus!" said one former Guardsman.  "They were all white and were guys who didn't want to be in the army."
As with the events of today and groups such as Black Lives Matter, the idea of whether this was a riot or a rebellion is largely divided on racial lines.  Rather than taking a side, Riot lets you hear from people on both sides.
"As soon as I started doing this, I learned that if you asked 10 people the same question they would all have a different answer," said McLaughlin.  "Everyone has their own point of view and, to a great extent, those points of view are shaped by their background and their race.  On certain issues, black people would all say one thing and white people would all say the opposite.  If you get 10 people you can find the truth.  That's why I decided rather than pick a point of view, I would let all of the people tell their story and let the truth find its way out by itself."
In an era in which has seen riots, shootings, and attacks on the police, could something reach the level of Newark again? McLaughlin doesn't believe so.  He thinks law enforcement has learned important lessons from the riots of the sixties and technology - most notably camera phones - means violence no longer happens in a vacuum.
Technology also allows people the opportunity to express themselves and deal with problems without killing anybody.
New construction is emerging from areas that were devastated by the riots.  Newark's popupation is growing again.  But while the film shows signs of rebith, it shows how far the city has to go.  When asked what Newark needs, McLaughlin admits there is no simple answer.
"You need jobs, you need better education, and I think you need some social change where families stick together more," said McLaughlin.  "You can go blocks and blocks without finding a house where there's a family with two parents in Newark.  I think that's a recipe for disaster.  Kids have no guidance and that leads to all kinds of problems."
Riot is narrated by Andre Braugher, an Emmy-winning actor best known for his work on television shows Homicide: Life on the Street, Brooklyn Nine-Nine, and films such as Glory and Frequency.  The documentary features a piano score by Newark native Rahjta Ren and includes music by Willie Nile, Garland Jeffries, and James Maddock.
"When I started this, it was long before Ferguson or Baltimore," added McLaughlin. "I had no idea these kinds of things were going to flare up the way they have.  It kind of proves that we didn't learn our lessons from back then. I would hope that people take from Riot that there's a better way.  If they ever find themselves in a situation where it's a choice between explosion and reconciliation that they would choose to try to work things out after having seen what it can do.  And I guarantee that nobody who was rioting there actually thought this would leave scars on the city for 40-50 years. "
---
Riot will be screened at the Newark International Film Festival (September 8-11).
---
---
Gary Wien has been covering the arts since 2001 and has had work published with Jersey Arts, Elmore Magazine, Princeton Magazine, Backstreets and other publications. He is a three-time winner of the Asbury Music Award for Top Music Journalist and the author of Beyond the Palace (the first book on the history of rock and roll in Asbury Park) and Are You Listening? The Top 100 Albums of 2001-2010 by New Jersey Artists. In addition, he runs New Jersey Stage and the online radio station The Penguin Rocks. He can be contacted at gary@newjerseystage.com.
---