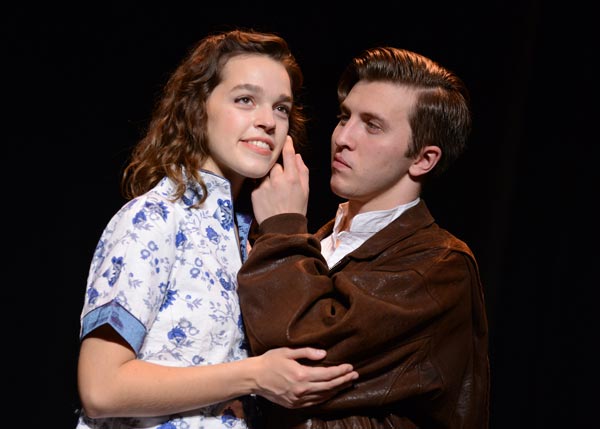 (LAWRENCEVILLE, NJ) -- Rider Theatre will present Bertolt Brecht's comic moral fable The Good Person of Setzuan in the Bart Luedeke Center Theater on the campus of Rider University in Lawrenceville from October 25 through October 29. One of Brecht's most popular works, it involves gods coming to earth in search of a thoroughly good person, they encounter Shen Teh, a goodhearted but penniless prostitute, who offers them shelter. Rewarded with enough money to open a tobacco shop,  Shen Teh soon becomes so overwhelmed by the demands of people seeking assistance that she invents a male alter ego, Shui Ta, to deal ruthlessly with the business of living in an evil world. 
"Brecht's examination of the quality of goodness in a world where one must surely give it up in order to survive raises more questions than it answers," says Goldberg. "Is it possible to remain good in a world where evil is celebrated? Is goodness even a quality worth pursuing in modern civilization? It has been such a joy to watch our Rider students grapple with these questions during what is arguably one of the most idealistic chapters of their lives. The journey has been rewarding, indeed."
A preview performance will be Wednesday, October 25 at 7:30 p.m., and performances will be Thursday, October 26 at 7:30pm; Friday, October 27 at 7:30pm; Saturday, October 28 at 2:00pm and 7:30pm; and Sunday, October 29 at 2:00pm. The production, directed by Louis F. Goldberg, will be performed by Rider University students.
Louis F. Goldberg is an adjunct assistant professor in the Musical Theater program. At Rider he has directed the musical revue Cole, and he has served as musical director for The Wedding Singer, The Light in the Piazza and Rent. He has conducted more than 300 musicals across the United States and Europe, including tours of Man of La Mancha starring Hal Linden, Cabaret, Chicago and 42nd Street. At the Zurich Opera House, he conducted Man of La Mancha, directed by the original director, Albert Marre, and starring the original Aldonza, Joan Diener.
Rider University's Theatre program has a rich tradition of preparing students for successful careers in all aspects of the theatre. Graduates of the program are working with national theatre companies, in film and on television. Our campus productions have earned critical praise for more than 50 years and offer the community the opportunity to see aspiring actors in the early stages of their careers.
---
The article continues after this ad
---
---
Tickets for The Good Person of Setzuan are $20 for adults and $10 for students and seniors. They can be purchased at the door, through the box office at 609-896-7775 or online at www.rider.edu/arts. General admission preview tickets are $9 and are only available at the door.  For more information, visit rider.edu/arts. Rider University is located at 2038 Lawrenceville Road in Lawrenceville, N.J.
PHOTO:  Mariah Lotz is Shen Te and Brandon Walters is Sun in The Good Person of Setzuan.