By Gary Wien
originally published: 08/09/2017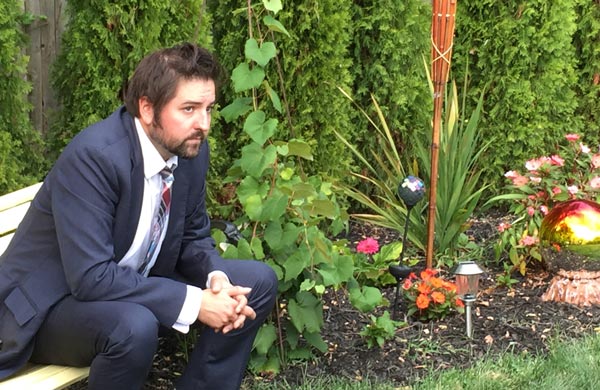 Some artists give the impression they are shooting to win awards; others act like they couldn't give a damn about them.  Rick Barry is definitely the latter, which is funny because he continues to win them. He's won everything from Asbury Music Awards to earning national recognition with wins in the John Lennon Songwriting Contest and the Unisong International Songwriting Contest.  Earlier this year, he added another to the list - the Akademia Award for "So Soft, So Sweet" which was named Best Americana Song.
"So Soft, So Sweet" is a track from his 2016 album, "Curses, Maledictions & Harsh Reiterations".  When we heard about the win, we wondered why Rick wasn't promoting it anywhere. So we thought it was a good time to catch up with him and get the story.
For a guy that keeps winning awards, what do you have against awards?  They are fine. I mean, as far as winning them, is there a prize? Is it gear? money? No? Then fantastic,  something else to put in a cardboard box in the basement. If it doesn't have value, it doesn't mean anything, You can write up a little snippet about the song or whatever and pat me on the back, but at the end of the day, none of that means a thing. Some will say "Oh what about name recognition? It's good PR." Well, as you said I'm "a guy that keeps winning awards" and it's not like the fans are knocking down my door. I doubt one person went on that website and said, "Oh this song won an award, I am going to go spend a buck and buy it on iTunes" or whatever. That shit's for the mainstream, people who don't know what they like or what is good so they watch the Grammy's and the Academy tells them which Max Martin penned records they are going to buy this year. That being said, there is no down side to winning awards, but if they don't put their money where their mouth is, there really isn't an upside either. If I want competition I can join a bowling league or chili cook off. 
So why do you keep submitting work? (Or do others submit without you knowing?) The first time I went to Atlantic City I sat down at a penny slot machine, it was an I Dream of Genie video slot machine. I had never played slots before and only had $20 to my name. From the first spin, I won virtually every time, taking home close to $300 by the time we left. The next time I went, I sat down at the same machine and took home an extra $100 or so. The next time... I lost every cent within about 20 minutes, same with every other time I have been to AC, whether I brought $50 or $300 to spend, I would lose it all at that stupid penny slot machine almost immediately. I haven't been back in years, but if I were to go now, should that slot machine still exist, I'll bet you anything it would be my first (and probably last) stop of the night. John Lennon Songwriting Contest was my first (and second) award for songwriting, the awards came with money and lots of gear, I guess everything since then is just habit. I put out a record and I just send shit everywhere because I'm proud of the work and want people to hear it. My inbox is LOADED with "Last chance to submit for blah blah blah blah" emails, A LOT of them are complete scams, looking to take advantage of insecure artists looking for validation. I don't really know about that last award, they wrote up a nice little blurb, which I guess I'll use for a bio down the road or something, so that's cool, I hate having to write that stuff myself. 
You didn't even tweet about this latest one... As far as not tweeting about the Akademia Award, I feel like I have already touched on that a bit, but I can elaborate in regards to social media. Why tweet about it? Who cares? I posted it on Facebook and almost immediately regretted it, so many people congratulated me and it just stunk of insincerity. Thank you for your congratulations, what did you think of the record? Oh you didn't buy it? You haven't even listened to it? If everyone who praised me for winning that award had bought the record it would have paid for a few days in the recording studio to make the next record. I feel like most of my non-musician friends click on something like that and say "Oh Rick won an award. Good for him" and they go back to taking the "Can we guess what state you live in based on your favorite Saved By The Bell Episode" quiz. Most of my musician friends probably click on it simply to investigate how they can get an award for themselves.  
---
The article continues after this ad
---
---
What are your current goals or plans for music?  You've done some high profile gigs in New York City in the past few years.  Would you rather be an artist that tours the country or one that makes a living off of songwriting with songs covered by others? Well, my current ambitions are quite humble. We went in the studio last weekend and cut the next record. I want it to be good record. I want people to hear it. I would like to keep making music, writing and making records and for it not to be a financial burden on the people around me. Being a songwriter is what I do best, I'm not saying I do it better than anyone else, I'm just saying it's the thing I do best, or the thing I do least poorly, depending on how you look at it, idk it's all subjective. I just want to keep making music that I enjoy and scratch together enough cash doing it where I don't have to admit that it's a selfishly expensive hobby for a grown ass man to have. Touring is great, but it get's lonely as shit, even if I am out with the band, who are some of my best pals, I can get incredibly home sick, very quickly. I find it really hard to live in the moment when on the road, which is a big part of experiencing it. I always look back on the tour fondly, but in reality, I probably spent half the time staring at my phone waiting for texts from NJ. Honestly, after last weekend where we just lived in the studio for a few days, I would give anything to do that, to make a living by getting up every day and writing music, if that means other people make more popular, main stream friendly versions of my songs, all the better, less hassle on my part. I am not delusional, however. I realize that I'm not going to get to pick and choose the relationship music has in my life, that fate is for the listener to decide, always has been. 
Have you tried getting your music into films?  Is that something of interest to you?  I haven't really tried, which makes me not feel too ashamed about how badly I have failed at it. Yes, It is something that would interest me. Why? You making a movie?
Many of the songs on your last album were released originally as singles.  Is that a route you plan to do with your next group of songs? Not sure yet, we will see once this record is mixed and mastered what format these tunes will work best in. Hopefully it won't be the case as it was with "Curses, Maledictions & Harsh Reiterations" where I release the tracks as singles in advance because I am impatient and it is taking too long to get all the bullshit stuff you have to do before putting out a record out of the way. 
Finally, what award do you secretly hope to win that you will still keep a secret if it happens? In Memoriam, the "Oh that's who wrote that song" recognition.  
---
Gary Wien has been covering the arts since 2001 and has had work published with Jersey Arts, Elmore Magazine, Princeton Magazine, Backstreets and other publications. He is a three-time winner of the Asbury Music Award for Top Music Journalist and the author of Beyond the Palace (the first book on the history of rock and roll in Asbury Park) and Are You Listening? The Top 100 Albums of 2001-2010 by New Jersey Artists. In addition, he runs New Jersey Stage and the online radio station The Penguin Rocks. He can be contacted at gary@newjerseystage.com.
---