By Gary Wien
originally published: 07/24/2018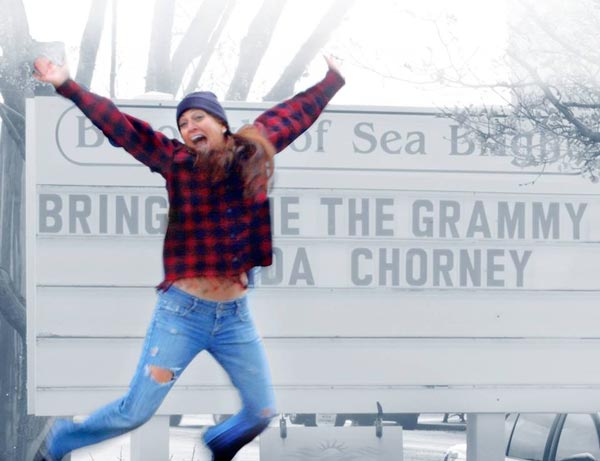 Most of the world learned of Linda Chorney in 2012 when her name was listed as one of the Grammy nominees for Best Americana Album. Her film, When I Sing, not only follows her rise from obscurity to the Grammy Awards, it goes much further.  It's a love story between a die hard Red Sox fan and a Yankees fan; a spotlight on how indie artists survive on the road; and a deeply, revealing portrait of how the media and the music industry turned what could have been a wonderful Cinderella story into a very hurtful experience.
When I Sing was directed by Robin Russin and stars Chorney as herself, Maxwell Scott as her future husband Scott, Chris Mulkey as The Rock Doc; Bari Hyman as Linda's mom; Mia Moravis as Rhonda/Rhoda, Eli Panero and Paul Chorney (Linda's Dad) appear as themselves.  But the biggest star of the film is Linda's music itself.  The songs in the film are wonderful and will lead many to wonder why Linda wasn't a household name prior to the Grammy nomination.
The film begins with Linda performing at Apres Ski on a deck in Vail, Colorado.  It is here that she first meets Scott, a fan from the Jersey Shore who never knew Linda played shows literally in his backyard area.
The film shows how Linda took full advantage of a "companion pass" for an airline provided by a dear friend.  The pass allowed her to travel anywhere, which Linda used to help her perform all over the world.  Unfortunately, the pass only got her to places - she still needed to find a place to sleep after shows.    The hustle of an independent musician to find places to play, get paid, and get food and lodging (all while trying to keep costs to a minimum) is an interesting and important aspect of the film.
"What is it about a ballad that makes you want a frozen daiquiri?" she asks while performing and watching the bartender blend one up.  "But if it wasn't for alcohol, musicians wouldn't get paid, right?
---
The article continues after this ad
---
---
Her path gradually attracts more and more "angels" along the way - people who would do anything to help her career.  One such angel helps her with the costs to produce her dream album - the recording that would be titled, Emotional Jukebox, and would change her life. 
The album was so good people wanted her to submit it for Grammy consideration. This was an incredible long shot as no independent artist had ever been nominated before. Her odds changed when Linda learned about the Grammy 365 site, which allowed people to reach out and directly contact Grammy voters.  With the help of her teenage nephew, Eli Panero, she is able to invite hundreds of voters to listen to her album.  And many not only took her up on the invite, but loved the album and said they would vote for her.
When the nomination actually came, Linda thought people would love her story.  "I am officially starting my first documentary - my Cinderella story," she said, holding up a video camera.  "Oh my God…. am I dreaming this?"
She runs through several opening segments, unsure of which road to go.  "Once upon a time there was an obnoxious Jewish girl who always wanted to be a rock star" was one take.  "Ladies and gentlemen, get ready to document the Americana story of the century of the self-absorbed artist's ridiculous quest for validation!" was another.
"And what the hell is Americana?" she wondered.
Unfortunately, Americana was an established genre with a particular clique of its own and the establishment saw her as crashing a private party.  The film shows Linda having problems with publicists; Americana writers out to destroy her; and record label executives who bully her privately and publicly - accusing her of 'gaming the system.'
In short, the film shows what happens when your dreams come true, but nothing changes… or things actually get worse.
Linda expects the nomination will help her career, but those expectations are crushed when she talks with a big time manager.  "Look, you have done great," says the manager, skillfully played by Kiki Ebsen, says.  "What you have achieved on your own is amazing.  You sang in bars your whole life - why don't you go back to singing in bars? It seems to be working for you."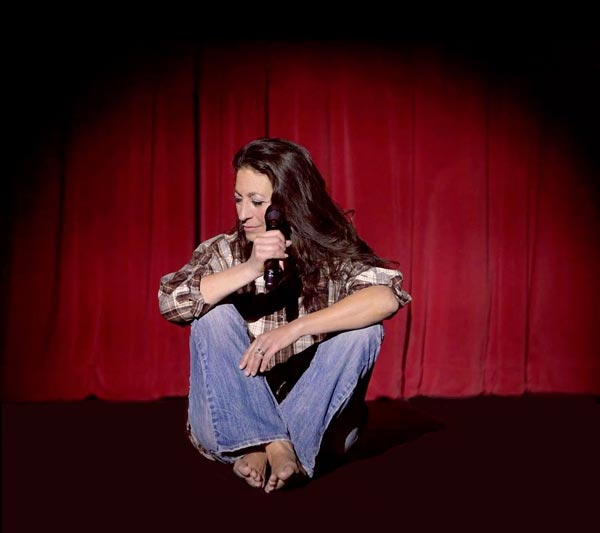 When I Sing balances that poignant lesson with a wonderful love story and lots of comedy.  The love story provides a nice balance to what could be a very sad story. The film is beautifully shot, moves at a nice pace, and offers interesting insight into the life of an independent artist.  A good part of the film was shot in New Jersey (where Linda lived for many years) and you'll see plenty of logos for local businesses — The Windmill, Sea Bright Pizza, and 90.5 The Night are well represented. In fact, 90.5 DJ Jeff Raspe appears in the film as well. He is seen on stage at The Paramount Theatre in Asbury Park where Linda performed during a Light of Day Foundation concert.
Maxwell Scott is terrific as Scott, a huge fan of Linda's music who wants to be romantically involved as well. Her nephew, Eli Panero, is often hilarious and, along with Linda's father, adds even more realism to the story.  And Chris Mulkey provides a strong performance as the Rock Doc, but the film lives and dies with Linda's performance, and she is good - very good.  Her performance reaches its highest heights in the closing moments after she finishes singing the title track.  Walking off stage, we see Linda begin to break down.  It's a moment of pure pain, pure sadness, and pure honesty.  It speaks volumes.
When I Sing has been hitting the festival circuit and was rewarded with the People's Choice Award for Best Feature Film at the Hollywood Reel Independent Film Festival; Best Feature Film - Low budget at World Fest Houston; and was a finalist for Picture of the Year in Nashville Universe film competition. The next stop for the film will be Borderlands Film Festival in New Mexico in October. Additional screenings are being added and can be found at whenising.com. Here's hoping that the film finds its way on to television where the world will learn that there is much more to her story - there is a tremendous artist as well.
---
Gary Wien has been covering the arts since 2001 and has had work published with Jersey Arts, Elmore Magazine, Princeton Magazine, Backstreets and other publications. He is a three-time winner of the Asbury Music Award for Top Music Journalist and the author of Beyond the Palace (the first book on the history of rock and roll in Asbury Park) and Are You Listening? The Top 100 Albums of 2001-2010 by New Jersey Artists. In addition, he runs New Jersey Stage and the online radio station The Penguin Rocks. He can be contacted at gary@newjerseystage.com.
---