By Gary Wien
originally published: 07/13/2019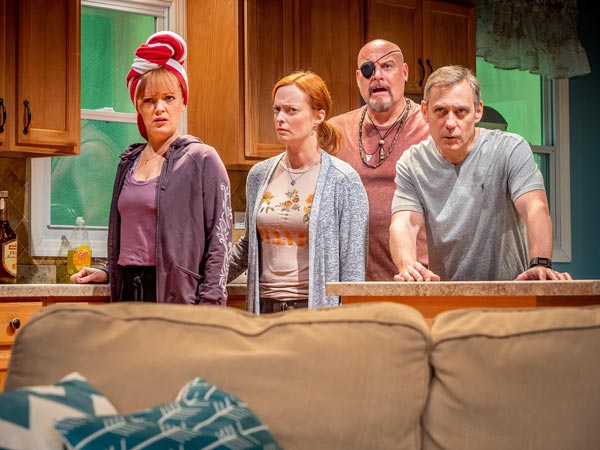 (UNION, NJ) — It's easy to deny what you don't see.  That's one of several themes in Tammy Ryan's wonderful new play The Wake, which is being presented by Premiere Stages now through July 28th.  The play, which won the 2019 Premiere Play Festival, deals with issues involving family, marital problems, nature, the environment and climate change.  In each area, it's clear that problems are easier to overlook when you don't see them directly.
The play involves a pair of sisters (Maggie, played by Kelley Rae O'Donnell, and Rosemary, played by Kathy McCafferty) who rent a beach house in Florida to spread the ashes of their sister Colleen who died of cancer six months earlier.  Rosemary's husband Ed (played by Wayne Maugans) and Maggie's partner Doyle (played by James Gushue) are with them.
Tammy Ryan turns a grim premise into a hilarious comedy, which is helped by a great cast and sharp directing from John J. Wooten, producing artistic director at Premiere Stages.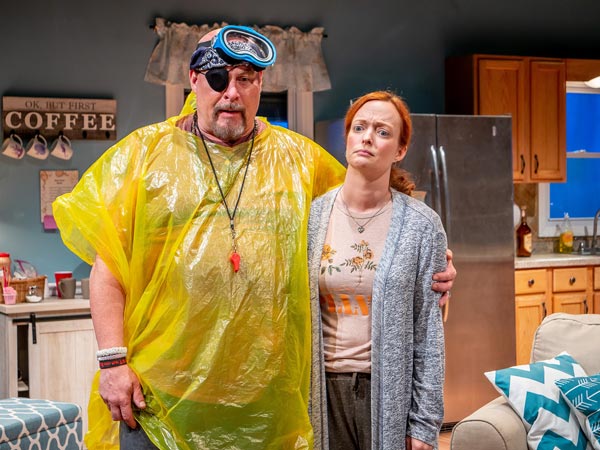 Maggie and Doyle arrive at the beach house first and discover a mess left from the last occupants.  They quickly sweep the floor and throw out the old food in the fridge.  
Doyle is a native of Florida and Gushue is terrific as a former convict who had been living in his truck until taken in by Maggie. He's got a patch over one eye and a tattoo of John Lennon on one arm. He's stocky, outspoken, and one who is truly in touch with nature.  As soon as they get to the beach house, he gives hints he thinks a major storm - possibly even a hurricane - might be on its way.  But since it's too early in the season for hurricanes, the two hope the weekend will go fine.  
---
The article continues after this ad
---
---
To be honest, Maggie appears more worried about how her sister and her family will judge her and whether or not they'll accept Doyle than she is of the weather.
"You're just the latest stray I've brought home," said Maggie.  "The cats have seniority."
Outside the house Maggie sees a strange bird staring at her from the window.  Doyle tells her it is a blue heron.  He says it's a good omen.
Maggie was not only closer to Colleen than Rosemary, but she took care of her ailing sister in the final years.  It's clear the memorial is very important to Maggie and she has it all planned out.  In addition to bringing some beer and wine, she's got the fridge loaded with the ingredients to make Sex on the Beach - Colleen's favorite mixed drink.  They've rented a boat to spread Colleen's ashes at sea, brought a boombox with some music, and she's got some words for people to read.  Then people can say a few things if they want.   
Doyle advises her that they should take the boat out a few miles and make sure they pay attention.  "You don't want to be dropping ashes in the wind and wind up wearing your sister!"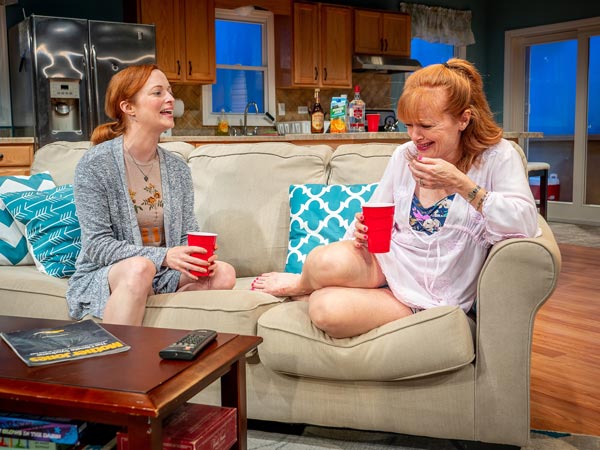 Colleen was a wild one.  She was famous for drinking, having sex with strangers, and living life in ways that led to her cancer.  Rosemary largely avoided her once she had children because she didn't want them to see that lifestyle.  Since they never knew their aunt, Rosemary and Ed left the children in Orlando where they were going to Disney World and Universal Studios. This was disappointing to Maggie as she had hoped to see them, only knowing their lives from social media.
Ed is worried about the weather and upset that he cannot get a signal on his phone at the house.  Rosemary brings several bottles of wine and begins drinking as soon as she arrives.  It's the couple's 25th wedding anniversary, but tension between them signals something is going on.
Without the kids being there for the memorial, Maggie has second thoughts about spreading the ashes at sea.  But the lack of cell reception prevents them from cancelling the boat.
"It's ok, we'll take the boat out for a little tour," said Ed.
"A three hour tour," replies Doyle ominously.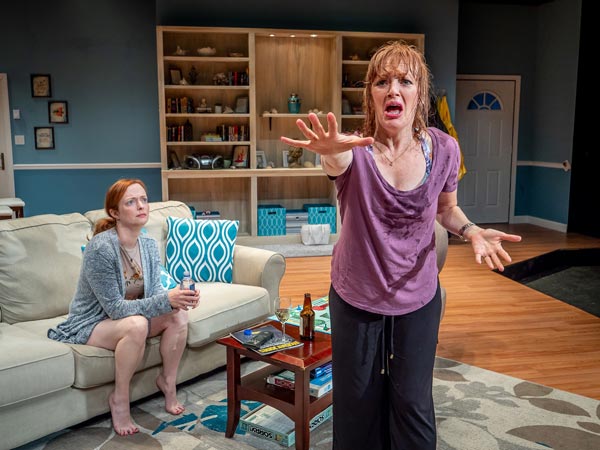 Ed is an accountant for a company that deals with fracking while the environment is very important to Doyle and Maggie. Both are definitely closer to nature than Ed and Rosemary.  That point is made clear after a hilarious battle rages between Doyle and a pelican who slams into the beach house due to plastic caught on its legs.
"When did you join Greenpeace?" asks Rosemary to her sister.
"When you live down here you see what's happening to nature," replies Maggie.  
Many dramas use comedy to lessen the blow of the tense situations.  The Wake uses drama to intensify the comedy.  Tender scenes like when Rosemary first discovers the urn containing her sister and when she hears Maggie talk about the deaths in recent years (their parents, their sister, Maggie's ex-husband and several cats) provide a break from the laughter and refocus the audience on the original premise of the memorial.
"I'm sorry it all fell to you," says Rosemary.  "I'm not good at death."
"Nobody's good at death," replies Maggie who realizes that Colleen was the last thing keeping her in contact with Rosemary.  With Colleen gone, Maggie worries she will lose Rosemary too.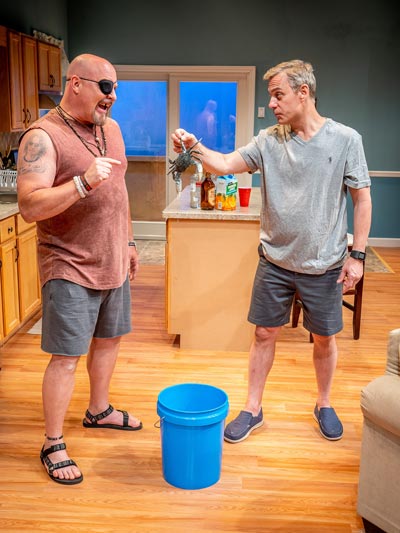 The concept of the environment and nature - and the changes that are happening to both - play a large role in The Wake.  It is not done as a political statement.  It's just something that does not affect Ed and Rosemary's lives, but does affects Maggie and Doyle's.
And it's something which soon involves all of them.
The weather turns far worse and they soon learn that a hurricane might hit the area.  Ironically, it carries the same name as their sister - Colleen.
The first act ends with everyone scrambling to leave.  Ed and Rosemary hope to get to Orlando and be with their kids.  Doyle and Maggie just want to get somewhere safe.  The storm forces everyone to change their plans and return to the beach house.
As the cable goes in and out, they see what The Weather Channel says.  Rosemary believes Jim Canatore will tell them how bad the storm will be.  Unfortunately, he's also on the beach near the house and that's never a good sign.
"If I'm riding out a storm named after my dead sister, the first thing I'm going to do is have a beer," says Ed.  "It's the first thing she'd do!"
They'll have to try surviving the storm together with board games, booze, and painful truths coming to the forefront.
Special props go out to Bethanie Wampol Watson for a beautiful set; Greg Solomon for lighting and Emily Auciello for sound - which both play a very active role.  The weather and the hurricane are both done extremely well.
The Wake is a highly entertaining and very funny comedy that will make you think. Audiences might think of family members or friends that they haven't seen for years or failed to see before they passed on.  You might think of the environment and changes that you may have noticed yourself in recent years.  And you might think about nature and how humans have changed the landscape for many creatures.  Most of all, I left wondering how these issues became political at all. The play does a terrific job of showing how it's hard to ignore or deny things that you see or experience yourself.
Premiere Stages once again shows why it is one of the most vital theatre companies in the state.  Not only are the productions top notch, but they are almost always new works or world premiere productions.  The Wake is only around for a few weeks.  Don't miss it!
---
Premiere Stages is located at 1000 Morris Avenue in Union, New Jersey.  For tickets or more information visit premierestagesatkean.com.  
---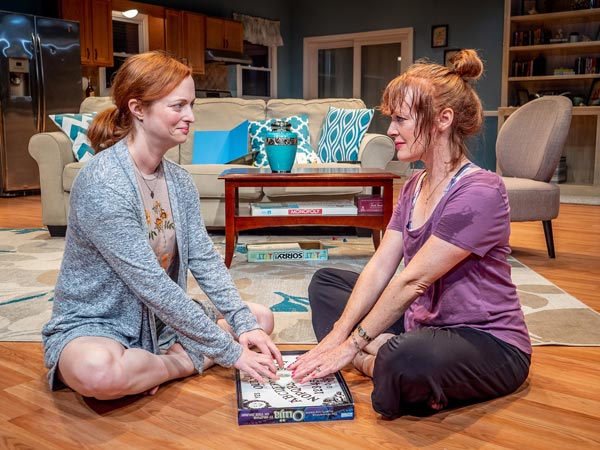 ALL PHOTOS BY MIKE PETERS
---
Gary Wien has been covering the arts since 2001 and has had work published with Jersey Arts, Elmore Magazine, Princeton Magazine, Backstreets and other publications. He is a three-time winner of the Asbury Music Award for Top Music Journalist and the author of Beyond the Palace (the first book on the history of rock and roll in Asbury Park) and Are You Listening? The Top 100 Albums of 2001-2010 by New Jersey Artists. In addition, he runs New Jersey Stage and the online radio station The Penguin Rocks. He can be contacted at gary@newjerseystage.com.
---