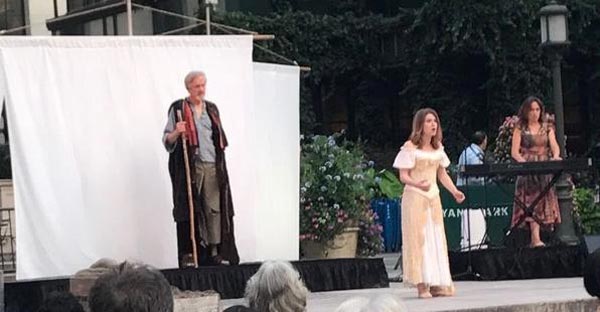 The Tempest might have been Shakespeare's last play, but it was my first.   As a curious 14-year old, I checked it out of the library on learning that it had been the inspiration for what was at the time my all-time favorite movie, Forbidden Planet (with a click-clacking Robbie The Robot subbing for Shakespeare's sublime sprite, Ariel.)  Pubescent me really didn't get it (especially the fact that the play's shipwrecked lovers, Miranda and Ferdinand, would have been about my age;) but over the years, The Tempest has remained my favorite Shakespearean comedy.   And why not?  The play has a wizard, a fairy, a monster, and a clown, a couple of funny drunks, young love, and a gaggle of scheming noblemen who eventually see the error of their ways before the final curtain.  What's not to like?
The Drilling Company, which specializes in performing Shakespeare out of doors around New York City, has staged a very bare bones production of The Tempest, set against the back wall of the New York Public Library at the east end of Bryant Park.  Three masted sails decorate the stage, and our imagination supplies the rest.  Admission is free, chairs are provided (you can even sit on stage,) and the sound system – while a little dodgy and feedback-y at times – manages to overpower the ambient roar of rumbling trucks, ambulance sirens, and pedestrian traffic. It makes for one of those quintessential New York experiences that makes one wonder, "why don't I do this all the time?"
Throughout The Tempest, Shakespeare uses music to enhance the enchantments of his story, so wisely, director Lukas Raphael worked with composer Natalie Smith (who also plays a delightfully flighty Ariel) to add a few songs to the production.  This doesn't really turn The Tempest into a musical so much as it provides a few moments of respite from the Elizabethan dialogue for the audience to catch its collective breath. Otherwise, this is a very straightforward, almost "Cliff Notes" interpretation of the play, one which pushes through its various sub-plots (romance, treachery, attempted murder) to tell its story efficiently and clearly, glossing over some of the Elizabethan dialogue to make the action easier to follow.
As the curtain rises, we meets Prospero (Roger Rathburn,) a mighty wizard, and his young daughter Miranda (an incandescent Mary Linehan,) marooned for twelve years on a desert isle.  Prospero, we learn, had been the Duke of Milan, but was so lost in the study of his books that he allowed his scheming brother Antonio and Sebastian, the Duke of Naples, to overthrow his rule.  Prospero is assisted on the island by a fairy named Ariel (Natalie Smith,) whose magical powers bring a ship containing Prospero's enemies to the island (including Ferdinand, the handsome young son of Antonio.) 
Bradford B. Frost provides a suitably hunky Ferdinand, and not surprisingly, he and Miranda fall in love on sight.  Prospero tries to put the brakes on their courtship until he's sure of Ferdinand's intentions, (which makes sense since, when you do the math, you realize Miranda is only 14.)  Mary Linehan shines as Miranda, pure yet wise and giddy with love, seeing the world as if for the first time. It's she who delivers the famous line, "O brave new world, that has such people in it!" She's matched only by Natalie Smith's gossamer-light performance as Ariel, who brings boundless energy to the part; you really feel she's flying as she pitter-patters across the stage.  (She'd make a great Peter Pan.) 
---
The article continues after this ad
---
---
Some of the male parts were more problematic. Roger Rathburn's Prospero proved a bit of a disappointment; he stumbled with some of his dialogue (and annoyingly, kept pronouncing Milan as "melon,") while Eric Paterniani's Caliban (the ogre that Prospero has entrapped on the island) could have been played a bit more broadly to better effect.  Jarrod Bates proved a game Trinculo, the court jester who provides much of the play's comic relief, but the comedic bits between him and Andrew Gombas as the drunken Stephano should have been funnier.  And the plot between Caliban, Trinculo, and Stephano to assassinate Prospero and take his throne never really gels.
At the play's conclusion, Ferdinand and Miranda are betrothed (her virginity preserved until the nuptials;) Caliban, admonished, slinks back to his hole; and Prospero gets his dukedom back, his usurpers admitting their guilt and taking responsibility for their crimes.  In his final act on the island, Prospero frees Ariel and sets his magic aside forever, content to live out his life as Duke of Milan.  Was this Shakespeare putting the magic of the theater behind him as he entered his own retirement?  Perhaps.  But at least the Bard went out on a high note.
Performances run Friday, August 25 and Saturday, August 26 at 7:00pm; Friday, September 1 and Saturday, September 2 at 7:00pm; and Friday, September 8 and Saturday, September 9 at 7:00pm.  Bryant Park is situated behind the New York Public Library in midtown Manhattan, between 40th and 42nd Streets & Fifth and Sixth Avenues. Take the B, D, F, or M train to 42nd Street/Bryant Park; or, take the 7 train to 5th Avenue.