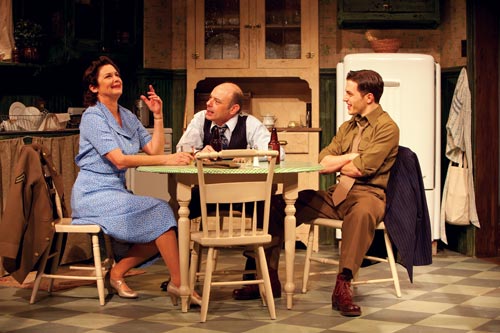 (NEW BRUNSWICK, NJ) -- Timmy Cleary returns from war, but finds himself smack in the middle of the on-going battle between his mother and father in Frank Gilroy's
The Subject Was Roses
, a powerful family drama playing at George Street Playhouse now through March 6. Michael Mastro, who was part of the cast for George Street's productions of
The Pillowman
and
The Sunshine Boys
, returns as director. He leads an exceptional cast comprised of Chris Wendelken (Timmy Cleary), Lee Sellars (John Cleary), and Stephanie Zimbalist (Nettie Cleary).
Set in the Bronx just after the end of World War II, the play revolves around the personal relationships of the three and how a few years apart has changed each of them.
Timmy's mother, Nettie, harbors dark secrets about her husband that she doesn't reveal to her son, but which have deeply affected her marriage. She's waited years for her son to come home, but Timmy's return isn't what she expected.
John, Timmy's father, is a hard-working Irish Catholic with a mean temper. He couldn't believe his boy, who was always sick, would make it in the army. John, who never had the opportunity to go into the service himself, now sees his son in a new light - as a man.
Together, Timmy's parents vie for his attention the way divorced parents fight for custody of their children. While Nettie thought she would have her boy all to herself, she finds herself battling an image of her husband that exists in Timmy's head. Meanwhile, the longer Timmy stays in the house the more things become clearer to him; drinking all night isn't the reason he's getting sick each day, and his parents' happiness is just a facade.
The play does a wonderful job of showing an intense level of conflict between the three family members and detailing how sometimes, even a kind gesture, can go terribly wrong. Both the acting and directing is perfect. Sometimes plays like this, which live off of conflict, can be a bit difficult to sustain interest, but The Subject Was Roses actually makes it hard to look away. The audience knows something will be resolved, but isn't sure how -- or who -- will provide the resolution.
The Subject Was Roses premiered on Broadway in 1964 and ran for nearly 900 performances. The play won the Pulitzer Prize for Drama in 1965, and took home both the Tony Award and New York Drama Critics Circle Award for Best Play, beating out The Odd Couple and Tiny Alice.
In case her name sounds familiar, Stephanie Zimbalist was indeed one of the stars of the popular television show, Remington Steele, in addition to a fine theatrical resume. Lee Sellars was recently seen on Broadway in the revival of West Side Story and was part of George Street's production of The Pillowman a few years back. Chris Wendelken, who does a fine job as Timmy, makes his Equity debut here after spending the last year touring the United States and Europe with Big Dance Theater in Comme Toujours Here I Stand.
George Street Playhouse is located at 9 Livingston Avenue in New Brunswick, NJ. For more information on the theatre visit http://www.gsponline.org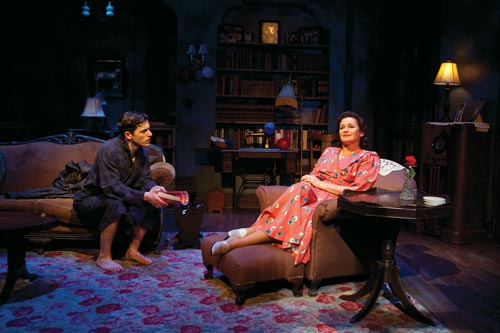 Photos by T. Charles Erickson