This article is from our magazine. To view it in its original format, click here
REVIEW: "The Party"
By Eric Hillis, TheMovieWaffler.com
originally published: 01/23/2018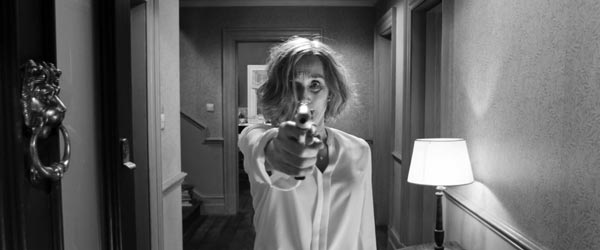 What must those modern cinemagoers who cry "SPOILER!" whenever a critic mentions the most innocuous of plot details make of movies like Sunset Boulevard, Citizen Kane or Carlito's Way, which not only open in media res, but reveal the ultimate fate of their protagonists? I'm forced to admit myself that in the case of the aforementioned Brian de Palma gangster epic, it does seem a little pointless, and sucks much of the tension out of the film's otherwise expertly crafted climax.
Sally Potter's latest, The Party, offers a very clever twist on the whole 'in media res' device, opening as it does with the reveal that its main character, Kristin Scott Thomas's Janet, will pull a gun on someone at some point. We see her aiming the weapon at the camera, representing the point of view of her target, and as such we're kept in the dark as to whom the object of her anger really is. 
Like an Agatha Christie drawing room thriller in reverse (not a whodunit but a whogetsit), Janet's potential victims gather at her London home to celebrate the news that she's just been made health secretary of an unnamed British political party (*Cough* Labour). Her husband Bill (Timothy Spall) has had a bit too much bubbly and seems to be in a world of his own, losing himself in his collection of jazz records. Lesbian couple Jinny (Emily Mortimer) and Martha (Cherry Jones) are celebrating their own good fortune, having just learned that the former is pregnant with triplets. Cynical American April (Patricia Clarkson) is bickering with her oddball German life coach husband Gottfried (Bruno Ganz). Meanwhile, Irish banker Tom (Cillian Murphy) is sweating profusely with a pistol hidden on his person.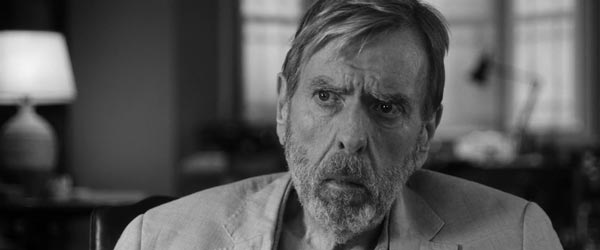 The celebrations are cut short when Bill comes out of his stupor to break the news that he's been diagnosed with a terminal illness. The initial sympathy soon gives way to bickering as the members of the group argue the merits of western medicine, whether Janet should resign from her political duties to care for her husband, and whether Bill crossed an ethical line by seeing a private doctor rather than availing of the NHS his wife has campaigned so hard to represent. Things take an even darker turn when Bill makes a second announcement.
Shot in stark black and white by Russian cinematographer Aleksei Rodionov, Potter's film highlights every wrinkle on the increasingly furrowed brows of her players. She's assembled a cast of the sort of faces that silvery monochrome brings out the best in, and her film's many close-ups resemble a celebrity photographer's coffee table book come to life. There's nothing showy about her direction, but Potter keeps things lively enough to rebuke any fears that her ensemble drama might resemble a filmed play.
---
The article continues after this ad
---
---
Potter's dialogue however doesn't quite exploit the talent she's assembled, with only Clarkson's cynic delivering lines you might recall a few hours after the movie ends. The strength of the script lies in its structure, and the minor magic trick Potter pulls in slyly deflecting our attention to deliver a humdinger of a final twist.
At 71 minutes, The Party barely qualifies as a feature film (indeed it's nine minutes too short to be recognised as such by the Screen Actors' Guild), and in decades past it may have debuted as a 'Play for Today' on UK TV in an era before baking competitions captured the British public's imagination. Any longer and the lack of substance in Potter's drama might start to show, but the brevity gives it an anecdotal quality, and it doesn't make you wait too long for its punchline to knock you out.
3 1/2 Stars Out of 5
Directed by: Sally Potter; Starring:  Kristin Scott Thomas, Timothy Spall, Patricia Clarkson, Bruno Ganz, Cherry Jones, Emily Mortimer, Cillian Murphy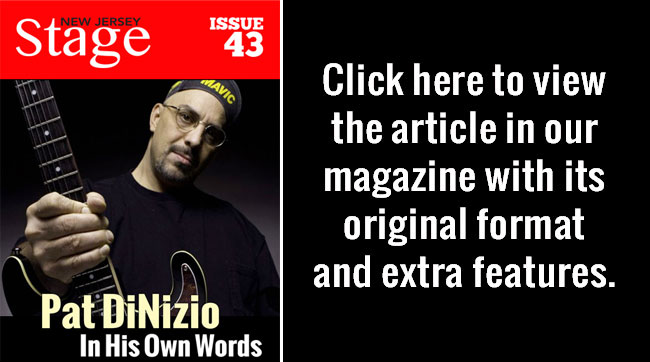 ---
For more by this author, click here
---


Monmouth Arts Presents Sneak Peek Screening of "Never Look Away"
(RED BANK, NJ) -- See the movie before New York or Los Angeles! Monmouth Arts will provide another installation of its "Film Sneak Peek" series with Never Look Away, an epic tale of art and history spanning three turbulent decades of 20th-century Germany, on November 29 at Bow Tie Cinemas in Red Bank at 7:00pm. 
---
"The Brighton Bar - Home Of Original Music" Documentary To Be Screened In Long Branch
(LONG BRANCH, NJ) -- From the 1970s to today the Brighton Bar has been a live music venue and a staple of the New Jersey music scene.  On Wednesday, November 28th at 7:00pm, a free showing of The Brighton Bar - Home Of Original Music  - a documentary about the venue will be screened at The NJ Rep West End Arts Center.
---
Westfield IFF and James Ward Mansion Host Pop-Up Gin Joint with Movies at the Mansion
(WESTFIELD, NJ) -- Big Dreams & Silver Screens, the organization responsible for the Westfield International Film Festival, is happy to announce their end-of-year celebration and fundraiser, "Of All the Gin Joints" on December 6 at the James Ward Mansion. The evening is a Casablanca-inspired party that will feature a pop-up gin bar, light bites by Feast Catering, live music by Tony Mowatt, and a screening of Casablanca.  Westfield native, Francesca Rizzo will also be screening a complementary independent noir short film, Sullivan's Last Call – "a sexy little film about celibacy."
---
2018 International Film Festival Brings 4 Award Winning Foreign Films To Vineland
(VINELAND, NJ) -- Enjoy four highly-acclaimed award-winning recent foreign films representing diverse cultures at the 2018 International Film Festival, starting Monday, November 26, at the Levoy Theatre, 126-130 N. High St., Millville, NJ. The four films—A Fantastic Woman, The Interpreter, 1945, and Sammy Davis, Jr.: I've Gotta Be Me—will introduce the theatergoer to the universality of themes that are common to Jewish and other international themes. They are representative of the finest of today's international cinematographic art.
---
NJSO presents Star Wars: A New Hope in concert on Thanksgiving weekend
(NEWARK, NJ) --The New Jersey Symphony Orchestra presents screenings of the complete film Star Wars: A New Hope with Oscar-winning composer John Williams' musical scores performed live on Thanksgiving weekend, November 23–25. Performances take place in Red Bank, Newark, and New Brunswick.
---


REVIEW: "First Man"
The image that most defines the 20th century is that of a man standing on the surface of the moon. The man is astronaut Neil Armstrong, but we can't see his face as he's wearing a helmet, the glass of which reflects our collective achievement back at us. When he took a small step, we all took a giant leap with him, and Armstrong instantly became more than a mere man, a symbol. With First Man, director Damien Chazelle takes us inside the famous helmet, stripping away the symbol to tell the story of Armstrong the man.
---
REVIEW: "Halloween"
In 2013, John Carpenter's Halloween received a 35th anniversary blu-ray release. The accompanying booklet credited the following line of dialogue to Jamie Lee Curtis's babysitting heroine Laurie Strode: "Was it the boogeyman?" Of course, that's a misquote. In the scene in question, Laurie admits to herself that "It WAS the boogeyman," to which Donald Pleasence's Doctor Loomis solemnly replies, "As a matter of fact, it was."
---
REVIEW: "Cold War"
Back in 2006, German cinema scored something of a breakout global hit with Florian Henckel von Donnersmarck's The Lives of Others, which followed the travails of a group of disgruntled, pro-western artists in communist era East Germany. At the time I couldn't help viewing the protagonists of Von Donnersmarck's drama as the sort of people who would be just as discontented with their lot if they found themselves living in the capitalist west. The grass is always greener on the other side.
---
Baba Babee Skazala
Among the many intriguing films being screened at New Jersey Film Festival Fall 2018, one title immediately caught our eye — Baba Babee Skazala: Grandmother Told Grandmother.  
---
NJ Film Fest Preview: October 2018
(NEW BRUNSWICK, NJ) -- The New Jersey Film Festival Fall 2018 runs from September 14 to October 26 on the Rutgers University Campus in New Brunswick, NJ. Showcasing new international films, American independent features, animation, experimental and short subjects, and cutting-edge documentaries, the New Jersey Film Festival Fall 2018 will feature over 30 film screenings.  
---
Event calendar
Saturday, Nov 17, 2018
---
MUSIC

---
---
---
---
---
---
---
---
---
---
---
THEATRE

---
Annie

@ Broad Street United Methodist Church, Burlington - 8:00pm
---
---
Annie

@ Axelrod Performing Arts Center, Deal Park - 2:00pm and 8:00pm
---
Apples In Winter

@ Centenary Stage Company - Kutz Theater of the Lackland Center, Hackettstown - 8:00pm
---
---
---
Kiss Me Kate

@ Broadway Theatre of Pitman, Pitman - 2:00pm and 8:00pm
---
---
---
---
---
Into the Woods

@ Studio Playhouse Upper Montclair, Upper Montclair - 8:00pm
---
---
COMEDY

---
---
DANCE

---
---
KIDS

---
---
LECTURE

---
---
View all events
---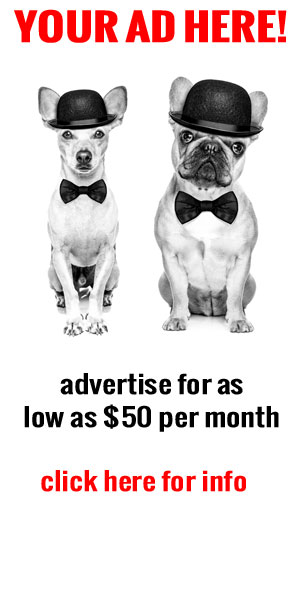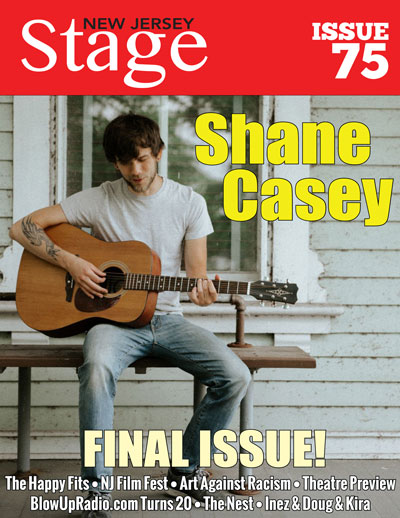 For more on our awards, click here