By Gary Wien
originally published: 01/16/2017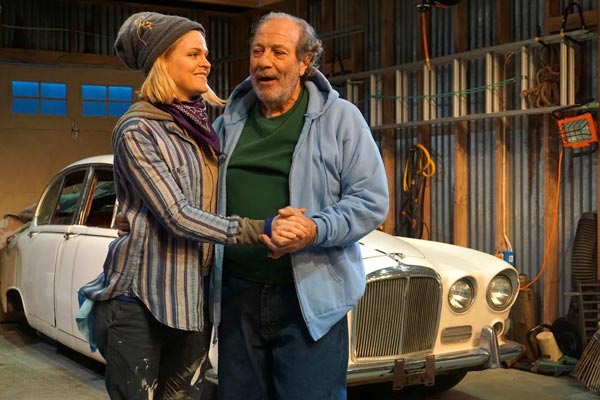 (LONG BRANCH, NJ) — Have you ever seen a car take a curtain call? You will if you see The Jag at New Jersey Repertory Company, and the curtain call is definitely earned.  While the cast of three actors does a superb job telling the story, it is the car (a 1967 Jaguar) that plays the role of the character who is not seen that ties the story together.
The Jag is the latest play by Gino DiIorio to make its debut at NJ Rep.  It involves an aging mechanic named "Chick" Chicarella who is nearly blind from macular degeneration, his son Donald (known as "Bone"), and a female mechanic named Carla.
Chick was an excellent mechanic in his day. Bone never had the skills, the patience, or the artistry of his father or his brother Dave - known as "Head" (put together the kids are called Bone Head).  The play opens with the two of them inside the car and his father criticizing his son's work at restoring the Jag.  He knows his son takes short cuts, which he doesn't believe in.  Exiting the car, Chick grabs a beer and some brandy — something he does quite often.  Bone tells him he's an alcoholic.
"I'm not an alcoholic, I'm a drunk," replies Chick.  "Alcoholics go to meetings."
When Bone first told him he was moving in to help fix up the Jag, his father knew something was wrong.  Bone has been something of a screw-up his whole life, often facing huge gambling debts.  He tells Chick he has found a buyer for the Jag (a guy named Jake The Snake) and his father instantly knows that Bone must be in deep once again.  
---
The article continues after this ad
---
---
Chick isn't interested in selling the car until he hears that Jake is willing to pay twenty grand for the car if they get it to mint condition and the car can run.  He tells his son that he needs to hire someone to fix up the car because he cannot do it anymore.
Enter Carla.  She is a top notch Jaguar mechanic who comes highly recommended, but is a cross between a kid with ADD kid and someone bi-polar who has Tourettes's.  She's also a lesbian - something that is a bit foreign to Chick's world.
"I didn't save this car for years so some fruit cake could come in and mess it up… Hey Sybil," says Chick.
He gives her a test to see how much she knows about Jaguar cars.  She not only passes the test, but impresses Chick.  As he watches her work, he soon realizes she knows much more than Bone and reminds him of his other son.
"Geez, you're good," says Chick.  "Almost better than me and I am the best… was the best."
Dan Grimaldi is excellent as Chick.  He's like Archie Bunker as a blind mechanic and utterly comfortable in his own skin.  He says whatever he feels and has no filter at all.  There is nice chemistry between Dan and Estelle Bajou who is hilarious as Carla.  At times, Estelle reminded me of a young Goldie Hawn circa the Laugh-In era.  Chick uses a myriad of expressions, which Carla doesn't understand, but the two quickly establish a friendship out of their mutual respect and love for cars.  They joke about her being a lesbian and he teaches her how to dance the jitterbug, but she never gets the hang of how to make coffee.
Christopher Dafstios is very strong in a challenging role.  He is off stage for a lot of the play, but has several intense and emotional scenes. Christopher has to play the bad guy and the person riding an emotional roller coaster, and he pulls it off extremely well.  Through his character, we learn that the Jag was originally intended to be a birthday present for his brother — the son who was the father's favorite, but who died young.  He has lived his life basically in his brother's shadow and has to relive those feelings while watching Chick and Carla work together like his brother and father once did. 
"That girl's a few fries short of a happy meal, but she knows her cars," says Chick.
As the car is restored more and more, Chick has less and less interest in selling it.  He never truly wanted to sell it in the first place, but the offer of twenty grand sounded good.  Meanwhile, Bone sets a deadline for the project.  He wants the car sold and needs his share of the money.  Bone refuses to tell his father why he is in such a rush, but Chick knows it has to be a gambling debt.
"You're so full of shit, your eyes are brown," he tells his son.
Over the years, the car became more than just a member of the family — it was a stand-in for a member of the family.  One of the most difficult aspects of staging this play is the necessity of having the car on stage.  It is an enormous challenge getting the vehicle through the doors of most theatres, but the play absolutely needs the car.  I'm not saying it steals the show, but it definitely earns its curtain call.
The Jag is highly recommended.  It is a touching story with plenty of laughs and truly wonderful acting and Brendan Burke's direction keeps everything moving at a great pace.  Performed without an intermission, the entire play takes place in a beautifully designed set by Jessica Parks, who has turned NJ Rep's stage into an actual garage complete with everything from tools to hockey sticks and ice melt.
The Jag is running at New Jersey Repertory Company (179 Broadway) in Long Branch now through February 12.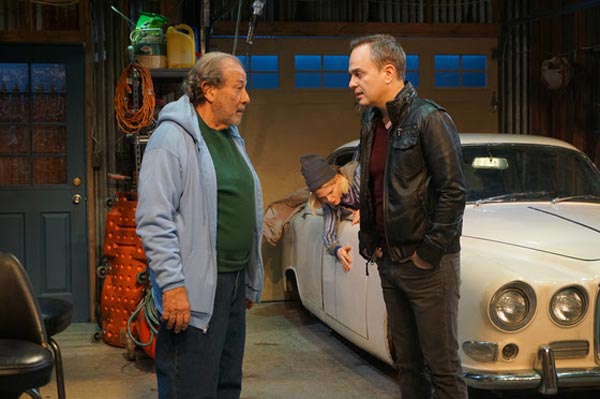 Photos by SuzAnne Barabas
---
Gary Wien has been covering the arts since 2001 and has had work published with Jersey Arts, Elmore Magazine, Princeton Magazine, Backstreets and other publications. He is a three-time winner of the Asbury Music Award for Top Music Journalist and the author of Beyond the Palace (the first book on the history of rock and roll in Asbury Park) and Are You Listening? The Top 100 Albums of 2001-2010 by New Jersey Artists. In addition, he runs New Jersey Stage and the online radio station The Penguin Rocks. He can be contacted at gary@newjerseystage.com.
---