By Gary Wien
originally published: 07/17/2017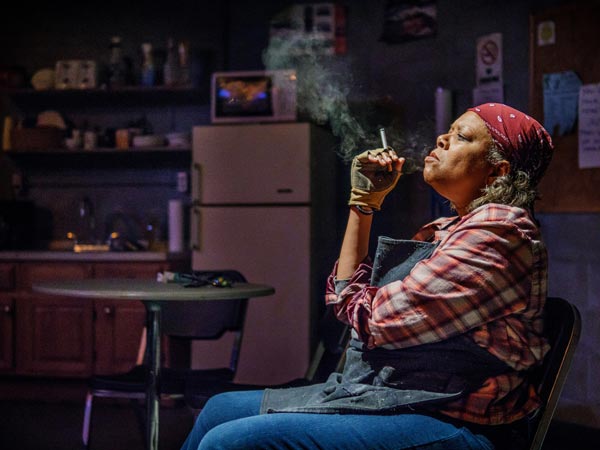 (UNION, NJ) — Imagine working in an industry that is seemingly falling apart with plant closings announced each month and the threat of your own job being eliminated weighing heavily on your mind each day.  That's the premise behind Skeleton Crew by Dominique Morisseau, which takes place in Detroit (circa 2008) when auto plants were downsizing, shutting down, and moving outside of the area.
Skeleton Crew is being presented at Premiere Stages (located at Kean University) now through July 30.  About six years ago, Premiere Stages presented the playwright's first work, Follow Me To Nellie's.  Since then she has become one of the most respected playwrights in the country and for good reason.  The characters in Skeleton Crew are extremely well defined and the subject matter is powerful and timely.  Her work is often compared to that by Arthur Miller and August Wilson; while those are lofty names to be compared to, her work is definitely at that level.
Directed by John J. Wooten, Skeleton Crew stars Patricia R. Floyd as Faye, Daniel Boisrond as Dez, Kristen Adele as Shanita, and Shane Taylor as Reggie.  The latter is the supervisor; Dez and Shanita are extremely talented and skilled workers; and Faye is the elder of the group - someone who has worked within several positions at the plant for nearly three decades.  In fact, she's just one year away from her 30th, which means a great deal for her pension.  She is a Union representative, a leader, and a mother figure to the other three.
Early in the play, Faye picks up signals from Reggie that the situation is dire. She gets the full story that the plant is scheduled to close within the year, but promises Reggie she won't tell the others until he has a chance to make things right.  Faye is worried about their futures, healthcare, and her pension.  She wants Reggie to fight for them with management.  Patricia Floyd is tremendous as the "mother figure" for Dez, Shanita, and Reggie (who is the son of one of Faye's best friends).  Her character has to be tough, while fighting lots of personal problems at the same time.  Floyd nails it.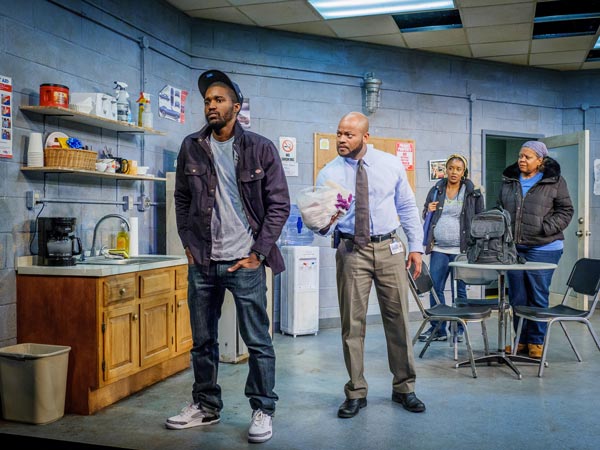 Dez is a young street tough guy who might have the broadest character definition.  Even though he can look and sound like a guy from the hood, he's also planning for his future (saving money to start his own company), is an extremely talented worker, and has a very sensitive side - especially when dealing with Shanita. Daniel Boisrond is terrific in this challenging portrayal.
---
The article continues after this ad
---
---
Shanita is pregnant and preparing for life as a single mother.  She has a firm belief that her child will make things clear for her in life.  While she has an opportunity to work at a copy center, Shanita wants to stay at the plant where she has unique skills.  She believes she is doing important work.  Although Shanita is mostly a side character, Kristen Adele has a few moments where she truly shines - mostly by balancing her vulnerability with strength.
Reggie is seen the least.  Early on, he is mostly a supervisor posting flyers about company rules.  As the play develops, his role takes on a greater importance as he straddles the line between saving their jobs and saving his own.  One could say he has the most challenging scene of all.  Shane Taylor does a good job here - especially when the role takes center stage.
For many years, I covered the auto industry and have met workers whose lives revolve around the auto plant floor.  Dominique truly captures the spirit of these workers who desperately wanted to keep doing what they believed was not just honest work, but important work.  These workers took pride in the cars they made just as much as the Skeleton Crew does.
I also liked how the playwright accurately captured the relationships within the workplace.  People can be close and far away to their co-workers at the same time.  They may think they know everything about a person, yet fail to know the names of someone's children. Still, there is a bond, and that bond is clearly shown in this play.
Overall, Skeleton Crew is a very powerful play with a few twists in the second act that will likely take you by surprise.  The acting is superb and Wooten's direction keeps the play moving at a crisp pace.  The play may take place in 2008, but its message is as timely as ever.  Highly recommended!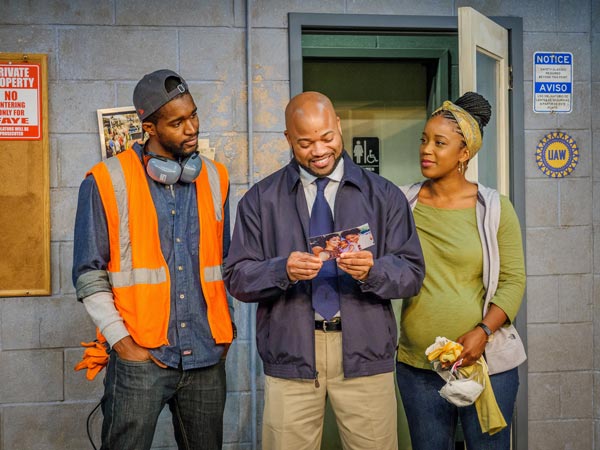 All photos by Mike Peters.
---
Gary Wien has been covering the arts since 2001 and has had work published with Jersey Arts, Elmore Magazine, Princeton Magazine, Backstreets and other publications. He is a three-time winner of the Asbury Music Award for Top Music Journalist and the author of Beyond the Palace (the first book on the history of rock and roll in Asbury Park) and Are You Listening? The Top 100 Albums of 2001-2010 by New Jersey Artists. In addition, he runs New Jersey Stage and the online radio station The Penguin Rocks. He can be contacted at gary@newjerseystage.com.
---