By Gary Wien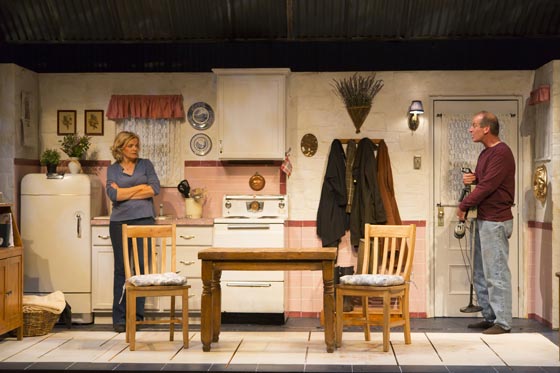 (NEW BRUNSWICK, NJ) -- There's an entire world outside Mullingar, but not to Anthony Reilly and Rosemary Muldoon. The two have known each other all of their lives, growing up on neighboring farms. As the play begins, we see their worlds becoming even smaller.

Outside Mullingar is a celebrated work by John Patrick Shanley (author of the Pulitzer Prize winning drama Doubt) that is coming up on its final two weekends at George Street Playhouse in New Brunswick. The play takes place in the Midlands of Ireland and is an excellent choice to open George Street's season. Originally run on Broadway in 2014, the play was nominated for the 2014 Outer Critics Circle Award for Outstanding New Broadway Play received a 2014 Drama Desk Award nomination for Outstanding Play as well.

Our story begins following the funeral of Rosemary's father. Both families are at a point in which their farms will be handed down to the next of kin. Rosemary is assured of hers, but Anthony's father is petrified of passing the farm on to his son. He's always known there was always something strange about his boy and worries that the family farm and its legacy will end with him. Instead, he's hatched out a plan to sell the farm to his brother's son in America.

"He was born to come home," the father explained to Rosemary's mother, pointing out that Anthony has always taken after his mother's side of the family — he's a Kelly not a true Reilly — and the Kelly's have quite a few quirks indeed.

Shanley uses the post-funeral gathering as an excellent source of humor and a great opening for the back-story behind the two families. Most importantly, we learn why a tiny patch of land between the road and the Reilly farm belongs to the Muldoon's… and why the Muldoon's will never sell.

Anthony's father knows that neither he nor Rosemary's mother has much time left. "When the husband passes, the wife follows," he says. "You'll be dead in half a year!"

Those words turn out to be prophetic and soon Anthony and Rosemary are all that's left.

Outside Mullingar is a play about generations, legacies, and hopes and dreams; it's an unusual love story about one person madly in love with another who doesn't believe is deserving of such feelings. There are twists and turns and rather absurd surprises, but most of all, it's a play that reminds us that time is precious and should never be wasted.

"It's a grand day for a walk and those days are few," noted Rosemary.

A wonderful cast and simply yet lush sets create this world for us; a bridge between reality and fantasy. John Bolger and Ellen McLaughlin are wonderful as Anthony and Rosemary, while David Schramm (Anthony's father) and Patricia Conolly (Rosemary's mother) are like characters inside a tiny Irish pub. They have far too much depth to be removed as soon as they are, but are given some of the best lines to work with.

Expertly directed by David Saint, Outside Mullingar is a tremendous comedy that's very heartwarming as well. It's a perfect lead-in to the holiday season. Now through November 2, 2014 at George Street Playhouse (9 Livingston Avenue, New Brunswick, NJ) — catch it while you still can!

---
PHOTOS by T. Charles Erickson
---
---
Gary Wien has been covering the arts since 2001 and has had work published with Jersey Arts, Elmore Magazine, Princeton Magazine, Backstreets and other publications. He is a three-time winner of the Asbury Music Award for Top Music Journalist and the author of Beyond the Palace (the first book on the history of rock and roll in Asbury Park) and Are You Listening? The Top 100 Albums of 2001-2010 by New Jersey Artists. In addition, he runs New Jersey Stage and the online radio station The Penguin Rocks. He can be contacted at gary@newjerseystage.com.
---