By Gary Wien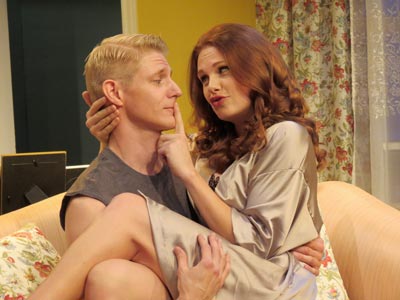 (LONG BRANCH, NJ -- JULY 27, 2013) -- In the 1988 hit film, Who Framed Roger Rabbit, there's a line in which Jessica Rabbit says, "I'm not bad, I'm just drawn that way." That was the feeling I was left with after seeing "Saving Kitty" at NJ Rep. With the character named Kate, playwright Marisa Smith has created one of the most annoying, mean-spirited characters I've ever seen. If you're a fan of watching people on "American Idol" rip into the contestants you'll probably enjoy this play; if not, you're in for a bit of a rough ride.

The play is centered around Kate (the mother) who is determined to prevent her daughter from marrying a Born Again Christian. She's supposed to represent an "ultra-liberal" who constantly attacks religion because she's a non-believer, but, to me, she just seems like an evil mother and the type of rather bitter human being that is often heard on talk radio these days. In fact, if we weren't told by the daughter that her parents were liberals, I could just have easily thought we were watching people on the other side of the political spectrum. I'm fairly sure that not every liberal is an atheist and not every conservative is a believer.

"Saving Kitty" is sort of a take off on the Guess Who's Coming To Dinner concept of the daughter bringing her boyfriend to meet the parents for the first time. The play begins with Kate wondering what type of guy Kitty (the daughter) would bring home. Will he be black? she wondered. Of course, that wouldn't be a problem. In fact, she believed she would be fine with just about anybody Kitty could bring home. But she never imagined she'd bring home someone religious.

"Thirty-five percent of Americans -- possibly more -- consider themselves Evangelicals," said Kitty.

"Well, none of them live in Manhattan," her mother replied.

The play is supposed to show that liberals can be just as insensitive as conservatives are often portrayed -- especially when dealing with religion; however, instead of inspired debates about religion, we're treated to a barrage of one-liner attacks on virtually every religious group. Paul Cook (Kitty's boyfriend) is apparently from the "turn the other cheek" world and takes the verbal insults hurled from Kate over and over again without putting up much of a defense. Kate quizzes him on evolution, the role of women in the family, and the religious school that he's going to start in the Bronx. While Kitty is proud of the way Paul "stood up to her", that barely comes across. It looked pretty much like a one-sided fight to me. In fact, much of the defense came from Kitty herself.

"Paul is very enlightened," Kitty explained.

"That's what they said about Jim Jones... right before the Kool-aid," quipped Kate.

NJ Rep always has fine actors and this play continues that trend. Sarah Nealis (Kitty) and Christian Pedersen (Paul) are especially good -- so much that I wish we saw more of them and less of the mother. John Fitzgibbon (a veteran of NJ Rep plays) does a nice job as the father in a rather limited role. And Judith Hawking does as well as one can with Kate, a character that's just so annoying that it distracts from the play's message. Looking back, Judith probably did an amazing job with Kate, but it's just a character that doesn't deserve to be the star.

The scenery design by Jessica Parks is terrific as well. NJ Rep always does such an amazing job utilizing every inch of space it has. In this case, the set is a posh New York City apartment, complete with a bar that's used so often it should get a stage credit.

"Saving Kitty" does have many funny moments, but the majority of the religious jokes didn't hit home in the audience on the night I went. It was equal opportunity offensiveness with jokes about Evangelicals, Muslims, Jews, Nazis, the English, Puritans, and Born Agains. Designed to be a satire, it just seemed a bit too over the top for me. Kate, a former soap opera star, is so shrill, so mean towards just about everyone that it makes you wonder how in the world her husband stays with her. In the end, she's so overbearing and annoying that's it's difficult to watch. One doesn't get the feeling she's having a nervous breakdown or anything, it seems as though this is the way she acts all of the time. It's a shame that she's the focal point because it really is a good concept for a play, but it loses much of its punch with her character.

In the end, the play is a bit of a wasted opportunity. Marisa Smith is right in believing that this is a topic worth pursuing, but it shouldn't be shown in such a one-sided affair. In my opinion, the play would have been much more powerful if there was a true good versus evil (or believer versus disbeliever) discussion. There's so little back and forth that nobody's mind would be able to be changed now. With a stronger defense by Paul and Kitty, the playwright might have been able to not only show how inconsiderate some people (in this case, liberals) could be, but might have been able to show how wrong they can be as well.

Even though I was disappointed in this play, I commend NJ Rep for presenting original dramas and comedies all year long. While most theatres in the area are presenting the same old traditional musicals during the summer, it's refreshing to have the opportunity to see new works.

"Saving Kitty" runs now through August 25 at NJ Rep (179 Broadway, Long Branch, NJ). Following this run, NJ Rep will present "Broomstick", a national New Play Network Rolling World Premiere by John Biguenet September 19 - October 13.
---
Photo by SuzAnne Barabas
---
Gary Wien has been covering the arts since 2001 and has had work published with Jersey Arts, Elmore Magazine, Princeton Magazine, Backstreets and other publications. He is a three-time winner of the Asbury Music Award for Top Music Journalist and the author of Beyond the Palace (the first book on the history of rock and roll in Asbury Park) and Are You Listening? The Top 100 Albums of 2001-2010 by New Jersey Artists. In addition, he runs New Jersey Stage and the online radio station The Penguin Rocks. He can be contacted at gary@newjerseystage.com.
---