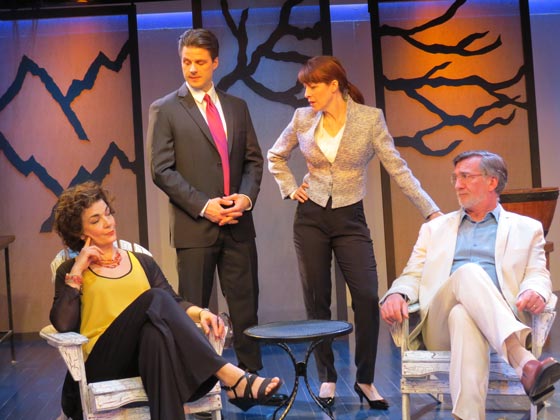 (LONG BRANCH, NJ) -- New works are nothing unusual for the New Jersey Repertory Theatre Company, but rarely do they get the opportunity to debut a new work like
A View of the Mountains
. Written by Lee Blessing, the play is a sequel to his brilliant
A Walk in the Woods
, which was nominated for the Tony Award and Pulitzer Prize in 1988. The staging is quite the coup for the Long Branch theatre company.
The original play was inspired by the true relationship between an American and Russian arms negotiator during the Cold War (the 1982 talks in Geneva, Switzerland specifically). A View of the Mountains brings us up to the present where John Honeyman (played by John Little) is now long retired and living with his second wife (Isla, played by Katrina Ferguson) in an estate along the Hudson. The Cold War is over, but John is still engaged in something of a Cold War with his son, Will Branch. The two haven't seen each other in roughly 30 years, not since John's divorce. Will (played by John Zlabinger) is now the junior Senator from Tennessee and the likely Vice Presidential candidate in the upcoming election. Despite a hectic fundraising schedule, Will takes time out to meet with his father when he receives an urgent call saying, "Will, I have something you can't ignore, come up and see me."
Will brings his wife, Gwynn with him — or rather, Gwynn brings Will. It's rather clear who's in the one in charge in this relationship. The big question is why there's a relationship at all. To say Gwynn (played by Eva Kaminsky) is portrayed as an overbearing, paranoid, political ideologue is putting it mildly. She's portrayed as the epitome of a mean bitch.
When the Senator and his wife arrive, Gwynn is seen combing the room for recording devices. She doesn't trust her husband's father any more than her husband does. While Will tries to remain calm, Gwynn is constantly on the attack.
The two women are asked to give the men some time alone, so they take a walk in the woods (a nice nod to the original play). Once alone, the pleasantries are over. Will has become a die-hard Reagan Republican who detests everything his father tried to do in Geneva. John is disappointed and angry that Will not only feels this way, but has used editorials in the media to criticize his father while boosting his own political career.
"I need you to do me a favor," his father says. "I need you to leave politics."
Will, of course, believes that favor is out of the question. Both Will, and his wife, believe he is on the fast-track to the Presidency and will do whatever it takes to get there. But his politics and the fact that he shares the same blood and carries his father's legacy are the driving force behind John's request. And, he's got a letter in his possession that could easily kill his son's political career.
When the women return, the men are gone, leaving the two to get to know each other better. Gwynn has done her research on Isla and knows all about her own troubled past. Gwynn's mean streak comes through loud and clear as she recounts Isla's biography. Isla attempts to do small talk, but Gwynn shoots her down at every opportunity. Gwynn believes her husband and her are there for one reason — to convince Isla to make a sizable campaign contribution. The conversations present a fascinating look at the problems in our current political culture — neither side really ever listens to the other and both have goals that are totally opposite of one another. Gwynn and her husband believe in power, that's what they live for and she will do whatever is necessary to get more.
"You know it's scary to think that you could be the First Lady someday," says Isla.
The letter in John's possession is certainly a shocker. It brings up a period of Will's past that he thought he had erased... a period that his wife knew nothing about. Instantly, negotiation takes place to have John give them the letter, but he holds firm with his request for Will to leave politics. Things get really heated in the room and violence begins to break out. The situation has a new wrinkle added when Gwynn calls out John for attempting to blackmail them. And yet another wrinkle appears when John's son, Andrey, appears with something in his possession. Andrey is played by Jared Rush / Jon Erik Neilsen.
A View of the Mountains pits Republicans as people who believe in taking charge; those who think power and strength are the only ways to solve problems. Meanwhile, it pits Democrats and liberals as being weak-minded, easily overcome, and too willing to compromise. The play effectively shows how difficult it is for the two sides to ever accomplish anything. It's rather brilliant in portraying each side as something of a caricature; yet, something far from a caricature for those on that particular side. It's easy to see Republicans believing liberals are nothing but weak-minded peaceniks and just as easy to see Democrats picturing Republicans as unwilling to think about the greater good for society.
Overall, this play is one that holds much promise in my opinion. It has fine plot twists and turns, and does an excellent job of portraying a broken political system; however, I think the play needs to rework Gwynn's character. She is portrayed as such a nasty person that it is difficult to see why Will stays with her. She may be a caricature of a crazy Republican woman, but she's also so verbally abusive that it is often difficult to watch. I wish they played up her paranoia more and had her scheming under the radar rather than upfront and blatant. In a play that showcases caricatures, having Gwynn be the most sensible, yet diabolical and ruthless, character would be a nice twist.
In the end, the play does what it sets out to do. It makes you think. Works by Lee Blessing always challenge the audience and that's a good thing. We need to be challenged. Perhaps, more importantly, we need to peel back the curtain and see how the other side lives. In an era in which conservatives watch Fox News and liberals watch MSNBC, maybe we'd all be better off switching channels every now and then.
A View Of The Mountains is directed by Evan Bergman and runs now through May 25 at the New Jersey Repertory Company, 179 Broadway in Long Branch, NJ. For tickets or more information visit http://www.njrep.org
---
Photo: Katrina Ferguson, Michael Zlabinger, Eva Kaminsky and John Little. Photo by SuzAnne Barabas.