By Gary Wien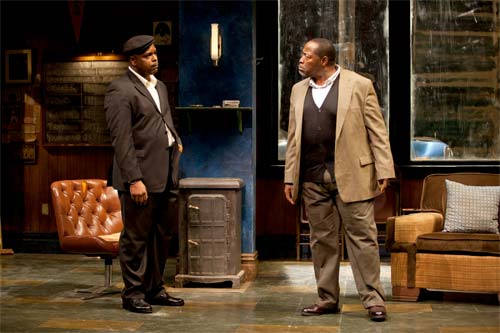 (FEBRUARY 5, 2012 -- RED BANK, NJ) -- August Wilson's Jitney opened last night at the Two River Theatre Company in Red Bank. Wilson is undoubtedly one of the most important playwrights of the last fifty years and one of my personal favorites as well. A star-studded cast comprised of former Tony, Obie and Drama Desk winners, and veterans of Wilson's work, brought the play to life under the expert direction of Ruben Santiago-Hudson.

Jitney is one of 10 plays in a monumental series Wilson created to detail the African-American experience in the 20th Century. While Jitney has long been somewhat overlooked in favor of more critically acclaimed pieces in the cycle such as Fences, The Piano Lesson, and Ma Rainey's Black Bottom, it offers a unique perspective into Wilson's career as it was the first in the series to be written.

The play takes place inside a cab station in Pittsburgh, sometime in the fall of 1977. Several older cab drivers form the basis of the station along with a young mechanic (Youngblood, played by Brandon J. Dirden). The owner of the station (Becker, played by Chuck Cooper) was recently informed that the city planned to board up the neighborhood in two weeks, ultimately tearing everything down to build new housing. As word gets out about this, the employees are understandably worried about their future. The timing is particularly bad for Youngblood who had just put down a down payment on a home before hearing the news. In addition, the timing coincides with the release of Becker's son Booster (played by J. Bernard Calloway) from prison. As a teenager, Booster murdered his white girlfriend after she lied to the police and said he had raped her.

Becker never forgave his son for what he did. One wonders if Becker might have marched for civil rights a decade earlier with the hope of a better life for his son -- a dream he believed his son threw away with the barrel of a gun. The older cab drivers form a nice contrast to Youngblood and his girlfriend Rena (played by Roslyn Ruff). Within the two generations, one can see just how dramatically the lives of African-Americans changed within a period of two or three decades. Instead of simply working in restaurants or running elevators, young African-Americans like Youngblood were offered opportunities that his elders never knew. At one point, Becker even takes offense at Youngblood's hatred of whites, urging him to forge his own path rather than rely or blame others for his destiny.

"You have to get away from that white man hatred," said Becker."… the white man doesn't even know you're alive."

"They knew I was alive when they drafted me and sent me to Vietnam," replied Youngblood.

While the entire cast gives great performances, a few stand out. Allie Woods Jr. (Turnbo) largely steals the show with a hilarious portrayal of a busy-body, gossiper who swears he "doesn't want to get into anybody's business" while Anthony Chisholm (Fielding) is brilliant as an alcoholic trying to make do while avoiding one of the principle rules of the station -- no drinking. Brandon J. Dirden (Youngblood) and Roslyn Ruff (Rena) have great chemistry and make a strong couple. And, in the end, Chuck Cooper (Becker) is the glue that keeps everything together through a very strong performance.

The play provides a fascinating look into the projects and the people who live there. While tearing down and rebuilding a blighted area may sound good on the surface, it becomes more complicated when you see the actual affect it will have on the people who live and work there. These people may appear invisible, but they recognize they have strength in numbers and wonder if it may be better to stay and fight rather than give up so easily. The projects aren't a blight to them, it's home. As with all of Wilson's work, Jitney will get inside you and make you see the world a little differently than before. It's his trademark and his genius...

Jitney is scheduled to run until February 19. In my opinion, New Jersey doesn't get enough productions of Wilson's work, do yourself a favor and make sure you don't miss this one.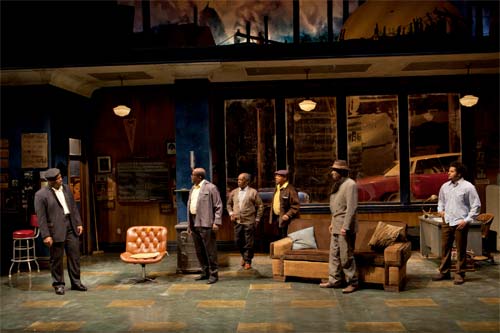 ---
Photos by T. Charles Erickson
---
Gary Wien has been covering the arts since 2001 and has had work published with Jersey Arts, Elmore Magazine, Princeton Magazine, Backstreets and other publications. He is a three-time winner of the Asbury Music Award for Top Music Journalist and the author of Beyond the Palace (the first book on the history of rock and roll in Asbury Park) and Are You Listening? The Top 100 Albums of 2001-2010 by New Jersey Artists. In addition, he runs New Jersey Stage and the online radio station The Penguin Rocks. He can be contacted at gary@newjerseystage.com.
---