By Gary Wien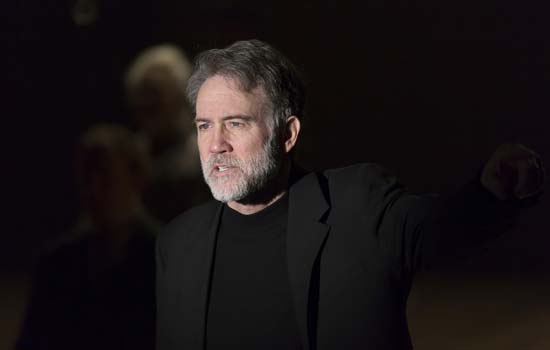 "This is the way we were in our growing up and in our marrying and in our doctoring and in our living and in our dying."
Our Town is a play that has been performed hundreds of times on Broadway, in community theaters, and high schools throughout America. The script is undeniably sappy, but in the way that It's a Wonderful Life is sappy; often corny, but still capable of bringing people to tears every time. George Street Playhouse shows the brilliance of Thornton Wilder's 1938 classic with its season-closing production that runs now through May 25, 2014.

Set in 1901 in Grover's Corners, New Hampshire — a town just across the Massachusetts line — the play attempts to document the human experience of daily life, love and marriage, and ultimately death and eternity. That may seem like an awful lot to cover in one play, but it's precisely the point Wilder is trying to make: life moves by so fast that humans just aren't able to understand how precious their time on Earth really is.
Performances of Our Town are led by the Stage Manager — a role that can make or break the play. George Street wisely cast the wonderful Boyd Gaines for this role. Gaines is a four-time Tony Award winner for roles in Gypsy, She Loves Me, The Heidi Chronicles, and Contact (and received a fifth nomination for Journey's End). His voice is soothing, his mannerisms exude a certain confidence and pride in Grover's Corners that makes him part tour guide, part historian; part eyes and ears of the town, and part God admiring his creation. Gaines is excellent in character and out, which is very important since the play often ignores the "fourth wall" and places characters inside the audience. Gaines adds to that element by interacting with the audience at select times, pointing to someone who may have laughed, staring at someone seated nearby, or even saying "Bless You" when an audience member sneezes.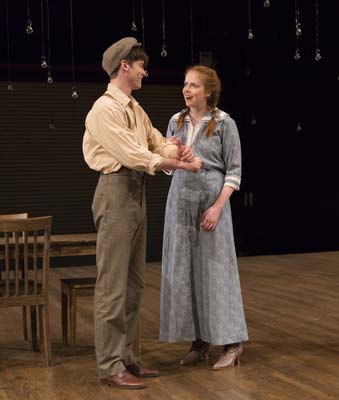 The other key characters include Emily Webb (played by Aaron Ballard) and George Gibbs (Pico Alexander) who are seen growing up together and eventually falling in love. George's parents are played by Kati Brazda and Sean Cullen. Emily's parents are played by Kathleen McNenny and Lee Sellars. George's father is the town's doctor while Emily's father runs the local newspaper.
Side characters include a professor who adds some technical history about the townspeople, a paperboy, milk delivery man, policeman, a drunk choir director, and siblings to Emily and George. This production marks the first time that George Street Playhouse has collaborated with the Mason Gross School of the Arts at Rutgers University. In a note from David Saint, George Street's Artistic Director, he explains that the collaboration will allow the theatre to produce large cast classic plays while allowing the most talented graduates to work side-by-side with seasoned professionals from New York. In the case of Our Town, at least 9 cast members are either Mason Gross students or alumni.
In a strange way, the characters in Our Town are mostly equal in value despite the storyline revolving around the lives and love story of Emily and George. There aren't many scene-stealing opportunities; it's as if Thornton Wilder wanted scenes to move by so quickly that the town people remind the audience of the people in their own town — people they know, to a point; those they see every day or every other day, say hi, and grow old with. Yet, people they don't know very well.
With that in mind, it's remarkable how quickly you feel as though you do know these people. You watch them in their day to day life, living unremarkable lives, yet, once the third act hits and you're placed in a graveyard, you feel a connection to them. It's such a powerful scene that it makes you forgive any saccharine writing beforehand. When you see that graveyard, you realize that real life is full of saccharine-styled moments. Wilder has accurately captured the human experience just as he sought out to do. It's at that moment that one realizes how impressive this play truly is and why it has lasted over 75 years.
The twelve to thirteen year duration of the play is the perfect time-frame to create a snapshot of a town. It's remarkable to think of just how much life takes place within 12-13 years. People are born, people get married, people move away, and people die. The time-frame is just long enough to tell a story that makes you feel compassion for those who have passed away and their loved ones who live on.

There's also something special about the play being set at the beginning of a century. Both the beginning and ending of the 20th century witnessed technological advancements that changed life as we know it. In the case of Our Town, the play begins when people still rode horse and buggy carts throughout town and only dreamed of traveling to far off lands. But, in the span of a few years, automobiles came into play and suddenly a small town didn't seem so small anymore.
As the stage manager says after nine years have passed and it is now the summer of 1913, "Gradual changes in Grover's Corner. Horses are getting rarer. Farmers coming into town in Fords. Everybody locks their house doors now at night. Ain't been any burglars in town yet, but everybody's heard about 'em."
It's easy to reflect on the changes we've witnessed at the end of the 20th century with the computer revolution to understand the rapid changes the people in Our Town underwent. Changes like these will undoubtedly always continue, which helps the play remain relevant to every generation.
Theatre-goers used to the beautiful and elaborate sets always found in George Street productions will encounter something completely different with this play. Wilder wanted Our Town to have minimal set design and George Street has truly followed his vision. By stripping the play (other than a few tables and chairs) of scenery, it allows the audience to fill in the gaps with their own personal memories — a process that further helps the audience and characters connect. We imagine what Main Street looks like based on what our own Main Street looked like.
The Director, David Esbjornson, wisely chose to have everything stripped down to its essence. We don't actually see the milk being delivered, but actors pretending to show what it was like to have milk delivered. In an odd way, the less that is shown the more the play (and life) appears to move faster.
Ironically, the first performance of Our Town actually took place less than twenty miles from George Street. On January 22, 1938, the play was first performed at the McCarter Theatre in Princeton — a little less than two weeks prior to its first performance at the Henry Miller Theatre in New York City. Our Town would go on to win the 1938 Pulitzer Prize for Drama.
In the original preface to the play, Wilder asked, "What is trivial and what is significant about one person's making a breakfast, engaging in a domestic quarrel, in a 'love scene,' in dying?"
The answer is nothing. This play represents the human experience from the mundane to the highlights and the questions left unanswered. If you've never seen a production of Our Town, come see this one. And if you've only seen it performed within the local high school or community theater, come to George Street and see it the way Thornton Wilder always envisioned it.
Photos by T. Charles Erickson

---

George Street Playhouse is located at 9 Livingston Avenue in New Brunswick, NJ. For more information visit georgestreetplayhouse.org -- By the way, New Brunswick has plenty of excellent restaurants near the theater. I highly recommend Stage Left, which is where I ate before this performance. Wonderful food and a great wine list!

---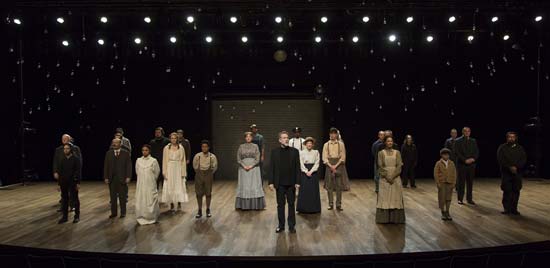 ---
Gary Wien has been covering the arts since 2001 and has had work published with Jersey Arts, Elmore Magazine, Princeton Magazine, Backstreets and other publications. He is a three-time winner of the Asbury Music Award for Top Music Journalist and the author of Beyond the Palace (the first book on the history of rock and roll in Asbury Park) and Are You Listening? The Top 100 Albums of 2001-2010 by New Jersey Artists. In addition, he runs New Jersey Stage and the online radio station The Penguin Rocks. He can be contacted at gary@newjerseystage.com.
---