By Adam F. Cohen
originally published: 06/04/2016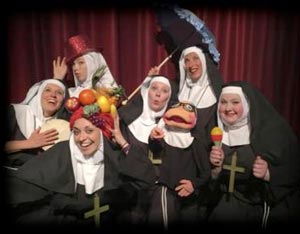 The surviving nuns of the Little Sisters of Hoboken are beset with mishap. Having lost the other 52 of their order to some rancid vichyssoise made by their own cook, are putting on a variety show to raise the money to bury the final four nuns as their previous fundraising fell slightly short and they had to resort to popping the poor dears in the freezer…temporarily.  With the board of health breathing down on them and some of their funds diverted to other forms of entertainment, these enterprising nuns sing and dance their way into your hearts.
Despite the set up, this is light hearted entertainment that has gentle snipes at current events (Donald Trump, Hillary Clinton) and is blessed with six female performers who's voices blend wonderfully in joyful singing.  Dan Goggin's musical has been performed around the world for decades and features pretty much every type of song – country, gospel, religious.
All these nuns are jostling for the spotlight, all harboring secret longings for the stage, which of course adds to the hilarity and the fun. Reverend Mother (Beth Valenti) tries to maintain her 'superiority' until she discovers a bottle of "Rush" in the girls locker room and succumbs to its effects. Sister Mary Amnesia (Ann Alfano) is also wonderful as the young nun who received a blow to the head by a falling crucifix and can no longer remember her name. There is Sister Mary Leo (Alexa Racioppi) who longs to be the world's first nun ballerina, and Sister Robert Ann (Cheryl Alessio) who chafes at being the understudy and is so desperate to perform she takes every opportunity she can to show off, and Sister Mary Hubert,(Randi Seffinger) Mother Superior's right hand nun, who's surprising gospel power rivals our Lady Aretha's. And the nun of a thousand habits (Caitlin Jurewicz) playing multiple roles including the Sister Julia – the unfortunate chef.
No moment is left idle, no joke unexamined, no harmony unsung, no plight un-prayed for. They have earned the right to be "Holier than Thou," but they would rather tackle your soul with a few she-bops, ballet, and tap.
Every Sister gets a chance to shine in Buzz Theater Productions' effort.  Highlights include Racioppi's graceful dancing, the slow discovery of Alfano's true identity, and all of the group numbers.  Director Jo Ann Ventor keeps the pace lively.  If a joke doesn't land fully, don't worry another one is following in the next sentence.  The audience even gets in on the act as the sisters interact through out the show.
---
The article continues after this ad
---
---
This is a little respite from the chaos going on out in the world or between your ears. Nunsense is an invitation to hand over the wheel to these eager servants of the Lord and let them give you a couple of hours of silly, sentimental and sublime entertainment. No fuss, no muss, no complications - just entertainment with staying power that, you should pardon the expression, goes down easy. Just the way it's been doing for 30 years.
The production runs through Sunday, June 5th at the Rhino Theater in Pompton Lakes.  More information at smilingrhinotheatre.com