By Gary Wien
originally published: 09/04/2016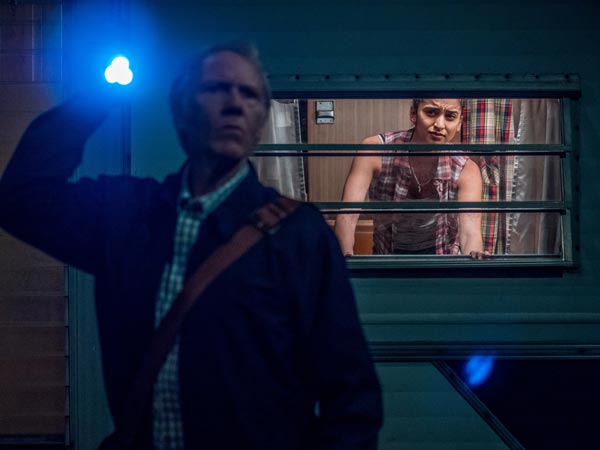 "Do you think we were bad parents? Was it him or us?"
When Las Cruces opens, you don't know why a man is breaking into an old camping trailer set in the New Mexico desert in the middle of the night, but your mind certainly imagines several scenarios.  People don't simply rent trailers in the middle of the desert - much less break into them.  As the play evolves, the mystery unfolds.  He is a man separated from his wife who carries a great amount of pain and guilt.  In essence, he is a man trying to escape a parent's worst nightmare.
The play begins with a video playing on side of the trailer.  It is a home movie showing a young boy.  Everything seems peaceful with gentle music accompaniment. The movie ends and the set goes dark.  And then comes one of the most realistic opening scenes you'll ever see in the theatre.  Sheridan enters with a flashlight.  Thanks to a rather expansive stage, Premiere was able to create a set with a mountain cliff on one side and an actual decrepit camping trailer in the center.  The expansiveness of the stage gives a level of depth that few shows in an intimate theatre like this can provide.  When Sheridan shines his flashlight through the area, you feel as though you are right there with him in the desert darkness.  It's a feeling similar to being on a movie set and watching the action take place in front of you.  Sheridan, who has a resemblance to Harrison Ford, is forced to break into the trailer.  When he does, a teenager named Soledad appears.  Apparently Sheridan was attempting to break into her home. Sheridan explains that he's not a thief, he rented the trailer.
"You rented this?" she said with a puzzled look.
"I know I should have shopped more online," replied Sheridan.  "The web doesn't do this place justice."
The play does a wonderful job of mixing home movies along with flashback scenes of his wife and sounds from the Spaceport up the road, which tests their engines every now and then.  The first boom causes the entire theatre to shake.
---
The article continues after this ad
---
---
"This was not on the website!" Sheridan exclaimed.
"I hope your rent is cheap," said Soledad.
"It's not, they're ripping me off."
We learn that he's from Connecticut and that he appears afraid to get close to anybody.  Soledad is great at gambling (there's a casino nearby as well). Despite lies from them both, the two develop a friendship.
Lies and deception are major themes in this play.  The playwright, Vincent Delaney, skillfully utilizes poker as a metaphor for life. At one level, the poker games are about simple deception; at another, it's about playing the hand you are dealt in life.  That's what Sheridan and Soledad are trying to do.  Both are trying to escape from dark secrets they are hiding from each other.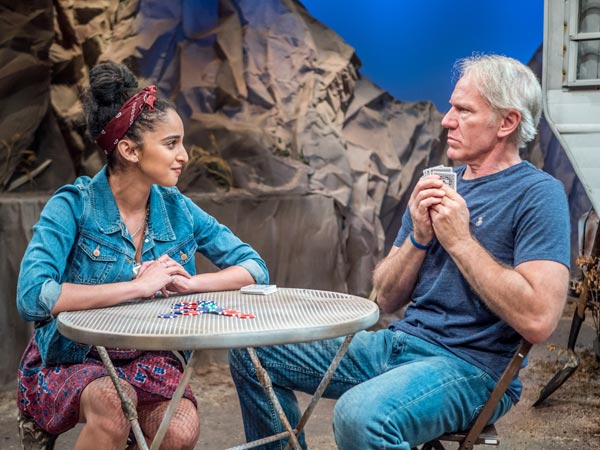 Soledad takes him to the casino and the two return with a big payload.  "They think you have Gringo Power," she tells him, hoping to make this a regular habit.  But Sheridan doesn't like the idea of gambling. 
"It's not wholesome," he says.
"It's poker," she replies.
The two tell each other lie after lie, but Sheridan's secrets become clearer when Jane (his wife) appears.  She tracked him down and wants to bring him back home.  She carries the same weight of guilt as Sheridan does.  Maybe even more.
"Do you think we were bad parents?" Jane asks Sheridan. "Was it him or us?"
"We loved him," Sheridan replies.
"Should we have?"
Guilt over their son destroyed their marriage, yet the shame they both share is something they cannot deny.  They need to be together, but are just as lost as Soledad is.  They find something about themselves — and seek redemption — out in the dark, mysterious New Mexico desert. It's a very funny, powerful play about an extremely painful topic.  There is little more that can be said without giving away the mystery and it's one you should experience for yourself.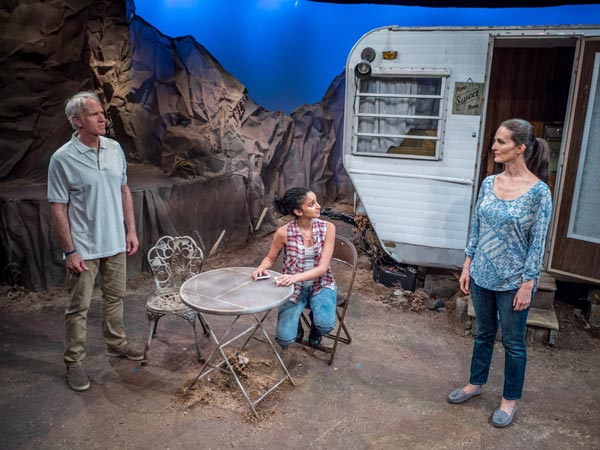 Presented by Premiere Stages at Kean University now through September 18,  Las Cruces was the winner of the 2016 Premiere Stages Play Festival with the prize being a mainstage production.  And Premiere has certainly delivered.
Directed by John J. Wooten (the Producing Artistic Director at Premiere Stages), Las Cruces features a spectacular cast. Led by two experienced Broadway actors, Brian Sutherland is superb as a man attempting to escape his past, and Charlotte Cohn shows plenty of depth in her portrayal of Jane, a woman struggling to cope with a situation she could never have imagined. Meanwhile, New York based actress Diomargy Nuñez is terrific as Soledad — a spunky, sassy teenager who acts older than her years yet struggles with the needs of a child at the same time. Not to be outdone, Connor McKenna (a sophomore in the theatre program at Kean) is simply brilliant as Robbie — the son shown in the home movies.  His character has the most amazing arc of them all and his story ties the play together.
Vincent Delaney has crafted a truly amazing work that takes a deep look at a problem which comes straight out of today's headlines.  The playwright has been awarded the Heideman from Actors Theatre of Louisville, McKnight and Bush fellowships, a Jerome Commission, the Reva Shiner Comedy Award, Core Membership at the Playwrights Centre, and a residency at Seattle Rep.  And it's easy to see why.  His dialogue flows and is engaging; his character development is outstanding; and the play is a well crafted mystery that moves smoothly.
Las Cruces is presented straight through without an intermission. Special credit goes out to Patrick Rizzotti (Scenic Design), Brant Thomas Murray (Lighting Designer), and Janie Bullard (Sound Design) for creating a very unique world on stage.
Las Cruces is very highly recommended.  The run is limited, so get your tickets now! For more information visit Premiere's website
Photos by Mike Peters.
---
This was my first trip to Premiere Stages and I have to point out the wonderful restaurant located on campus as well — basically across the street from the theatre - Enoteca Ursino. It is part of the Terra Momo Restaurant Group which has several restaurants in Princeton (Eno Terra, Mediterra, TeresaCaffe, and the Terra Momo Bread Company).  As with those establishments, Enoteca Ursino has excellent food and an extensive wine list.  

 
---
Gary Wien has been covering the arts since 2001 and has had work published with Jersey Arts, Elmore Magazine, Princeton Magazine, Backstreets and other publications. He is a three-time winner of the Asbury Music Award for Top Music Journalist and the author of Beyond the Palace (the first book on the history of rock and roll in Asbury Park) and Are You Listening? The Top 100 Albums of 2001-2010 by New Jersey Artists. In addition, he runs New Jersey Stage and the online radio station The Penguin Rocks. He can be contacted at gary@newjerseystage.com.
---