By Gary Wien
originally published: 08/31/2016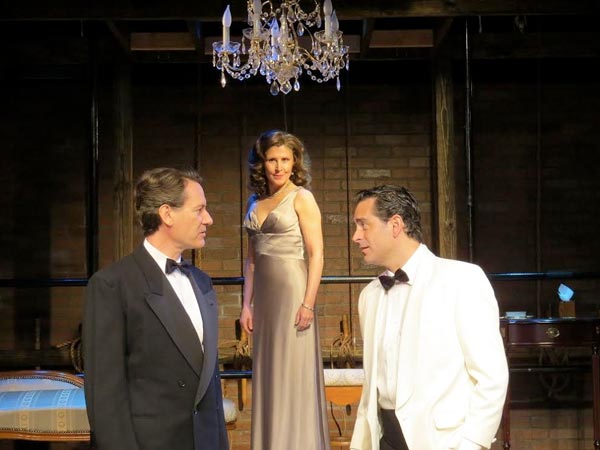 (LONG BRANCH, NJ) — James McLure's Iago opened last week at New Jersey Repertory Company in Long Branch.  It is the New Jersey Premiere of a seldom seen work by the late playwright who died in 2011.  The play offers a fascinating look inside the world of backstage romances.  But we're not just talking about a leading man falling for his leading lady, we're talking about a triangle between a husband and wife team and her new lover - all in the same cast. And there's more…
The affair takes place during the rehearsals for Shakespeare's Othello with the situation closely mirroring that of Othello's plot as well.  Getting even deeper, the affair is based on the true life marriage of Vivien Leigh and Laurence Olivier, and the couple's own struggles with infidelity.  In other words, Iago is a play about a play dealing with a situation that is not only seen on stage, but actually happened (more or less) in real life.  Got it?
NJ Rep has assembled a wonderful cast led by director SuzAnne Barabas (co-founder of the company).  The cast includes Liza Vann as Vivacity, a character inspired by Vivien Leigh; Ezra Barnes as Tony, a character inspired by Laurence Olivier; Todd Gearhart as Finney, who I believe is inspired by Peter Finch; and John FitzGibbon as Basil, the director and theatrical legend.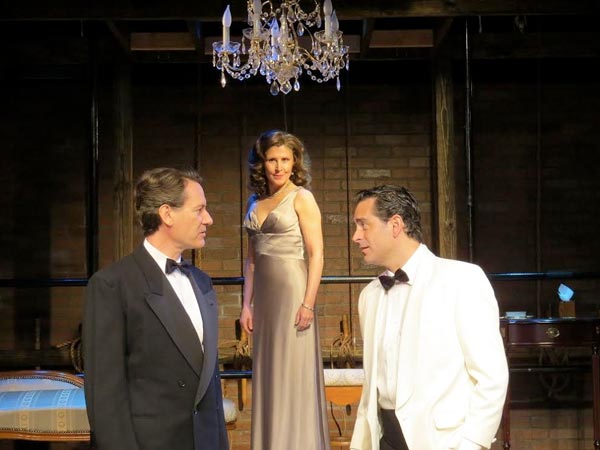 All but FitzGibbon are making their debut at NJ Rep, but, in his 12th production with the company, it's FitzGibbon who steals nearly every scene he is in.  His character sort of acts like a snarky, modern day version of the classic theatrical narrator — passing on his wisdom towards acting, love, and life itself while offering a transition through set changes… and there are many set changes.  The changes are all rather small - a lamp here, a table there - which help indicate whether the action is now on stage, backstage, in an apartment, or at the bar.  The rapid changes do help show the passing of time during rehearsals and help the play cover a long stretch of the calendar (while mimicing the craziness of the affair), but they are a bit too much as well.  I could easily imagine a future production of Iago utilizing multimedia to show the passing of time in a smoother fashion or toning down the zany switches a bit.
Throughout the play, Basil seems to relish his role as the not-so-innocent bystander.  Members of the cast tell their secrets to him and he seems to enjoy the trust bestowed upon him, while secretly loving the added dimension reality is bringing to his production.
---
The article continues after this ad
---
---
Gearhart stands out for his brilliant portrayal of the young, up-and-coming star.  In many ways, he is the younger version of Tony.  In fact, their relationship began with Tony acting as his mentor.  As rehearsals go on, Tony watches his protege steal his wife, while introducing aspects of the play that are entirely unexpected.  Finney's bold ideas for Othello began from the very first rehearsal.  As soon as Basil offered his initial director's notes, Finney disagreed with him.  He said he wanted to play Iago as a seducer rather than as pure evil - a move obviously done as a means to help him further seduce Vivacity in real life.  But his take on the character continues to change and heads off into a completely different direction as the play goes on.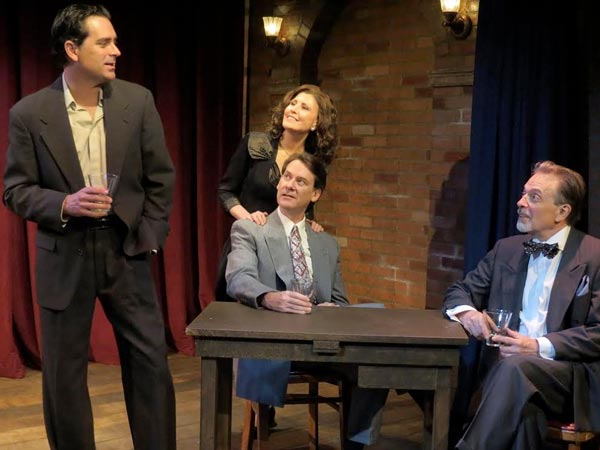 There are several aspects to Iago which showcase McLure's genius; one is the manner in which it is not simply a play about a play within a play — it is also about the mind games that are involved in real life and within the characters' minds in the play that they are staging. He shows the ultimate test and limits or love within a marriage and how an actor's career is sometimes more important to them than anything else.
It doesn't take long until Finney and Vivacity begin bringing their affair into public places.  Tony, as to be expected, struggles with it.  In denial, he tells Basil, "At least she's being discreet.  Hardly anybody knows right?"
"No one," replies Basil.
"Everybody in London knows," says Tony.
"Everybody."
Vivacity knows the affair is wrong, but she is in love with Finney's talent as much as with the man himself.  He is truly a younger version of the man she married for whom she no longer holds the same feelings.  At one point she confesses to Tony, "I no longer think of you as my husband."
"How do you think of me?" Tony meekly asks.
"As a brother… an older brother," she replies.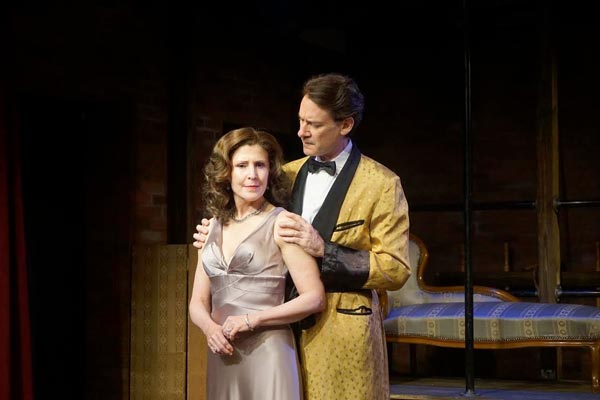 The first act ends with Tony still in denial asking her, "How long will it take for you to get him out of your system?"
Two of McLure's most popular plays are Lone Star and Laundry & Bourbon.  They were both one-acts which, when combined, told a complete story.  If Iago had only focused on the affair, it would have had more than enough material to work with and would have told a complete story.  Unfortunately, it goes on even after Othello ends.  This is where the lines between reality and the play truly blur.  Iago is supposed to be about fictional characters inspired by the lives of Vivien Leigh and Laurence Olivier, but the play goes on to show how the real life couple winds up years later.  The incongruity of reality and fiction winds up adding about 20 minutes to the play.  The extra time is not bad, but is largely unnecessary.  One wonders where Iago may have wound up if the playwright had been able to see a few more productions of it with the ability to tinker with the script.  Personally, I think he would have edited it down to the single story of the affair and Othello, which would make for an excellent tale.
Sadly, the extra time steers the play away from what would have been a truly outstanding final line.  Instead, we see several possible endings pass before the play finally concludes. 
There is more than enough good in Iago to head down to Long Branch and see this rarely performed piece.  It has all the ingredients of a great play — it's very funny, it's dramatic; it has a love story and a sword fight! The only question is whether or not anyone will ever attempt to make edits to the work or if they will treat the early stages of the play's development as the way McLure would have wanted it to be.
I think Vivacity said it best, "It's sort of like sex… the opening of a play; it's both exciting and disappointing at the same time."
---
IAGO runs at New Jersey Repertory Company now through September 25.  NJ Rep is located at 179 Broadway in Long Branch, NJ.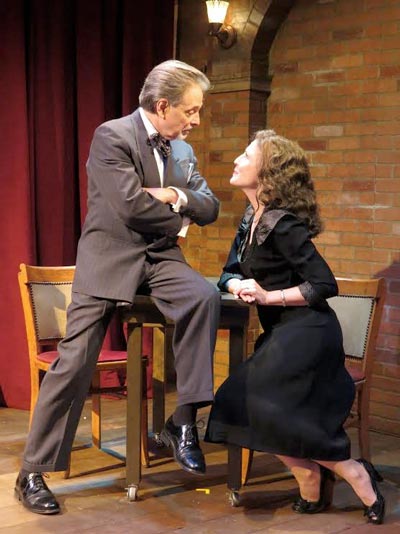 PHOTOS BY SUZANNE BARABAS
---
Gary Wien has been covering the arts since 2001 and has had work published with Jersey Arts, Elmore Magazine, Princeton Magazine, Backstreets and other publications. He is a three-time winner of the Asbury Music Award for Top Music Journalist and the author of Beyond the Palace (the first book on the history of rock and roll in Asbury Park) and Are You Listening? The Top 100 Albums of 2001-2010 by New Jersey Artists. In addition, he runs New Jersey Stage and the online radio station The Penguin Rocks. He can be contacted at gary@newjerseystage.com.
---