By Gary Wien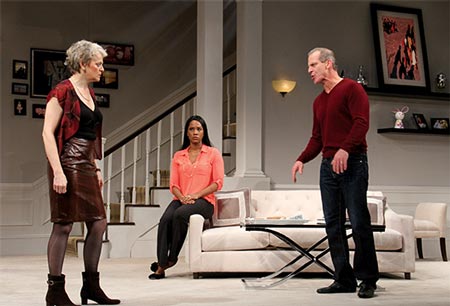 (NEW BRUNSWICK, NJ) -- The acclaimed play, "Good People" by David Lindsay-Abaire, opened at George Street Playhouse on February 1st with another one of the theatre's stellar casts. Dealing with the concept of the choices we make and the luck or support needed throughout one's life, the play takes a stark look at the social class structure as seen within South Boston's Lower End and Chestnut Hill regions.

This production stars Ellen McLaughlin as Margaret, Eric Riedmann as Stevie, Cynthia Lauren Tewes as Dottie, Marianne Owen as Jean, John Bolger as Mike, and Zakiya Young as Kate. George Street's Artistic Director, David Saint, directs the production. While Ellen McLaughlin gives a strong performance as Margaret, Zakiya Young (Kate, Mike's wife) and Cythia Lauren Tewes (Dottie, Margaret's landlord) steal the show.

The play opens with Margaret and Stevie (her superior at the dollar store where she worked as a cashier) meeting in an alley. Margaret, who has been consistently late for work because she can't leave her adult handicapped child alone, has run out of options, Stevie's regional manager has directed him to fire her.

Without a job and with rent money due, Margaret works hard to find anything to pay her bills, but has no luck. Her friend, Jean, mentions that she recently ran into an old friend of theirs (Mike) who is a doctor now. She tells Margaret to see if he has any job openings for her. After calling the office several times but not getting through to Mike, she decides to visit him her own. Eventually, she finds her way into his office and sees him again for the first time in 30 years.

Mike says he doesn't have any openings, but mentions his birthday party coming up. Margaret needles him enough to get an invitation to the party, believing that maybe one of Mike's doctor friends may have a job opening for her. Unfortunately, a day or two later, Mike calls to say that his daughter is sick and they've cancelled the party.

Margaret, believing that Mike was simply trying to "un-invite" her to the party, decides to go to his house anyway. When she gets there, she realizes her mistake, but Mike's wife (Kate) insists that she stay for a while. With glasses of wine flowing, Kate pries Margaret for stories about Mike's childhood as a Southie. The stories are eye-opening and lead to more and more facts revealed, arguments, and a three-way conversation that Edward Albee would have been proud of. With every moment spent in his house, Margaret becomes more and more convinced that Mike has forgotten his roots and has become "lace-curtain" -- a derogatory term meaning he thinks he's better than everyone else.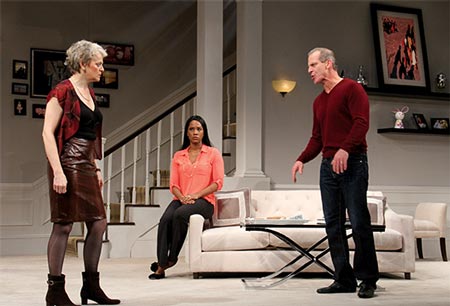 While the play was solid throughout, I left feeling a bit underwhelmed and couldn't quite figure out why. The acting was great -- perhaps even too good. Each character was entirely believable in their roles as regular people in South Boston. In fact, the play was so "realistic", it bordered on being a documentary. As I thought about it more, I realized that the realism was what left me unfulfilled with the play -- it seemed like more of a documentary than a theatrical production. Moments which could have had dramatic arcs were played out as if this was just another day in the lives of the characters. Tension which could have led to explosions on stage, merely reached the boiling level. It was almost as though the intention was to sacrifice theatrical power in favor of realism. If you love documentaries, you'll probably love this play; but if you're more of a fan of movies, you might come away feeling the way I did... wishing that the play fulfilled its promise a bit more.
The play certainly has a great history. In 2011, "Good People" was nominated for most of the major theatre awards including a Tony nomination for Best Play, and Frances McDormand took home the Tony for Best Performance by an Actress in a Leading Role. Yet, I get the feeling that great performances throughout the play's history and the social issues involved with the work may somehow have led people to overlook a few rather glaring flaws -- especially the issue of Margaret's daughter. The identity of the father is built up as some sort of mystery, yet revealed in the end to be common knowledge. Since so much of Margaret's life revolves around her daughter and the true father, it's a shame that this wasn't fleshed out in a better way.
Despite its flaws, any play that inspires as much conversation as this one did between my wife and I deserves to be seen. "Good People" forces you to choose between whose side you are on and who you choose to root for. Do you root for the person who does everything in their power to leave or the person who stays behind? In the end, who you root for will probably be the person whose life most closely mirrors your own.
"Good People" is running now through February 24, 2013 at George Street Playhouse (9 Livingston Avenue, New Brunswick, NJ). For more information visit http://www.gsponline.org
---
Photos by by Gerry Goodstein
---
Gary Wien has been covering the arts since 2001 and has had work published with Jersey Arts, Elmore Magazine, Princeton Magazine, Backstreets and other publications. He is a three-time winner of the Asbury Music Award for Top Music Journalist and the author of Beyond the Palace (the first book on the history of rock and roll in Asbury Park) and Are You Listening? The Top 100 Albums of 2001-2010 by New Jersey Artists. In addition, he runs New Jersey Stage and the online radio station The Penguin Rocks. He can be contacted at gary@newjerseystage.com.
---