By Gary Wien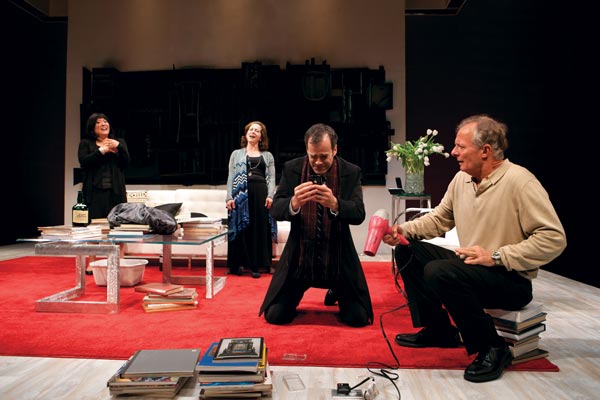 (NEW BRUNSWICK, NJ) -- "God of Carnage," an outrageously funny comedy, closes out the season for George Street Playhouse. The play involves a meeting between parents of two 11-year-old boys that got into a fight where one was badly injured. As the four adults discuss how they should deal with the incident, conversations are often interrupted by a phone calls, personal attacks, and more physical comedy than I think I've ever seen on the George Street stage. Aided by booze, hair dryers, and medicine that should be taken off the market, the play features tension that builds and builds until it finally explodes in an utterly hilarious fashion. This is truly one of those "you have to see it" kind of plays.

Seeing the play on Friday the 13th, I was actually reminded me of the old horror film in the way the playwright (Yasmina Reza) and director (David Saint) created a rather unique form of tension. About 15-20 minutes in, something happens that is digusting, hilarious, and theatrically amazing all at the same time; and, for the rest of the play, the audience is left to wonder if or when it will happen again.

David Saint, George Street's Artistic Director, says in the playbill, "When I first saw 'God of Carnage' on Broadway, my first thought was I can't believe they did that! My second thought was -- I need to bring this to George Street Playhouse."

The play stars four talented actors, three of which have previously been seen on the New Brunswick stage. Ann Harada, who originated the role of Christmas Eve in the Broadway and London productions of "Avenue Q", makes her George Street debut while Betsy Aidem ("Jolson Sings Again"), Christopher Curry ("Sight Unseen"), and James Ludwig ("Ctrl+Alt+Delete") are familar faces at the theatre.

All four do an excellent job of transforming throughout the night. As what was expected to be a brief encounter turns into a much longer one, the characters see their hidden truths revealed; as skeletons are dragged out of the closet, the four form unlikely partnerships. Enemies become allies and then enemies again. It's a whirlwind affair during the final 15 minutes as one character after another finds themselves cornered. In the end, the evening winds up a catylst to one of the worst days of their lives; and they realize they may not be as different as their children as they thought they were.

Before the play began, David Saint addressed the theatre with a tribute to his mentor and best friend, the brilliant playwright Arthur Laurents who passed away on May 5. Saint said the last few weeks were extremely difficult for him as he bounced back and forth from the hospital to rehearsals. "God of Carnage" was a play loved by Laurents and he often told David that he would be in the audience on opening night. Before leaving the stage, Saint looked up to the sky and said, "Arthur, this one is for you!"

"God of Carnage" proves that sometimes the zaniest plays stem from simply living room conversations... First produced in Zurich in 2006, it was translated by Christopher Hampton and had its English debut in London in March 2008. The play then moved on to Broadway where it won the Laurence Olivier Award for Best New Comedy and a Tony for Best Play in 2009. Geore Street's production runs until June 5, 2011 -- get your tickets now!
---
Photo by T. Charles Erickson
---
---
Gary Wien has been covering the arts since 2001 and has had work published with Jersey Arts, Elmore Magazine, Princeton Magazine, Backstreets and other publications. He is a three-time winner of the Asbury Music Award for Top Music Journalist and the author of Beyond the Palace (the first book on the history of rock and roll in Asbury Park) and Are You Listening? The Top 100 Albums of 2001-2010 by New Jersey Artists. In addition, he runs New Jersey Stage and the online radio station The Penguin Rocks. He can be contacted at gary@newjerseystage.com.
---