By Gary Wien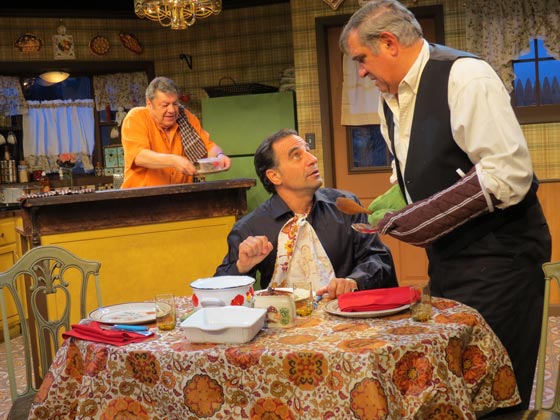 (LONG BRANCH, NJ) — Before each play, Gabor Barabas (Executive Producer at New Jersey Repertory Company) gives a little speech in which he tries to sell attendees on a season subscription, points out the emergency exits, and urges them to be ambassadors and tell their friends about the show. As a theater company that almost exclusively presents new works, word of mouth is vital for the company. But before the start of "Dinner With The Boys," Barabas took a very different approach.

"Don't tell anyone about the play!" said Barabas, pointing out that for the first time in the company's history the entire run was basically sold out prior to the first production. As theatergoers continued to push for tickets, NJ Rep was able to extend the run for an extra week. The final production is now Sunday, October 12 at 2pm. Even with the extra week, this production is easily the hottest ticket in the state... and for good reason.

"Dinner With The Boys" is a new play by Dan Lauria, a playwright/actor best known for playing the father on "The Wonder Years" hit TV show. It was quite the coup for NJ Rep to land this production as it's not often one gets to see an actor of Lauria's stature in such an intimate space and even less often to see a major work like this premiered outside of the city. NJ Rep benefited from a long-time relationship with Lauria and a reputation based on presenting new works - a mission Lauria truly believes in.

"Dinner With The Boys" stars Lauria alongside Ray Abruzzo (who played Little Carmine Lupertazzi on The Sopranos), and Richard Zavaglia (a veteran of stage and screen who has appeared in such films as Donnie Brasco with Al Pacino and Johnny Depp.)

The play deals with a pair of aging mobsters: Charlie (played by Lauria) and Dominic (played by Zavaglia) who are hiding out in a house in the suburbs of New Jersey while they await their punishment by Big Anthony Jr. (played by Abruzzo) for failing to complete a hit they were ordered to do.

It's an old-fashioned comedy, exactly what Lauria set out to create. In an interview with New Jersey Stage, Lauria said he was tired of seeing movies being put on stage and telling everybody it's a play. "This is a play," he explained.

Lauria does a wonderful job bringing the audience into the world of mobsters we rarely see. This is the world in they are revealed as human beings, albeit with a few quirks. They enjoy the peace and quiet of the suburbs, they dream of owning their own restaurant, and they eat vegetables from the same garden where bodies were buried! Meanwhile, they live in fear as "ghosts" according the business - people who are dead already, but just don't know it yet.

As the play roles on, ugly truths rise to the surface. Charlie and Dominic learn much about their roles in the "family" and why they have found themselves in their current situation. Charlie once was a "made man", but now realizes it's them versus the family. Murder is their only escape. The family is coming after them and the pressure leads to Charlie and Dominic turning on each other. The question is who will be left in the end?

"Dinner With The Boys" is an often hilarious production with wonderful actors. Originally written for Lauria's friends and mentors (Peter Falk, Dom DeLuise, Jack Klugman, and Charles Durning) who have sadly passed away, this production is one all four would truly be proud of.

NJ Rep has always taken a risk by presenting new works, but this past year has seen a major leap forward with the actors on stage. The combination is taking the Jersey Shore company to new levels. It's exciting and rewarding to see a company grow like this.

"Dinner With The Boys" is directed by Frank Megna. The production team includes: Jessica Parks (Set Design & Props), Jill Nagle (Lighting Design), Merek Royce Press (Sound Design), Patricia E. Doherty (Costume Design), Michael Carroll (Technical Director), and Jennifer Tardibuono (Stage Manager).


---
Gary Wien has been covering the arts since 2001 and has had work published with Jersey Arts, Elmore Magazine, Princeton Magazine, Backstreets and other publications. He is a three-time winner of the Asbury Music Award for Top Music Journalist and the author of Beyond the Palace (the first book on the history of rock and roll in Asbury Park) and Are You Listening? The Top 100 Albums of 2001-2010 by New Jersey Artists. In addition, he runs New Jersey Stage and the online radio station The Penguin Rocks. He can be contacted at gary@newjerseystage.com.
---