By Gary Wien
originally published: 05/08/2017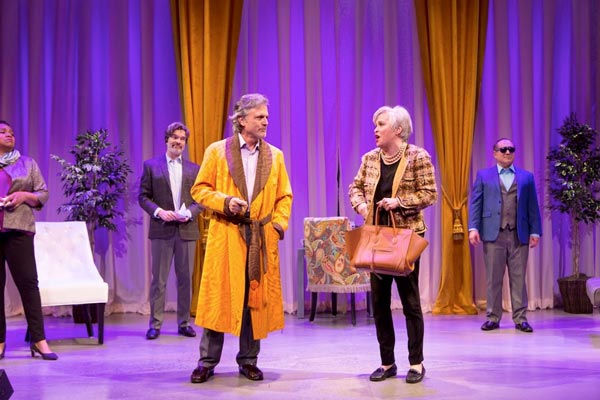 (NEW BRUNSWICK, NJ) — The death of a spouse is a rather odd choice of subject matter for a musical comedy, but Curvy Widow pulls off the trick in fine style.  Led by Nancy Opel, the final play to be staged at the current George Street Playhouse building is the perfect choice to close this chapter of the theatre's history and begin looking forward to the next.
Curvy Widow begins with the musical number "Under Control" in which Bobby (Nancy Opel) shows her every day routine of managing the life that surrounds her husband Jim (Ken Land), a famous author.  We see her making plans, making decisions, and meeting with several people.
"Just a day in the life of a wife of a writer, juggling knives and keeping everything in control," she sings.
The mood suddenly changes with a phone call revealing her husband's death and the song changing the lyrics to "not in control."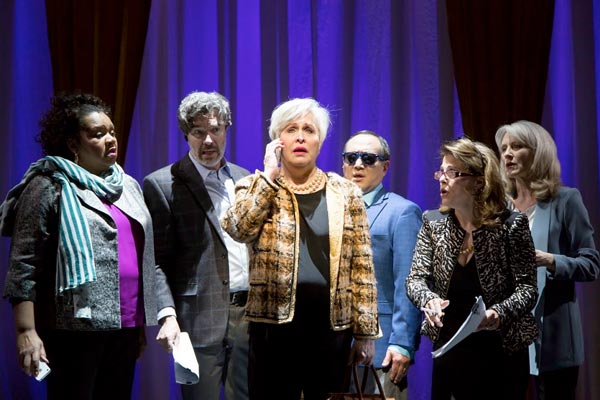 Her friends, Caroline (Andrea Bianchi), Heidi (Elizabeth Ward Land), and Joan (Aisha de Haas) comfort her and offer advice.  One suggests that she pay for the funeral expenses with her American Express card.
---
The article continues after this ad
---
---
"You mean I could get miles?" asks Bobby.
The opening scenes bounce back and forth between heart-tugging moments to laughter as Bobby is forced to learn how to live each day on her own.  One particularly touching number is "Half a Life" which Bobby sings as she moves around her empty home.
"Half a life and he's all I've ever known / Half a life and tonight I eat alone."
The song does a wonderful job of putting us inside Bobby's state of mind as she looks around and sees memories of their life together everywhere she turns.  She wonders what to do next, but knows she needs to turn the page.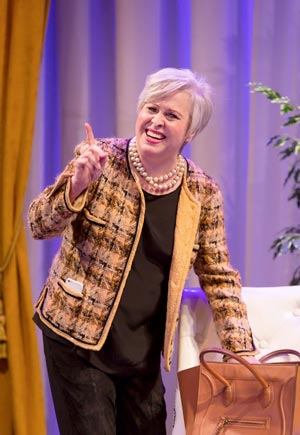 Her first step in moving on is to see the psychologist that her husband has been going to for years.  Played by Alan Muraoka, the shrink attempts to help Bobby find her happy place.  She quickly realizes she wants to start completely over with an apartment designed from scratch. Bobby also wants to move downtown - away from all of the people who know her only as the wife of a famous writer.
When Bobby returns to the shrink a few weeks later, her apartment is completely finished and she loves it.  She shows up to her appointment eating and mentions that she's eating just about everything in sight.  The shrink believes she is compensating for a desire she misses.  
"I'm making getting laid a medical directive," he says.
"Can you do that?" she replies nervously.
Bobby takes his advice and creates a profile on match.com.  One of the musical number highlights takes place here - the title song, "Curvy Widow" which we learn is the screen name she decides to use for her new identity.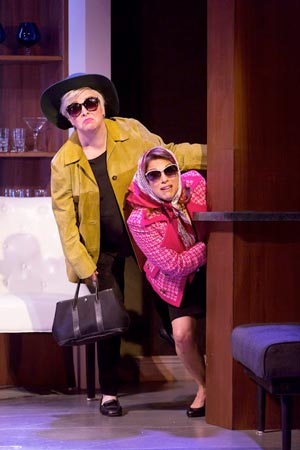 Adventures involve purchasing condoms for the first time, a series of bad dates, and being haunted by her dead husband.  In between, she relearns the excitement of meeting someone for the first time and the "March of dates" which showcase the difficulties of dating later in life.
"Single men my age are awful," Bobby says.  "There's a reason they are alone."
After the run of bad dates leaves her frustrated, she decides to try a different dating site.  Her search online accidentally brings her to an adult dating site, which basically features people who want to have sex.  Bobby figures she's come this far, she might as well give it a chance so she creates a profile (but doesn't include a picture despite seeing photos that leave nothing to the imagination on the site).  The initial response blows her away with over 100 replies from men interested in her.  She then goes through each profile in an attempt to narrow down the list.
"Now we're down to 72 men I might want to do / we're down to 72 men who might want to do me too," she sings in a hilarious number.
After a series of whittling down, she winds up with 9 choices to work with.  Unfortunately, just when Bobby thinks she's found someone great, she discovers changes to her body has made sex a painful experience for her.  Enter Doctor Doug - the super hero her friends have used to ensure they are still able to have the same fun they did when they were younger.  After being "healed" she embarks on a new path to avoid the bad dates and actually loves her new life.  Things get even better when a wonderful man (played by Christopher Shyer) stumbles into her life.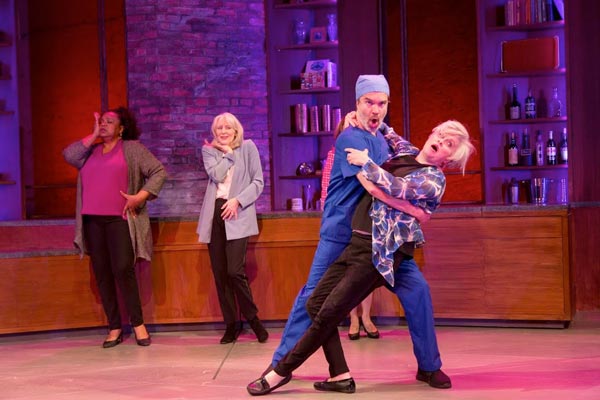 Curvy Widow is a very funny musical.  The songs help broach the dark subject matter that inspired the play (based on the real life adventures of Bobby Goldman who wrote the play along with Drew Brody).  Nancy Opel is terrific.  The Tony-Nominated actress has an amazing voice and is able to move effortless between sad moments and hilarious antics.
Directed by Peter Flynn, the play is about 80 minutes straight through and it never loses a beat. A creative set design takes us from Bobby's apartment to the shrink's office to various bars and restaurants without the need to stop. The entire cast does a great job and everyone but Opel performs multiple roles.  The only downside to that for me was seeing Bobby date a character played by the same guy who played her shrink.  That was a bit unnerving…
In the end, Curvy Widow is about the journeys we take in life that sometimes steer us in directions we never imagined to go.  It's about moving on and starting over; it's part tear-jerker, but mostly a very funny comedy. As you can tell from the lyrics shown here, it's an adult-oriented comedy with mature subject matter.
Curvy Widow runs now through May 21 at George Street Playhouse (9 Livingston Avenue) in New Brunswick.  Highly recommended!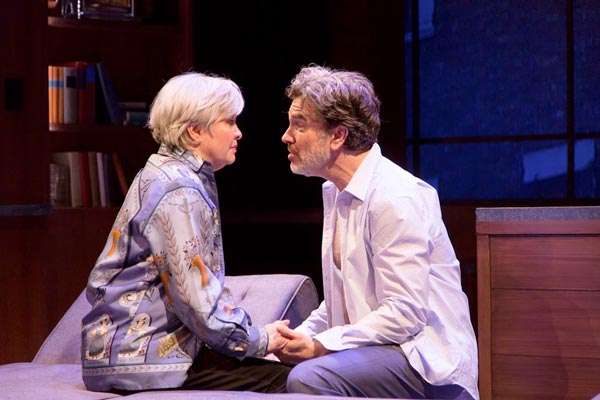 ALL PHOTOS BY T. CHARLES ERICKSON
---
Gary Wien has been covering the arts since 2001 and has had work published with Jersey Arts, Elmore Magazine, Princeton Magazine, Backstreets and other publications. He is a three-time winner of the Asbury Music Award for Top Music Journalist and the author of Beyond the Palace (the first book on the history of rock and roll in Asbury Park) and Are You Listening? The Top 100 Albums of 2001-2010 by New Jersey Artists. In addition, he runs New Jersey Stage and the online radio station The Penguin Rocks. He can be contacted at gary@newjerseystage.com.
---