By Gary Wien
originally published: 03/09/2015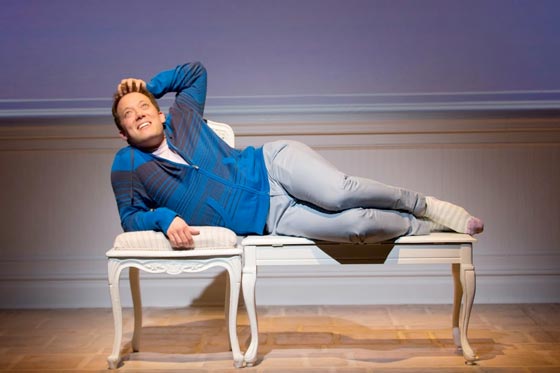 (NEW BRUNSWICK, NJ) — If you're a regular patron to shows at George Street Playhouse, you might be taken aback by the set for Buyer & Cellar.  Instead of the lavish sets you are accustomed to, you'll notice a set that's very plain and bare.  It is designed this way because Buyer & Cellar lives more in the audience's imagination than on stage.  And your host is John Tartaglia, someone born to play this role.
There's inspired casting and there's casting that makes you wonder how a role could be performed by anyone else.  That's the feeling I had after watching Buyer & Cellar.  Tartaglia is simply fantastic in a role that utilizes his strengths very well.  He's best known from the original cast of the hit Avenue Q and his work on "Sesame Street".  In Buyer & Cellar he portrays Alex More, a gay actor on a journey into the world of working for Barbra Streisand… in her basement.
It's not an ordinary basement mind you.  No, Barbra has collected many, many items over the years and designed her basement to serve as a shopping mall full of stores showcasing her goods.  It's a place she visits often.  Tartaglia is hired to run her stores, serving as shopkeeper and using his improvisational skills as an actor to help Barbra's pretend world feel more real.
As the play begins, Tartaglia reminds everyone that the play is entirely a work of fiction, he's an actor, and the only real aspect of the play is Barbra's book My Passion for Design, which details the shops in her basement that the play is based upon.  Alex admits that he wasn't that much of a Streisand fan before taking the job, but understood that being a fan was part of his birthright as a gay man.  "I felt about Barbra the way the Jews feel about the Seder… and Barbra" he says.
His boyfriend, however, was a huge fan.  I say "was" because one of the main storylines in the play is a lover's triangle of sorts between Barbra, Alex, and his boyfriend.  As Alex and Barbra become closer and closer, his boyfriend begins to get jealous.  In the end, Alex is forced to choose between his job working in the basement for a celebrity and his boyfriend.
---
The article continues after this ad
---
---
What's great about Buyer & Cellar is that it doesn't matter if you're a fan of Barbra Streisand or not, you'll still enjoy the play.  Die-hard fans might enjoy a few inside jokes more than non-fans, but basically the play is a look at how wealth may buy items but it doesn't cure loneliness.  She could be any extremely wealthy person and most of the jokes would still work.  She's someone who not only has enough money to collect items to fill a shopping mall, but wealthy enough to hire someone to work in that mall for exactly one customer - herself.
As warned, the job soon became less exciting than it first sounded.  "It was thrilling for a minute than it got really old, really fast," said Alex.  "And quiet."
It was so quiet he could hear the popcorn and yogurt machines all day long as he went from store to store dusting the items and making sure they were placed in appropriate places.  Tartaglia is hilarious in a scene in which Barbra finds a doll she loves in the doll store and tries to haggle with Alex on the price.  He refuses to budget, over and over again for several days until Barbra returns with a coupon that just happens to knock the price down to her original bid.
Tartaglia doesn't try to imitate Barbra's actual voice, but gives her a distinct vocal stamp.  He also voices Alex's boyfriend, the woman who works for Barbra that hired Alex, and James Brolin (Barbra's husband).  The voices are all extremely well done and help give this one-man play several well defined characters.
Buyer & Cellar is 90 minutes of non-stop one liners done in rapid style.  It's a hilarious look at the insecurities and fantasies of someone that is able to create their own world.  As Alex learns, no world is truly perfect though no matter how hard you try to make it.
Written by Jonathan Tolins and wonderfully directed by David Saint, Buyer & Cellar runs now through March 29 at George Street Playhouse, 9 Livingston Avenue, New Brunswick, NJ.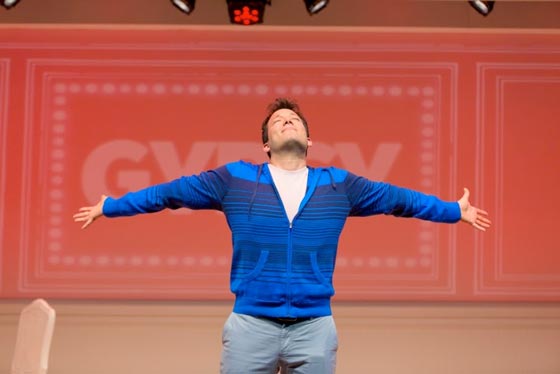 ---
Gary Wien has been covering the arts since 2001 and has had work published with Jersey Arts, Elmore Magazine, Princeton Magazine, Backstreets and other publications. He is a three-time winner of the Asbury Music Award for Top Music Journalist and the author of Beyond the Palace (the first book on the history of rock and roll in Asbury Park) and Are You Listening? The Top 100 Albums of 2001-2010 by New Jersey Artists. In addition, he runs New Jersey Stage and the online radio station The Penguin Rocks. He can be contacted at gary@newjerseystage.com.
---