By Gary Wien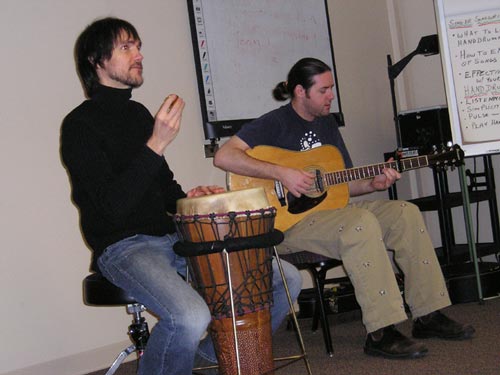 (LINCROFT, NJ) -- Where else can you find pre-teen kids wearing Pink Floyd shirts, middle-aged men drooling over hand-made strings, and musicians shelling out two thousand dollars for the vintage guitar they've always wanted?

At the Brookdale Guitar Show, which had its 9 annual showing on Sunday, February 19th on the Brookdale Community College campus. The show once again featured vendors selling everything from vintage guitars to movie posters and rare rock and roll magazines; clinics by local musicians; and performances by upcoming stars.

The show is sponsored by 90.5 The Night, Raritan Bay Guitar Repair, and Nothing New Music. Vendors were from throughout New Jersey as well as across the country. Admission was $10 or $5 if you had a Brookdale Public Radio Member Card or a guitar to sell or trade, so the area was swarming with musicians with guitars for sale.

Amazingly, the place was packed with musicians as soon as the doors opened at 10am. Apparently, there are many more musicians in the area than working musicians as it was a bit early in the morning for some of us.

I never get tired of seeing kids who look about 10 years old wearing classic rock t-shirts by bands like Pink Floyd or Led Zeppelin. There's something strange and something wonderful that these bands have endured for so long. I wonder if the kids would still think it's cool to wear the shirts if they knew not only did their parents like those bands but some of their grandparents probably did as well. That's gotta be getting into the weird department.

It's also become somewhat of a who's who of the local music scene. Some of the musicians who made their rounds through the vendor area included Andrew Holtz, Chris Batten, Michael Patrick, Brian Amsterdam, Jon Leidersdorff, Billy Brown, Joe Bonanno, Jason Mather, Stringbean, Dawne Allynne, Jon Pfeiffer, and members of the Dark Marbles and The Churchills.

Performing throughout the day was Tommy Anton & Abby Cahn, Matt O'Ree, Terraplane Blues, Jo Wymer Trio, Jerry Topinka, Charles Bissel, and Local Fuzz.

Clinics included sessions on guitar repair by Raritan Bay Guitar Repair, clinics on bluegrass music, panels featuring producers and engineers, panels with record labels, and artist tutorials with Tommy Anton, Jack Frost, Gary Wright, Jerry Topinka, Jon Francis, Harry Sullivan, Doug Clarke, Pete Wagula, Chris Plunkett, Chris Buono, and Sonny Kenn.

As always, bluegrass music was placed downstairs. I'm not sure if that's a hidden dig at the genre or not, but they're always placed downstairs. And while the rooms aren't hard to find, it stil freaks me out a bit to be looking for the Monmouth Battleground room rather than say room 202.

Vendors once again knew that the show was just about over when the man dressed up as Elvis started making his rounds through the vendor area. Every year I've been there, he seems to make an appearance just at the very end and this year was no different. As Elvis left the building, so did the guitar show until same time next year.

---
Gary Wien has been covering the arts since 2001 and has had work published with Jersey Arts, Elmore Magazine, Princeton Magazine, Backstreets and other publications. He is a three-time winner of the Asbury Music Award for Top Music Journalist and the author of Beyond the Palace (the first book on the history of rock and roll in Asbury Park) and Are You Listening? The Top 100 Albums of 2001-2010 by New Jersey Artists. In addition, he runs New Jersey Stage and the online radio station The Penguin Rocks. He can be contacted at gary@newjerseystage.com.
---