By Gary Wien
originally published: 03/29/2017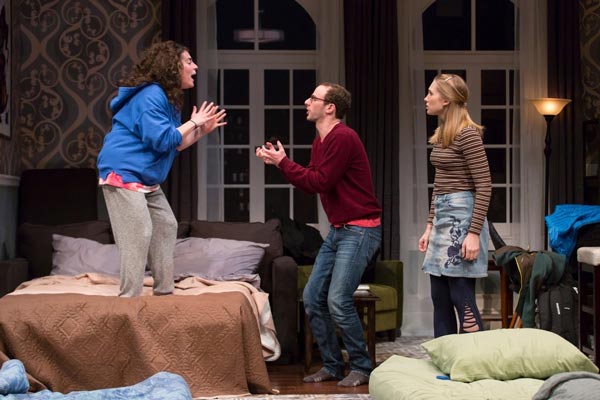 (NEW BRUNSWICK, NJ) — The hatred is real, and the hatred is beautiful.  It's the type of hatred that can only stem from a relative - someone you know by blood.  Picture the hatred between two people who have known each other for their entire lives, but can't stand to be in the same room.  That's the energy which drives Bad Jews by Joshua Harmon, a hilarious comedy that is on stage at George Street Playhouse until April 9.
The play involves a group of people temporarily sharing a studio apartment on the Upper West Side of New York City for the funeral of their grandfather.  Three of them are Jewish (brothers Liam and Jonah along with their cousin Daphna) and the other is Liam's girlfriend, Melody.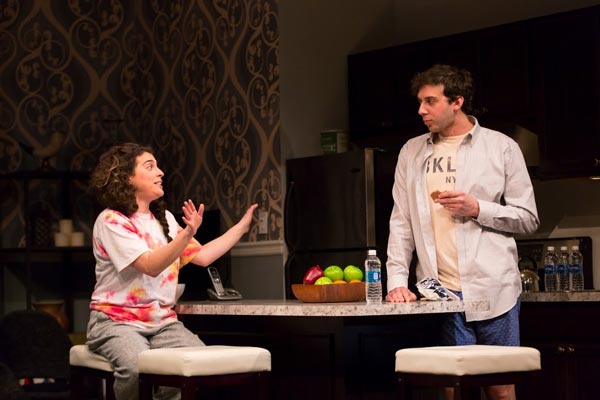 George Street has once again designed an absolutely beautiful set.  Thanks to Charlie Corcoran (scenic designer), the apartment, which Jonah's parents bought for him, is so well done, the actors could probably crash there after the show.  The play begins with Daphna amazed that her cousin has a view of the Hudson River from his bathroom.  She quickly establishes the premise that money is something which is always on her mind.  Her parents are far less well off than Jonah's side of the family and it clearly rankles her.
Melody tells Jonah she has only one wish.  She wants "Poppy's" Chai necklace. It was hidden by their grandfather during the Holocaust and given to their grandmother in lieu of an engagement ring. In addition to the sentimental value, it obviously means a lot regarding her faith.  Of the three, she believes she is the most devout.  In fact, she calls Liam a "Bad Jew" and despises the way he seems to downplay his Jewish faith.  Unfortunately, since their grandfather's will didn't specify things, it's up to the grandchildren to sort things out.  Jonah says he doesn't mind her having it.
By the time Liam and Melody appear, Daphna has already established herself as a tremendously awful person - someone you just don't want to be around.  Thankfully, the play does not revolve around her.  It revolves around the friction between her and Liam - something I think most of the audience can relate to by this point!
---
The article continues after this ad
---
---
Liam and Melody are hardly in the apartment for more than a few minutes before Liam tells his brother he needs to find a different place to spend the night.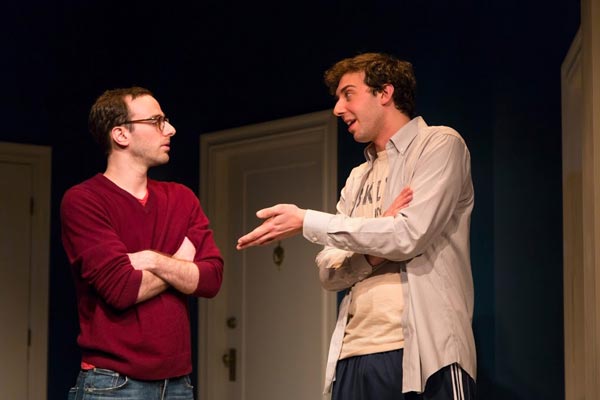 When the two brothers leave, the two girls get to know one another. Daphna isn't very friendly to Melody.  In fact, she sort of insinuates that she has no business being at the funeral.  As she looks over this blonde hair, blue-eyed girl her cousin has brought, she thinks her grandfather would not approve of her.  She keeps establishing her credentials as the person most proud of her heritage.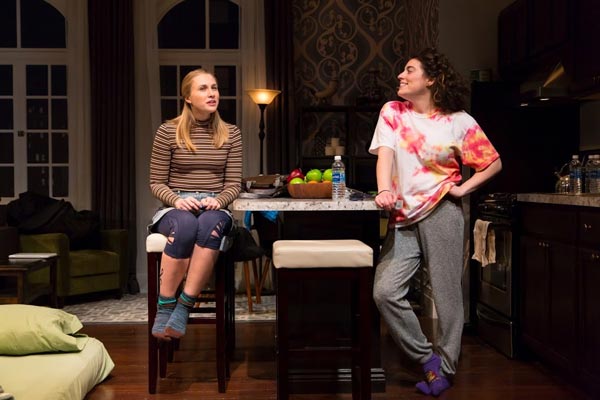 Liam returns with Jonah, frustrated that he cannot find another place for him and his girlfriend for the night.  Daphna tells him that she wants Poppy's necklace.  She assumes there won't be a problem, but Liam has other plans.  He wants the necklace for a very specific reason.  And the battle begins…
The two start going at it — so much so, that it actually scares Melody.  She's never seen this side of Liam before.
"This room is like my worst nightmare," says Liam.
The hatred revealed is both scary and hilarious at the same time.  It truly drives the play into a territory few productions ever reach.  It's like a symphony of hatred!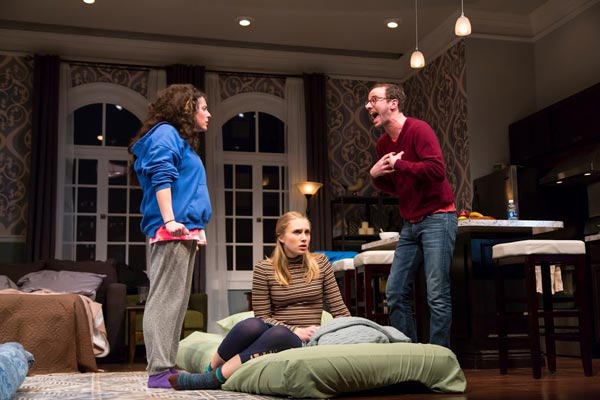 Bad Jews examines many aspects of religion: the idea of a Jewish family welcoming a non-Jew to an important gathering like a funeral; the idea of family heirlooms, their importance, and how people will fight over them; racism; and the biggest concept of all - what makes someone a true believer.  The play will likely surprise you with who among these four is the real believer.  Just when you think you know, there's another twist.
Bad Jews is extremely well written and George Street's cast is terrific.  Liam (Alec Silberblatt) and his rage is a sight to behold, while Daphna (Laura Lapidus) does her part in creating one of the most annoying - but believable - characters ever.  Meanwhile, Melody (Maddie Jo Landers) and Jonah (Amos VanderPoel) are part of the most challenging and powerful scenes.
Jessica Stone makes her directorial debut at George Street and it is a very welcome one.  The pacing, between the anger and the moments of quiet, are extremely well done.
This play is one that is likely to bring a flood of emotions to you.  It doesn't matter if you are Jewish or not, if you have ever experienced the loss of someone special like a close relative, chances are you will have memories replayed in your mind upon leaving the theatre.  You will also have big questions race through your mind.  I know I did.  
Bad Jews runs now through April 9 at George Street Playhouse and is very highly recommended.  This is a powerful play.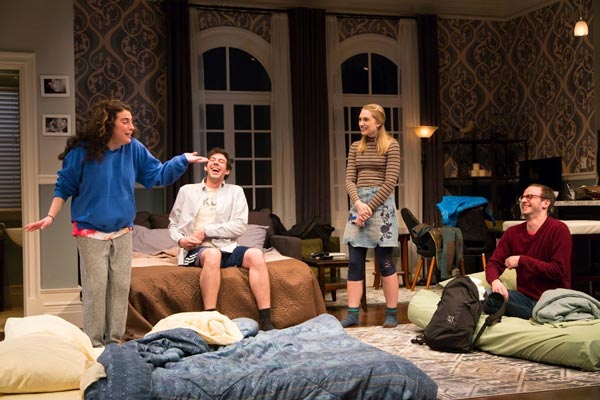 Photos by T. Charles Erickson
---
Gary Wien has been covering the arts since 2001 and has had work published with Jersey Arts, Elmore Magazine, Princeton Magazine, Backstreets and other publications. He is a three-time winner of the Asbury Music Award for Top Music Journalist and the author of Beyond the Palace (the first book on the history of rock and roll in Asbury Park) and Are You Listening? The Top 100 Albums of 2001-2010 by New Jersey Artists. In addition, he runs New Jersey Stage and the online radio station The Penguin Rocks. He can be contacted at gary@newjerseystage.com.
---