By Gary Wien
originally published: 12/17/2017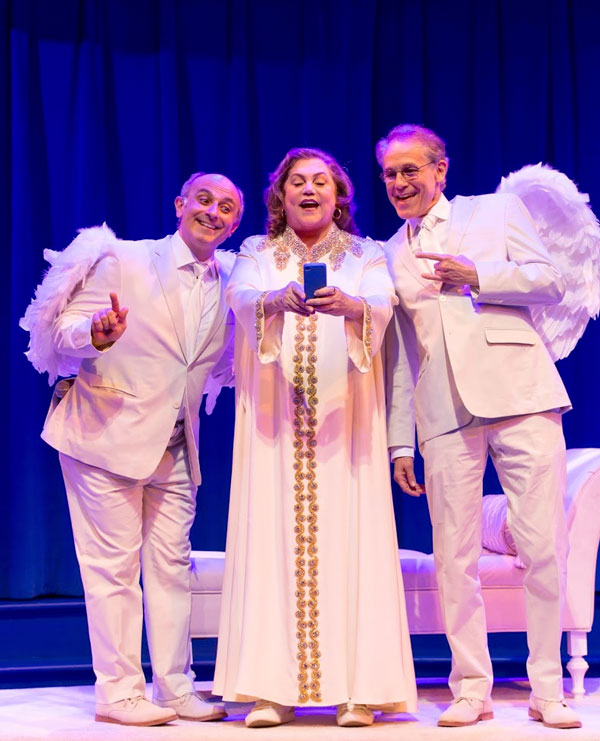 (NEW BRUNSWICK, NJ) — One thing you can count on with George Street Playhouse is to present plays that challenge the audience.  The theatre company is never afraid to shock audiences or test limits.  Unfortunately, challenging theatre is not always good theatre. And we are reminded of that as David Javerbaum's An Act of God heads into its final week.
If you ever wondered what it would be like to create a play out of a bunch of tweets, this play gives you the answer.  Adapted from Javerbaum's book, The Last Testament: A Memoir By God, the play feels disjointed, lacks rhythm or structure, and seems to veer back and forth from trying to be a comedy and trying to say something profound.  While this is happening it is also wasting a wonderful performance by Kathleen Turner as God.
In a moment of inspired casting, George Street cast Turner in the leading role, likely becoming the first theatre to have a female God in this play.  Previous runs in New York City featured Jim Parsons (The Big Bang Theory) and Sean Hayes (Will and Grace) as God.  Turner does all she can to prevent this from being a complete bore.  She is joined by two angels, Jim Walton as Gabriel and Stephen DeRosa as Michael.
"Why a woman?" asks Turner as God.  "Have you seen the news lately? Men haven't done well playing God."
The plot involves God coming down to Earth to offer an updated list of Ten Commandments.  Some of the old standbys remain, while many new ones are introduced.  
---
The article continues after this ad
---
---
"I have grown weary of the Ten Commandments in the same way Don McLean has grown weary of 'American Pie'," God explained.
One by one God and the angel Gabriel run through the Commandments in a setup reminiscent of The Family Feud.  While doing so, she often reflects and remembers the past - such as with the story of creation.  Michael, the other angel, goes through the theatre taking questions from audience members.  Unfortunately, the combination of the two often remove any sense of rhythm from the play.  Some commandments run through quickly, others have stories that go on for several minutes.  The questions from the audience often feel like someone interrupting a speaker.  Even though there are many funny lines in the play, the lack of structure makes it feel like the most uncomfortable day in Church you've ever had.
It doesn't matter if you're religious or not or whether you believe in God or not, the play is bound to leave you with one line by God, "I made mankind in my image and I'm an asshole!"  Throughout the play, we see the vengeful God.  A supreme being with many, many issues including, as Turner points out, "Wrath Management issues."  Only on a handful of occasions do we ever see a benevolent God or even one that cares about the human race at all.  This is not about religion being presented in both lights; it's about having a character that we care about watching.  Do you really want to watch an asshole on stage for 90 minutes?
It's a shame that a topic like religion which is perfect fodder for comedy, is given such a weak offering. George Street's cast does all they can, but they don't have much to work with.  While watching it I could hear Bill Clinton whisper, "It's the writing, stupid." 
Turner is incredible as God, Walton is wonderful as Gabriel (virtually a game show host), and DeRosa does a good job as Michael - a role that is rather annoying, but supposed to be.  Unfortunately, the highlight for me was the closing musical number.  An Act of God isn't a musical, but while hearing the way the one-liners sounded during the song I began to wish it had been.  The combination of one-liners with a Mel Brooks - like song was terrific.  I just wish there was more of that.  Maybe it's the reason the Book of Mormon has been such a success.
The play is directed by David Saint and runs 90 minutes without an intermission — a wise choice for this play.  I don't believe those who are religious will be offended by the play, but theatre fans might.  It just doesn't have the feel or rhythm of an enjoyable show.  It feels like being stuck in Church for a long sermon by a minister who is having a really, really bad day.
The bright side for me was finally seeing the "temporary" home for George Street Playhouse for the next two seasons while the New Brunswick Arts Center is constructed.  George Street has done an amazing job turning the former New Jersey State Agricultural Museum into a professional theatre.  I had missed the season opener, so this was my first time seeing the space.  It was easy to get to off of Route 1 and has its own parking lot.  George Street recommends going to the restaurants in downtown New Brunswick before the show and I second that suggestion as the restaurants near the theatre are mostly chain restaurants that get extremely crowded on the weekends.  It's far easier to reserve a table downtown using the Open Table app (which I highly recommend picking up if you don't already use it).
Up next for George Street Playhouse is American Hero by Christopher Demos-Brown, author of last year's hit American Son.  The play runs from January 30 through February 25.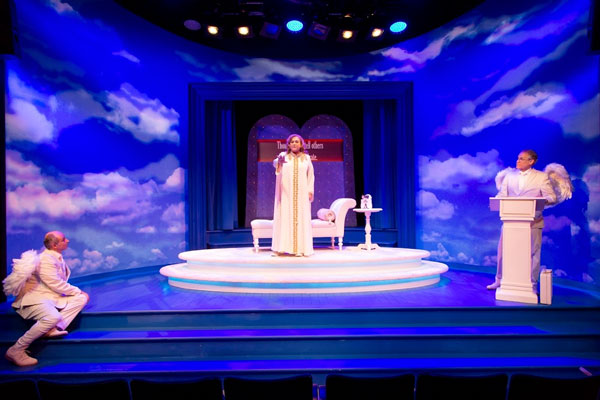 Photos by Charles Erickson
---
Gary Wien has been covering the arts since 2001 and has had work published with Jersey Arts, Elmore Magazine, Princeton Magazine, Backstreets and other publications. He is a three-time winner of the Asbury Music Award for Top Music Journalist and the author of Beyond the Palace (the first book on the history of rock and roll in Asbury Park) and Are You Listening? The Top 100 Albums of 2001-2010 by New Jersey Artists. In addition, he runs New Jersey Stage and the online radio station The Penguin Rocks. He can be contacted at gary@newjerseystage.com.
---