By Gary Wien
originally published: 02/15/2017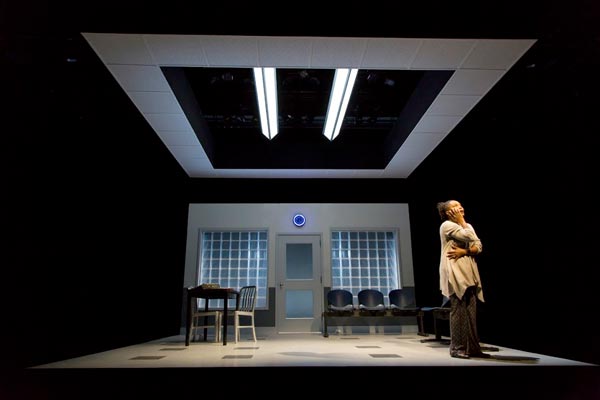 (NEW BRUNSWICK, NJ) — George Street Playhouse promotes American Son as a story ripped from today's headlines.  The play, by Christopher Demos-Brown, is a chilling look at a family's nightmare — a situation involving their son, an abandoned car, and the police — and how the world sees an 18 year old black man.
The play stars a pair of regulars to the George Street stage: John Bolger (Outside Mullingar, Twelve Angry Men) and Suzzanne Douglas (Lady Day at Emerson's Bar and Grill, Wit) as a bi-racial couple.  The cast is rounded out by Mark Junek (Broadway's The Performers) and Mark Kenneth Smaltz (Law & Order: SVU).
American Son takes place in the waiting room of a police station in Miami-Dade County, Florida.   It opens with Kendra Ellis-Conner (the mother played by Suzzanne Douglas) alone in the room shortly after 4:00 in the morning.  She is frantically trying to reach her son, Jamal, on her cell phone.  When a white police officer named Paul Larkin (played by Mark Junek) appears, he asks a series of standard questions based largely on stereotypes.  He straddles the line between seeming like a novice cop and someone working from a checklist to keep the mother calm.  Junek does a fine job of portraying an office who would rather be anywhere else than where he is right now.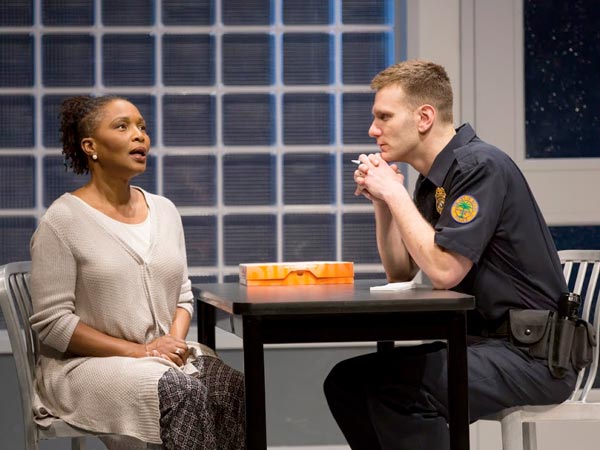 The officer's efforts largely fail because she instantly recognizes that she is simply being managed. Kendra has a Ph.D in Psychology and teaches at the local university.  Meanwhile, her son is not your standard kid from the projects, he is an excellent student who is about to attend West Point.  He is also one of only a handful of black students at his school.
Scott Connor (played by John Bolger), the boy's father, appears at the station.  At first, the officer assumes that he is the officer in charge, but soon learns that the white man is actually the boy's father.  The couple have been separated for about four months and the setting makes for a rather awkward reunion.  She chides him when he starts using slang.
---
The article continues after this ad
---
---
"Jamal doesn't speak ebonics," she says.  "You don't get to speak white trash!"
Suzzanne Douglas is terrific as a mother scared for her son in a room with a separated husband who is now dating someone else.  She tries to be strong, but her world is collapsing around her. She points out how isolated they are in this community by reminding him that every shooting has students looking at Jamal as the spokesman of their race. She says their son is rebelling against him leaving the family.  "You walked out on him," she says.
"I didn't walk out on him," replies her husband.  "I walked out on you."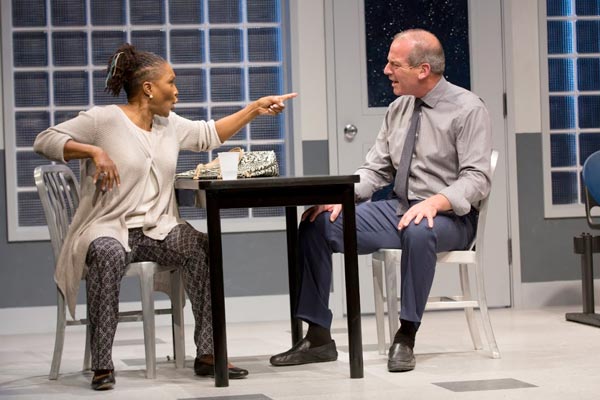 John Bolger is outstanding as an FBI agent that has to walk the fine line between "talking shop" with the police officers and comforting his wife. He is shocked to learn that Jamal has been having second thoughts about West Point, thinking he might pursue baseball or music instead.
"The men in my family have served this country in every generation," he says.  "He's not going to break that tradition."
It is clear that both will learn new aspects about their son during the night - including the recent addition of a bumper sticker on the car that says, "Shoot cops."  You can just feel the dagger being thrust into the father's chest when he learns about this.
"Throwing that up in white people's faces just makes them feel like shit and when they feel like shit, they tend to not want to help you," says the father.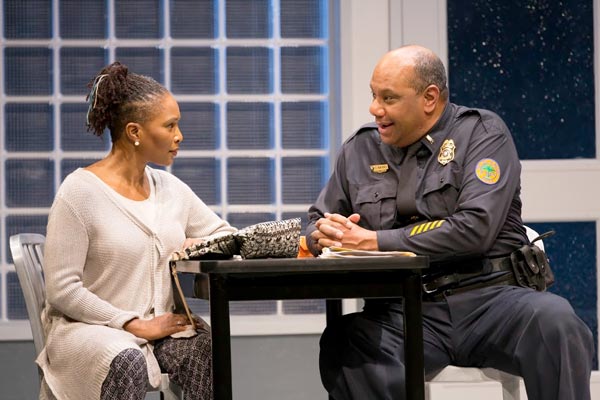 The play adds a wrinkle to the situation when Lieutenant John Stokes (played by Mark Kenneth Smaltz) appears.  Smaltz is one of the unsung heroes of the production. As a black officer, he brings the issue of race completely full circle and helps define just how intricate the situation is.
At times it is difficult to see whether the officers are giving him information that they aren't providing his wife because he is a fellow officer or because he is white. Regardless, its effect is as if secrets are being kept from the wife and divisions are forming.
One of the most fascinating aspects of American Son is the way the story plays out in real-time, similar to the television show, 24. Details emerge and we see reactions instantly, creating a rather fascinating effect.  Even if the audience may know where the story is headed, the tension and immediacy will keep them locked in suspense.
American Son runs  now through February 26 at George Street Playhouse in New Brunswick, NJ.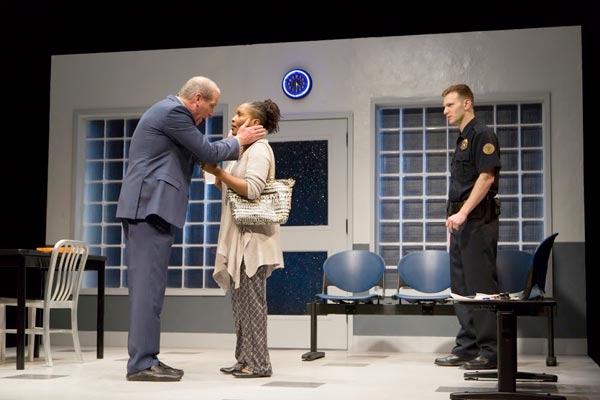 ALL PHOTOS BY T. CHARLES ERICKSON
---
Gary Wien has been covering the arts since 2001 and has had work published with Jersey Arts, Elmore Magazine, Princeton Magazine, Backstreets and other publications. He is a three-time winner of the Asbury Music Award for Top Music Journalist and the author of Beyond the Palace (the first book on the history of rock and roll in Asbury Park) and Are You Listening? The Top 100 Albums of 2001-2010 by New Jersey Artists. In addition, he runs New Jersey Stage and the online radio station The Penguin Rocks. He can be contacted at gary@newjerseystage.com.
---