By Gary Wien
originally published: 12/04/2018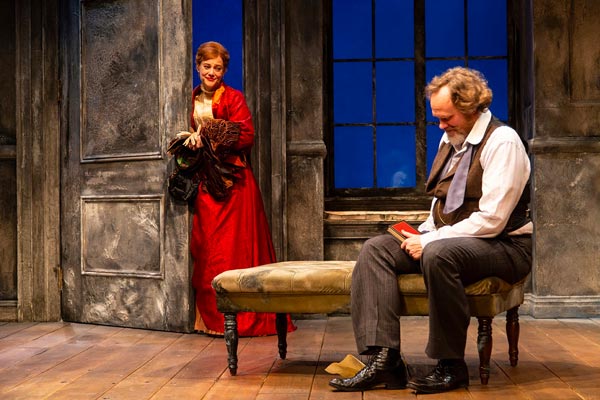 For well over a century the world has been wondering what ever happened to Nora Helmer from Henrik Ibsen's classic play A Doll's House. Nora was a woman during the 19th century in male dominated Norway when women could not sign contracts without their husband's permission. She challenged this law, essentially committing forgery. And, even though she committed a crime for the purpose of saving her husband's life, her actions wound up destroying her marriage when someone tried to blackmail her.
Her husband Torvald "fixed" the situation, but, in doing so, revealed a side of himself that Nora could not live with. It dawns on her that she had been treated like a doll for her entire life - first by her father and then by Torvald. When we last see her she is seen leaving her house, her husband, and her children for good.
In 2017, playwright Lucas Hnath provided the world with his vision of what took place in the years that followed in A Doll's House, Part 2. Nora returns to the home 15 years later and sees Anne Marie (the family's nanny who basically raised her and would raise Nora's children), Torvald, and her daughter Emmy, now all grown up.
The play was originally commissioned by South Coast Repertory in Costa Mesa, California and made its debut there in 2016. One year later it was on Broadway, beginning a run that earned all four cast members Tony nominations with Laurie Metcalf winning Best Actress in a Play for her portrayal of Nora.
A Doll's House, Part 2 is currently on stage at George Street Playhouse in New Brunswick. Directed by the veteran actress Betsy Aidem, the cast includes Kellie Overbey as Nora, Ann McDonough (Anne Marie), Andrew Garman (Torvald), and Lily Santiago as Nora's grown up child, Emmy.
---
The article continues after this ad
---
---
In the playbill, George Street Playhouse Artistic Director David Saint wrote, "Since the piece is primarily about Nora's struggle to assert her independence in a society resistant to a woman forging a career on her own in a man's world and the sacrifices she would have to make to achieve that, I felt it would be enlightening to have a female director's perspective, In addition, with four rich roles for actors, an 'actor's director' would be essential."
He made a wise choice. The cast members are strong, the play moves fluidly, and the female perspective is shown through the eyes of three generations: Anne Marie who had no choice but to leave her children to work for the Torvald's; Nora whose views were ahead of her time and chose to leave her family for her own life; and Emmy who rebels against her mother's views.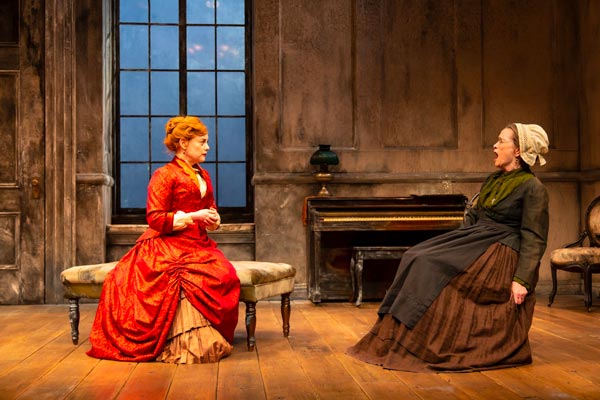 George Street's production opens inside the Torvald home. The room is empty and contains little furniture. We hear a loud knocking on the door, but no one answers. The knocking continues. Finally Anne Marie, an elderly nanny, opens the door and sees a woman from her past.
"A lot of people thought you were dead," says Anne Marie.
Apparently when Nora left, her husband originally told people she went to visit someone. As time went by, the concept that she was ill became part of the conversation. And after a while, people simply assumed she was dead. Neither Torvald nor Anne Marie ever challenged that assumption.
It took some work to create her own life after leaving, but Nora would become a successful writer. Her first novel was essentially the story of her own life and how she left her husband - albeit with a tragic ending.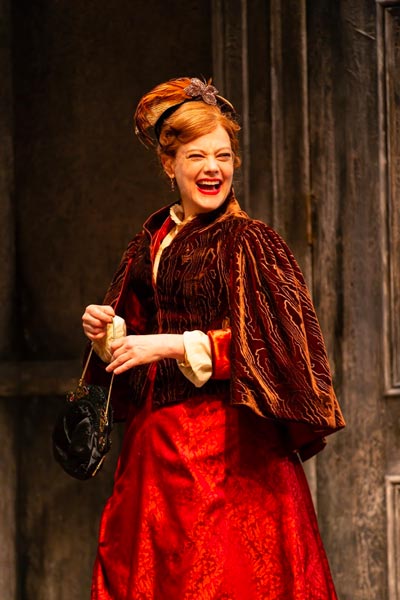 The books she writers are based largely on the idea that marriage is bad for society. In fact, Nora believes that there will be a time in which marriage will no longer exist. The idea of a relationship with one person will be replaced by relationships with many - even at the same time. She says it will eliminate jealousy.
"I own you, that's what marriage means," Nora tells her. "Marriage makes a person change for the worse."
Her books inspired many women to seek out better lives for themselves. Some even followed her lead and left their husbands - including one who was married to a judge who did not appreciate the suggestion from Nora's book to do so. The judge did some investigating to learn more about Nora. What he learned was a surprise to her - Torvald had never filed for divorce. This not only meant that Nora was still technically married to him, but it meant that all of the contracts she had signed were done illegally and the relationships she had over the years would now be seen as scandals.
The judge threatened to ruin her for doing things illegal for a married woman unless she presented a public apology and told her true story to the world.
In essence, blackmail led to the destruction of her marriage and blackmail led her back home in an effort to fix things. Her plan is to get Torvald to file for a divorce before the judge follows through on his threat.
While Nora and Anne Marie are talking, Torvald returns home early in need of some papers he forgot to bring with him. The look on Nora's face as Torvald walks past her without recognizing his wife is priceless. Eventually he asks Anne Marie who the woman is. He becomes physically ill once he is told.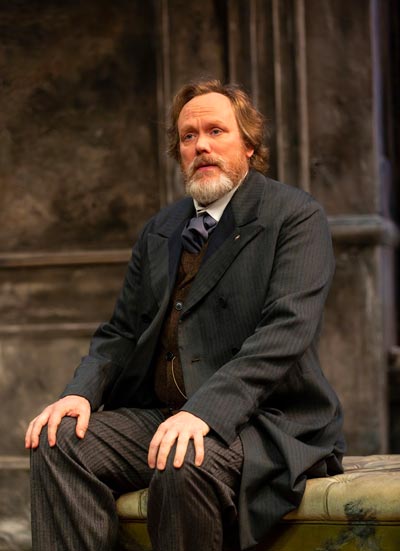 Nora and Torvald have a few minutes alone to talk and the situation is as awkward as one would imagine such a reunion would be. She asks if he is going to look at her. He replies, "I doubt it." Catching up on the last 15 years, she asks if he ever wanted to get remarried. "No, you killed that for me," he says.
"I have one regret," admitted Torvald. "I should have left you."
Torvald admits he wondered what it might be like if he ever saw her again. It almost seems as though he truly wanted the chance to say his thoughts to her, but both believe they were the true victim.
Nora tells him she knows what she did was cruel, but staying would have been cruel to her. After explaining the current situation with the judge, she points out that both are in trouble. She says it would be much easier for him to file for divorce than her. For if she were to do the filing she would have to ruin his reputation in the process.
"Do it!" says Torville, explaining that he wants her to feel the pain and difficulty of divorce. He then leaves with his papers back to work.
Alone with Anne Marie, Nora gets no support. The nanny tells her to leave. She points at the door. "There's the door," she says. "I know you know how to use it."
Nora tries to convince Anne Marie to help her but she won't give in. She even goes as far as to offer Anne Marie a new house and the opportunity for a better life, but the bribe goes no where.
"After all the problems I had to fix for you, I have to fix this one too?" says Anne Marie. "Fuck you Nora!"
But Anne Marie does offer another option. She tells her to meet her daughter Emmy and get her to convince Torvald to file for divorce. "It's the only option," says Anne Marie.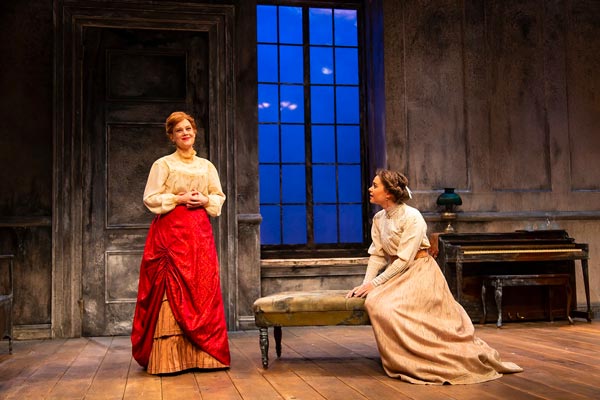 When they meet, Nora hears a now familiar phrase. "I thought you were dead," says her daughter. "You're not the first to tell me that," replies Nora.
Emmy surprises Nora with the introduction of yet another option - they could forge a death certificate. She offers this in order to help both of them out. Emmy is engaged to a man who works at the same bank as Torvald and she's worried the scandal could ruin her chance for marriage.
While Nora seems like a woman not of her time, her daughter is very much of her time. She stands rigid like her father, but possesses an intellect that rivals her mother's. The two are opposites in every way. While Nora despises the idea of marriage, Emmy believes in it strongly. She wants the exact relationship that drove her mother away and has no problem criticizing Nora.
"How many women have left their husbands because of you?" asks Emmy. "How many have left their children?"
How does this all get resolved? Will Nora reconcile with Torvald and rejoin the family? Will she convince Torvald to file for divorce or file for one herself? Create a fake death certificate? Or simply make the public apology to the judge and reveal her true past? You'll have to see the play to find out.
In the end, A Doll's House, Part 2 is a fascinating look at how ideas start movements; how movements and changes take time; and how people fight such changes.
The play offers comedy at points - especially scenes with Anne Marie - but its overall theme stems from the powerful dramatic confrontation between Nora and the people she left behind. Kellie Overbey is terrific portraying Nora with an abundance of confidence in an era in which confident women were a rarity; Ann McDonough is hilarious as the nanny; Lily Santiago is brilliant as someone meeting her mother for the first time with restraint and confidence of her own; and Andrew Garman is very strong in what might be the most challenging role of them all.
Lucas Hnath took on an enormous challenge in presenting the sequel to one of the most popular plays of all time. He may have taken out some of the wonder, but presents a very plausible and fascinating answer to what became of Nora. She's seen here as a hero to some, a villain to others, and a woman whose history always catches up to her.
A Doll's House, Part 2 runs now through December 23rd at George Street Playhouse, 103 College Farm Road, New Brunswick, NJ. For more information or to purchase tickets visit georgestreetplayhouse.org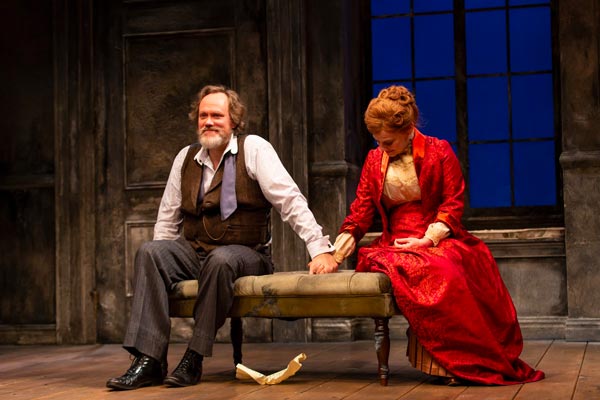 Photos by T. Charles Erickson
---
Gary Wien has been covering the arts since 2001 and has had work published with Jersey Arts, Elmore Magazine, Princeton Magazine, Backstreets and other publications. He is a three-time winner of the Asbury Music Award for Top Music Journalist and the author of Beyond the Palace (the first book on the history of rock and roll in Asbury Park) and Are You Listening? The Top 100 Albums of 2001-2010 by New Jersey Artists. In addition, he runs New Jersey Stage and the online radio station The Penguin Rocks. He can be contacted at gary@newjerseystage.com.
---