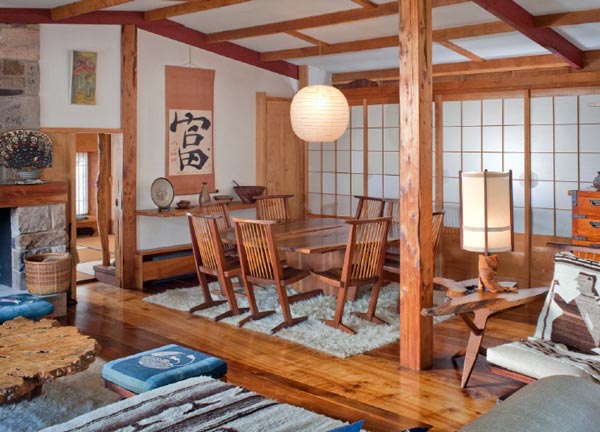 (PRINCETON, NJ) --  D&R Greenway Land Trust presents a special evening with renowned furniture designer Mira Nakashima on Thursday, March 22 (doors open 6:30pm, talk begins at 7:00pm) at the Johnson Education Center, 1 Preservation Place, Princeton. Admission costs $10 person. Mira Nakashima, the daughter of legendary furniture sculptor George Nakashima, will tell the story of the family's woodworking legacy, followed by a signing of her book, "Nature, Form and Spirit: The Life and Legacy of George Nakashima."
Nakashima pieces will be displayed and available for purchase, including a three-legged stool, candle holders, pencil holders and bread boards. A second book will also be available for sale, aptly titled "The Soul of a Tree: A Master Woodworker's Reflections." The program is in conjunction with the exhibit Soul of a Tree, on view through April 20. Artists include Tasha O'Neill, John Napoli, Michael Pascucci and Sean Carney. Please RSVP at (609) 924-4646 or rsvp@drgreenway.org. Gallery hours Monday-Friday, 10 a.m.-5 p.m.www.drgreenway.org.
Mira Nakashima was a dedicated pupil who worked in the shadow of her father. He spoke little to her, expected her to learn by doing, demanded long hours, and was more apt to point out her mistakes than to offer praise. "He had meticulous craftsmanship and attention to detail," she recounts.
George Nakashima (1905-1990) is best known for his superb craftsmanship and organic use of the natural lines and grain of the wood. Nakashima was also an architect who designed a number of distinguished buildings during his career, and was committed to the natural world. Both Mira and her father paid utmost respect to the tree the wood came from. He believed there was a spirit in the tree. "I feel it in the grain of the wood," he said, as he shaped the wood to tell its story.
But when George died, many clients canceled their orders or demanded a discount because the pieces wouldn't have his pedigree. For a time, Mira, who holds two degrees in architecture, thought she would have to shutter the family business.
---
The article continues after this ad
---
---
Mira not only continued to fulfill orders for her father's classics, but also expanded the firm's repertory with designs of her own that, like his, showcase the natural form and character of wood. When she designs a piece, she stands in front of the wood she will use to draw her sketch. "It speaks to me," she says. "The wood guides the pencil, and it designs itself."
She continues to manage the Bucks County studio, George Nakashima Woodworkers, today, where she feels her father's spirit watching over her, making sure she does it right. "Dad always said wood was like fruit," she has said. "It was best just before it rots."
"This is a unique opportunity to both own a Nakashima piece of art and support conservation of trees and forests," says D&R Greenway President and CEO Linda Mead. "Ten years ago when Mira presented here at the Johnson Education Center, we filled the seats to standing room only.  People went away in awe, inspired by the connection to nature found in the woodwork.  We decided to offer this opportunity, once again, to experience woodworking as one would experience the sacred space of a forest."
Among Mira Nakashima's life dreams is to carry out her father's vision to place a Nakashima-made Altar of Peace on each of the seven continents on Earth. The first was installed at the Cathedral of St. John the Divine in New York City in 1986. The second Sacred Table, built to celebrate the 50th Anniversary of the United Nations in 1995, was made from the same monumental black walnut tree as the first and served as a unifying presence at The Hague Appeal for Peace in May of 1999. It now resides in the Russian Academy of Art in Moscow to help inspire peace in the new millennium. A third Sacred Table resides in a "City of Peace" in India, and a fourth is planned for Capetown, South Africa.
D&R GREENWAY LAND TRUST IS IN ITS 29TH YEAR of preserving and protecting natural lands, farmlands and open spaces throughout central and southern New Jersey. Through continuous preservation and stewardship -- caring for land and easements to ensure they remain protected and ecologically healthy in perpetuity -- D&R Greenway nurtures a healthier and more diverse environment for people and wild species in seven counties. Accredited by the national Land Trust Accreditation Commission, D&R Greenway's mission is to preserve and care for land and inspire a conservation ethic, now and for the future. Since its founding in 1989, D&R Greenway has permanently preserved more than 20,000 acres, an area 20 times the size of New York City's Central Park, including 30 miles of trails open to the public. The Johnson Education Center, a circa 1900 restored barn at One Preservation Place, Princeton, is D&R Greenway's home. Through programs, art exhibits and related lectures, D&R Greenway inspires greater public commitment to safeguarding land.