By Al Nigrin
originally published: 06/08/2018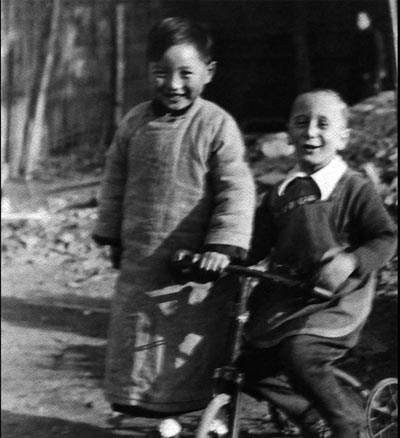 René Balcer and Nicola Zavaglia's informative documentary closes the 2018 New Jersey International Film Festival this Sunday, June 10 at Rutgers University!
Here is an interview Al Nigrin did with René Balcer:
Nigrin: Your insightful documentary Above the Drowning Sea tells the dramatic story of the fortuitous escape of Jews from Nazi-controlled Europe, who found a safe harbor in Shanghai, on the eve of World War Two. Please tell us more about your film and why you decided to make it?
Balcer: The reason I decided to make this film are the 65 million refugees currently wandering the world in search of a safe harbor. I wanted to see what history could teach us about the current refugee crisis. What I learned in making this film - and what the film shows - is that the Jewish refugees in question were not saved by any government action, or any NGO or charitable organization. They were saved by individual acts of kindness and humanity. Which means that a way to address today's crisis is within the reach of every individual.

Nigrin: The Eisner family makes its way way back to Shanghai to re-tell the story of their parents and grandparents who made their way from Vienna to Shanghai. How did you get them to be part of your documentary?
Balcer: I knew Keith Eisner from Law & Order- I had hired him to be part of my writing staff. I had already learned of the story of the Shanghai Jews from my wife whose family is from Shanghai, so when Keith told me about his father's experience, it seemed like a fortuitous coincidence. When I had the idea for the film, it took very little convincing to get Keith to travel to Vienna and Shanghai with a camera crew in tow. He was eager to retrace his father's footsteps. His father Bill was also very moved by Keith undertaking this journey and happily made himself available to us for interviews.

Nigrin: Your film is eloquently narrated by Julianna Margulies and Tony Goldwyn. Tell us more about how they came to work on your film?
Balcer: Julianna came to us via the intercession of an angel named Harold Newman. Harold is good friend who knew Julianna through his involvement in Broadway. I knew Julianna from having written one of her first episodes of television many noons ago on Law & Order where she played a sexually-harassed young naval officer. She instantly agreed to do the narration and felt a deep personal connection to the subject matter. She explains why in a video on our website abovethedrowningsea.com (which by the way contains much material that did not make it into the film).
I knew Tony Goldwyn from having worked with him on Law & Order Criminal Intent- and we happened to have the same agent. Again Tony responded quickly and enthusiastically, and had fun trying different versions of an Austrian accent.

Nigrin: Your film also recounts the courageous intervention of the Chinese Consul in Vienna who defied his own government and braved the Gestapo to issue visas to the refugees. Tells us more about him.
Balcer: By all accounts he was a very humble man. This is borne out by the fact that in his autobiography, published after his death, his intervention on behalf of the refugees merits only two paragraphs. He didn't see himself as any kind of hero but as someone who was simply doing his duty as a human being. Unlike someone like Oskar Schindler, Ho Feng Shan derived no personal profit of any kind from saving these refugees. He did what he was brought up to do. My wife calls him a perfect Confucian gentleman who acted according to the ethics promulgated by Confucius.
Confucius taught that all men are equal, no man is better than another - only through self-betterment, education, duty to family and to society does one excel. Ho Feng Shan embodied those principles.

Nigrin: Are there any memorable stories while you made this film or any other info about your film you would like to relay to our readers?
Balcer: Like the making of any film, there are a number of memorable behind-the-scenes stories. One involves the trip that Mrs. Zhou took to meet her friend Vera in West Palm Beach. During her stay in WPB, Mrs. Zhou became ill and had to spend the night in the WPB hospital, which by the standards that Mrs. Zhou was used to classifies as pretty swank. But she didn't like the food, so she asked her grandsons to fetch her some pig's feet soup. In West Palm Beach! No simple request.
---
The article continues after this ad
---
---
As a last thought, one principle guided us in the making of this film: you can make a film that shows people as what they are - but you can also make a film that shows people as what they could be.
---
Here is the EBTV interview I did with René Balcer last month:
---
The terrific short film Crazy Hive will precede Above the Drowning Sea. Here is more info on this screening:
Crazy Hive - Shi Wei (Shanghai, China) In this comedy/thriller, Lu, a 45-year-old man, works an ordinary job and lives an ordinary life in the suburbs of Shanghai. One day, on his way back home, he discovers a corpse on the lawn of his home, and everything goes crazy. In Mandarin, subtitled. 2017; 13 min.
Above the Drowning Sea - René Balcer and Nicola Zavaglia (New York, New York) Above the Drowning Seatells the dramatic, unknown story of the fortuitous escape of European Jews from Nazi-controlled Europe, who found a safe harbor in Shanghai, on the eve of World War Two. As Hitler's forces sought to expel the Jews from Europe, no other country would accept the refugees. Then, a door opened on the east coast of far-away China, in Shanghai, an "open city" itself in chaos from foreign invasion and civil war. But getting there required a "golden" document– a visa from China. Shot in six countries over four continents, Above the Drowning Sea tracks an inspiring, emotional journey across time and across the seas. The film vividly celebrates the heroism and humanity of ordinary people caught in extraordinary circumstances. Narrated by Julianna Margulies and Tony Goldwyn. 2017; 93 min. With a Q+A Session by Director René Balcer! Co-sponsored by The Rutgers University Confucius Institute!
---
Sunday, June 10, 2018 at 7:00 p.m.?
Voorhees Hall #105/Rutgers University?
71 Hamilton Street, New Brunswick, New Jersey?
$12=General; $10=Students+Seniors; $9=Rutgers Film Co-op Friends?
Information: (848) 932-8482; www.njfilmfest.com
Al Nigrin is a Cinema Studies Lecturer at Rutgers University. In addition, he is the Executive Director/Curator of the Rutgers Film Co-op/New Jersey Media Arts Center, Inc., which presents the Bi-Annual New Jersey Film Festival, the New Jersey International Film Festival and the United States Super 8mm Film + Digital Video Festival.