By Gary Wien
originally published: 08/20/2016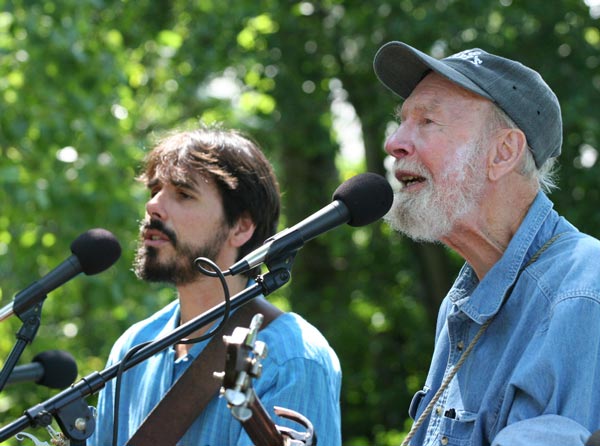 The Top Folk Albums, Songs, Artists, and Labels chart of July 2016 shows Sam Bush and Joan Baez, a pair of familiar names, at the top.  In the third spot is New Jersey's own, Spook Handy, with Pete, Woody & Me, Volume I - Keep the Flame Alive - the New Brunswick artist's 5th full length release and the highest charting record of his career.
As the name implies, Spook's latest record pays tribute to a pair of artists who helped shape his music and his life - Pete Seeger and Woody Guthrie. It contains songs written by each, along with four original songs inspired by the two.  On Wednesday, August 31, Spook will hold a CD release concert at the Montclair Public Library.  It's one of many shows on a tour that will ultimately bring him to all 50 U.S. states, all 10 Canadian provinces, several other countries, and all 21 counties in New Jersey.
The "Remembering Pete Seeger" tour is an extension of the various tribute concerts that sprang up after Seeger passed away in January 2014.  Spook, who performed alongside Seeger more than 50 times in the last decade of Pete's life, participated in many of these tributes with the likes of Peter Yarrow (of Peter Paul and Mary), Tom Chapin, David Amram, Holly Near, and Guy Davis.  Soon he began presenting tribute concerts both solo and with his band to the man he believes is one of America's most important and influential musicians of the past 100 years.
Spook was close to Seeger, but doesn't believe the torch of folk music was passed on to him.

"I  might go as far as to say I'm one of hundreds of people who have placed their hands on the torch," he explained.  "What I would rather say is I'm helping to carry on the tradition."
He believes the songs should be passed down from generation to generation because music touches us in a way unlike any other form of information or entertainment can. 
---
The article continues after this ad
---
---
"When you take the sounds and you put in words that are about our culture, our history, our landscape, our values, and the truth about social situations and stuff like that you're kind of reinforcing our humanity," explained Spook.  "There are other things besides music that have the same effect - fire, the sharing of food, and the sharing of work.  There's something in the back of our brains that is profoundly affected by these things. It's like when you see people holding candles at a vigil.  What's the purpose of holding a candle? Who knows? But you know how it makes you feel; it has a sense of connection.  Music touches us deeply and when we connect it to important issues about our culture, it makes us feel a part of a community."
A graduate of Rutgers University with a bachelor's in math and business administration, Spook's musical world greatly expanded during his days on the Banks of the Raritan.  He says he grew up in a culturally conservative household where there were only two contemporary albums - Hard Days Night by The Beatles and Peter, Paul & Mary in Concert.  At college, he was exposed to music he had never heard before.  After graduation, he bought a guitar and began playing.  Spook recalls earning the respect of the older generation by playing the folk songs that were deeply meaningful to them.
"When I played my first professional concert, one of the songs I played was 'Where Have All The Flowers Gone?'" recalled Spook.  "And when I started playing with Seeger, I began noticing how that song affected people, the stories and what they meant.  Now when I do a concert, almost every time someone in the audience is crying when I sing that song.  It's because that song is not just bringing back a memory of when they were young, it's bringing back the belief that people can work together and change the world, making it a better place."
Spook says, "Pete told me, and so many other younger musicians, learn the old songs and the different ways they were sung by different groups of people.  But change the words to keep them up to date.  Write new verses about the world we live in today.  And write new songs that everybody can sing." 
The album wants people to remember the songs of Pete Seeger and Woody Guthrie, but there is one concert that Spook will never forget.  He was performing with Pete and David Amram as a trio in one of the many Pete Seeger and Friends concerts held over the years.  This was the last time he ever performed with Seeger and quite possibly the last performance of Seeger's career.
"Pete was advanced in losing his memory, he was advanced in losing his dexterity and his ability to play an instrument, and he was advanced in losing his voice and not being able to sing," said Spook.  "There was nothing left except pure love and humanity.  And that has always been - as long as I've known him - the foundation of his performance his entire life, and it came through so powerfully.  By halfway through the first song, grown men in the audition were crying as they listened to him.  It was such an absolutely beautiful thing."
---
Wednesday, August 31 - Spook Handy's CD Release Party for Pete, Woody & Me - Volume I
Montclair Public Library, 50 S. Fullerton Avenue, Montclair, NJ
---
PHOTO BY ECONOSMITH
---
Gary Wien has been covering the arts since 2001 and has had work published with Jersey Arts, Elmore Magazine, Princeton Magazine, Backstreets and other publications. He is a three-time winner of the Asbury Music Award for Top Music Journalist and the author of Beyond the Palace (the first book on the history of rock and roll in Asbury Park) and Are You Listening? The Top 100 Albums of 2001-2010 by New Jersey Artists. In addition, he runs New Jersey Stage and the online radio station The Penguin Rocks. He can be contacted at gary@newjerseystage.com.
---