By Gary Wien
originally published: 04/25/2020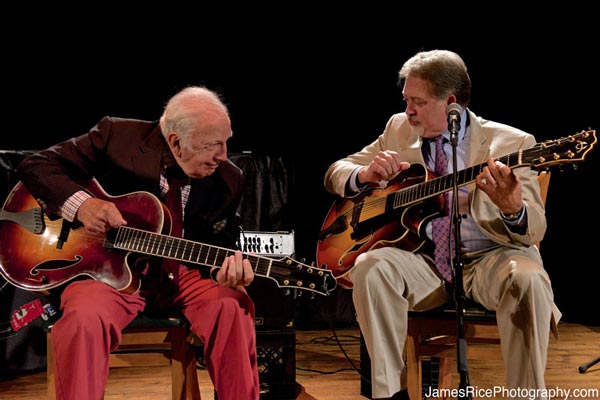 "I feel like I'm burying my father again," said jazz guitarist Ed Laub.
Laub was talking about the legendary New Jersey musician Bucky Pizzarelli who passed away from complications of COVID-19.  Laub was friends with Pizzarelli for decades from the days he was a teenager studying guitar with Bucky to playing as his partner in a guitar duo for well over a decade. Pizzarelli died at his home in Saddle River, New Jersey on April 1st at the age of 94.
In the Garden State, Bucky's career is noted by his induction in the New Jersey Hall of Fame in 2011; The Rutgers Institute of Jazz Studies: American Jazz Hall of Fame; the Lifetime Achievement Award at Centenary College's Performing Arts Guild; Montclair State University "Carpe Diem" Award for Distinguished Achievement in the Arts; and the Distinguished Artist Award of Bergen County.
But his legacy extends far beyond New Jersey.  
He's got a pair of guitars in the Smithsonian National Museum of American History; has performed at the White House in front of two presidents (Reagan and Clinton); is part of ASCAP's Jazz Wall of Fame; and has three honorary Doctors of Music degrees (Hamilton College in NY, William Paterson University in NJ, and the University of Southern Illinois).  His career includes many years with Benny Goodman and the Tonight Show Orchestra, along with playing on hundreds of recordings as a session musician. 
---
The article continues after this ad
---
---
Bucky's family includes his sons John (a renowned jazz guitarist) and Martin (an accomplished double bassist). Laub used to have his guitar lessons with Bucky's uncle Bobby.
"As a kid, his son John and I both took lessons from his uncle," recalled Laub. "We didn't know each other, but his lesson was right after mine and I would see him all of the time.  His uncle got sick and I lost my guitar teacher.  My uncle (who was a great musician as well) knew of Bucky and got me an opportunity to go over and see if I could take lessons with him.  Bucky's uncle was a banjo player who also played the guitar.  He had these funny little chord formations that were more banjo in type than they were guitar.  On my first lesson, Bucky asked me to sit down and play him a song.  When I did that he looked at this chord and said, 'Where'd you learn that?' I said my former guitar teacher taught it to me.  He said, 'Who was that?' I said his name was Bobby Domenick.  he goes, 'That was my uncle, he taught me how to play.  You're in! Come back every Saturday morning.'"
Laub hung around Pizzarelli during his high school and college days, but then drifted apart after going into business with his father.  When Ed was in his late 40s, he started playing music again and reconnected with Pizzarelli.
"I wanted to get a new guitar, so Bucky took me out to Pennsylvania to a luthier out there he knew and set me up so I could get a new custom made seven-string," said Laub. "I started playing the seven-string back in 1968 when he started teaching me. Bucky came to my surprise birthday party when I turned 50.  He handed me a birthday card and said, 'Here's your present.' I opened it up and it said, 'Lessons for life.' Then he said to me, 'Let's start getting together on Monday mornings and get this thing put together.  Let's put this act on the road!' So we did. The first gig out of the gate, he takes me to Birdland in New York.  I probably knew 12 songs - just enough to get through the set.  From there we ended up with years we did 150-160 gigs a year.  We traveled all over the place.  It was a lot of fun."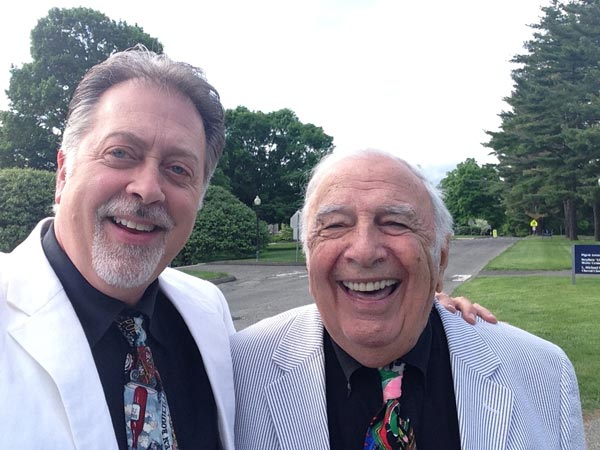 Yet even though he performed around the world, he loved playing in New Jersey and could be seen in clubs, theaters, and festivals around the state.
"Bucky was as satisfied playing a $100 gig in front of 25 people as he was in front of 25,000 people," said Laub.  "In fact, he probably enjoyed the former better. His personality was not of a spotlight guy.  That was not what he was all about. I recount this story to people that I think sums up his personality as a musician.  When I went for my very first lesson, we sat down and before I played a note he asked me, 'You want to be a musician?' I said, 'Yeah' and he says, 'Let me tell you something: your job as a musician is to make everyone you're playing with sound the best they can sound.  It's not about you.  That's how you make music.'"
"Instead of being a primadonna and an upfront spotlight kind of guy, he knew and understood his role as a support musician and an ensemble player that made music what it is," continued Laub.  "People always look at the person up front and think that's where all the talent is, but when you look at a band and an orchestra, it's all the foundation that makes the music sound like it sounds like.  That's what he was all about.  He constantly reinforced that with me.  He'd say, 'I'm going to make you sound as good as you can sound and you're going to make me sound as good as I'm going to sound, and we're going to have a great duo.'"
In addition to decades of performing live, Pizzarelli was a studio musician for years with a resume that includes such memorable songs as "Georgia On My Mind" by Ray Charles and "The First Time Ever I Saw Your Face" by Roberta Flack. He can be heard on recordings from an impressive list of artists that includes Paul McCartney, Frank Avalon, Dion & The Belmonts, Sarah Vaughan, Aretha Franklin, Carly Simon, Neil Sedaka, Rosemary Clooney, and many more.
Bucky is survived by his sons John and Martin, daughters Mary and Anne, and four grandchildren.  Sadly, his wife Ruth passed away just one week later on April 8th.  They were married for 66 years. Music fans and fellow artists will have to wait to pay tribute on stage to Bucky.  We are living through a period in which there are no proper funerals and no live performances to salute artists who have passed on. What we still have though are the memories and the recorded music and videos that trace his career.
 "We're all better for having known a guy like him," said Laub. "He was a sharing musician.  So many guitar players have licks that they learn and keep to themselves.  Bucky shared his music all of the time.  We would be in performances, take a break, and somebody would come backstage and want to see something.  He'd just sit down, grab another guitar, put it in their hands, and say, 'Let me show you how to do this." And he'd show him the exact lick or chord that he played.  He was never afraid of anybody stealing his stuff and becoming better than him.  That wasn't what he was about.  He was always sharing his music and that's something you just don't see very often."
Some of the material was originally used in a Jersey Arts feature. That piece can be found here.
---
Gary Wien has been covering the arts since 2001 and has had work published with Jersey Arts, Elmore Magazine, Princeton Magazine, Backstreets and other publications. He is a three-time winner of the Asbury Music Award for Top Music Journalist and the author of Beyond the Palace (the first book on the history of rock and roll in Asbury Park) and Are You Listening? The Top 100 Albums of 2001-2010 by New Jersey Artists. In addition, he runs New Jersey Stage and the online radio station The Penguin Rocks. He can be contacted at gary@newjerseystage.com.
---