By Gary Wien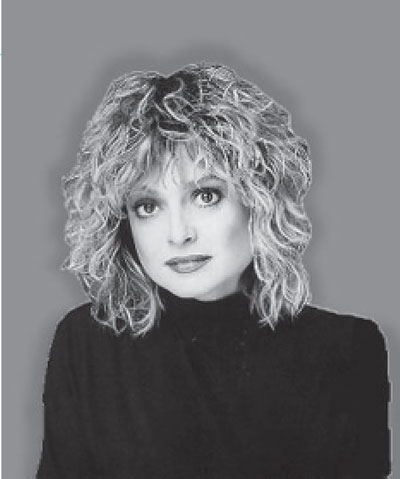 A long time ago, MTV used to play videos. A lot of them. They played videos 24 hours a day in fact. This won't shock anyone over 30, but to anyone younger than that I figured I'd let you in on the little secret because apparently, MTV doesn't want you to know. They recently celebrated their 25th anniversary without even the slightest bit of a party. And MTV really likes to party. So, I knew something was going on and I decided to go to the source to find out...

The original VJs on MTV are probably as synonymous with music videos as they are with the 80s on a whole. The crew consisted of Nina Blackwood, Mark Goodman, Alan Hunter, J.J. Jackson, and Martha Quinn. Nina Blackwood was the first VJ hired so she was the obvious person to turn to.

"Knowing the way MTV is these days, they probably don't want to admit they're 25" explained Nina Blackwood. "They don't want to admit to their fans that they're 25 because they're afraid they are going to lose the young audience."

As silly as that sounds, it probably is true although there could be other reasons as well. For the past 10-15 years MTV has been living off reality shows and their own blend of soap operas / regular television shows. Music is relegated to a few hours a day - usually around four in the morning. So maybe they don't want people to start wondering what the M stands for... or used to stand for.

Back in the days when Nina Blackwood and the other VJs were on the air, music television was not just an unknown commodity but cable television was as well. Many people forget that very few places in the country had cable television back in 1981. In fact, most of the nation had yet to be wired for cable. MTV was the driving force to change that. Cable needed something to get people interested enough to tell their town - we want cable tv and MTV not only provided them with something of interest but gave them one of the most brilliant advertising campaigns of the century - "I want my MTV". If you close your eyes I bet you can imagine any one of the hundreds of musicians that did commercials for MTV saying those words. Words that would be immortalized in the Dire Straits' hit, "Money For Nothing."

But before MTV first went on the air, they needed to find some personalities to make the station click. At the time, Nina Blackwood was just starting to get her acting career going but she agreed to meet with MTV in New York City. They took her to dinner at Tavern on The Green and discussed the channel but something unexpected happened during dinner. Nina began to choke on her food. Robert Morton (who you might remember as Morty on the David Letterman Show) stepped in and basically saved her life.

"This was the first time I was seriously choking to death," recalled Blackwood. "This piece of bread was lodged - literally lodged in my throat. He had to give me the Heimlich maneuver and it worked. So he saves my life and turns to me and points his finger and says, 'you owe me!' So I said ok, I'll take the job.

"After I started working at MTV I still had a phobia. I'm used to eating by myself but I was really nervous about eating by myself when I moved into my apartment. They had put me in a hotel and I felt if I choked I could call down to the lobby, but when I moved to my apartment I was really, really worried I was going to choke again. It took about a month to get over that. It was that traumatic."

The original VJs had no idea that MTV was going to be such a success. As MTV grew, the VJs became just as famous but they didn't let the fame go to their heads. "We thought we were regular people doing a really cool job," said Blackwood.

That cool job was similar to being a Top-40 DJ but with the twist of being on camera as well. If you were a fan of MTV back in the early days you might remember seeing a lot of the same videos throughout the day. That's because there simply weren't many videos to work with. The music industry was just as new to the genre as the station was. In essence, they both grew up together.

"We only started with a couple hundred videos and I've heard various reports as to whether it was 300 or 500," she said. "That may sound like a nice amount, but when talking about non-stop playing you wind up getting a lot of REO Speedwagon, a lot of Rod Stewart and a lot of Pat Benatar."

The limited amount of videos was partly due to a lack of interest in videos by the major stars of the day. MTV essentially was forced to go after different sounds because that's all that was available. And, in doing so, the station helped launch the careers of many acts that might have been forgotten had MTV never existed. Bands like U2 and Duran Duran had radio hits well after their videos were seen round the clock. The master of music videos was Madonna and she most likely would never have reached her peak without videos. She used the combination of audio and video to create a persona and became one of the biggest stars of the decade.

The combination of seeing the artists while you heard the music was unstoppable. It hit multiple senses all at once. Years later, those who grew up as members of the MTV generation might find themselves seeing the video play in their head when they hear songs from the period.

In the beginning, MTV was the ultimate radio station. Not only were they willing to play acts from around the world that could only be found in the import bins at your local indie record shop, but they were willing to take it one step farther. While Myspace is the popular way for bands of today to break through nationally, MTV gave bands on the way up their own show.

"We had a show called 'Basement Tapes' which were unsigned bands," explained Blackwood. "And there's nothing like that on tv now. Why not? With all of the independent artists that are out there to me it's a given! If you want people to tune in just play something interesting that they haven't seen... Turn them on to something new."

Ironically, MTV continues to play videos on its stations around the world. Meanwhile, even MTV 2 rarely shows videos anymore - something that doesn't make sense to Blackwood.

"I was saying to people that that's the main complaint across the board," said Blackwood. "I've not heard one person say well MTV is so much better now. They always say what happened to the videos?"

One thing they don't have to ask is whatever happened to the 80s. Eighties music is definitely back and Nina Blackwood has been spinning the songs that made her famous around the world to new audiences through her weekly radio shows.

In 1998, Nina's syndicated radio program "Absolutely80s" went on the air, kicking off major new interest in both the music and the lifestyle of the eighties. The hit music show is distributed nationally by the Dick Clark co-owned United Stations Radio Networks. And for those who need their 80s music now, Nina and the other original MTV VJs (Mark Goodman, Martha Quinn, and Alan Hunter -- JJ Jackson passed away in 2004) bring you "Big 80s" every day on Sirius Satellite Radio. Nina's show airs every weekday from 1pm to 6pm, and on the weekends, she holds a special 80s countdown show called "Big80s Big40 Countdown" which airs at 9am Saturdays, and gets re-broadcast again at 5pm and on Sunday at Noon.

Most of the MTV generation grew up hearing older people tell us just how bad 80s music was compared to other eras, so the fact that it's back is proof of its longevity. It was all big hair bands or synthesizers, there were plenty of great songs too. So what is it about 80s music that allows it to have this timeless feel?

"I think a good part of it is because people grew up listening to it," said Blackwood. "And I have to say that MTV had a lot to do with that because it was really the first time you could see your artist. And it was MTV in its baby stages when it was a big deal to watch the videos. So consequently they really got ingrained in your head a lot more. I mean, people used to have MTV parties and all that stuff.

"I think part of the resurgence is that it brings back happy memories. People can listen to the songs and maybe envision the video or envision what they were doing back then. Eighties music for the most part is happy music. Granted some of it is stupid, but some of it has stood the test of time and does have something to say like Mellencamp and Springsteen and U2. I think people feel good for either the nostalgic reasons or just because its fun music."

Whether or not satellite radio or the Internet will ever play as large a role in the history of music as MTV did remains to be seen, but there are definitely similarities. Sites like Myspace and purevolume allow people to hear bands from around the world of every genre. One of the things that made MTV so powerful in the industry is that it played a major role in breaking several new genres.

When MTV first started out it played a large role in the creation of college rock or alternative music with videos by bands like U2 and REM. A few years later it helped take dance music to the top of the charts with videos by artists like Madonna and Michael Jackson (who was big already but became a mega-superstar thanks to music videos). When it got bored with dance music, MTV led a mini revival with heavy metal, or light-metal as many called it, with videos by bands like Motley Crue and Ratt. Up next was rap and hip-hop which MTV thrust into the nation's spotlight with the show "Yo! MTV Raps." Teenybopper bands like New Kids On The Block took their turn at dominating the MTV airwaves before rock and roll roared back with the era of grunge and Nirvana. Sadly, MTV began to give up on music around this time as shows like "The Real World" became surprise hits.

Could satellite radio be the next big pusher of music?

"I would hope that they would have a positive effect," said Blackwood. "I would because I love radio both terrestial and satellite. I wish that terrestial radio would expand their playlists a little more and get a bit more gutsier instead of always playing it safe."

Playing it safe was never in MTV's vocabulary - especially when the M stood for music.

---
Gary Wien has been covering the arts since 2001 and has had work published with Jersey Arts, Elmore Magazine, Princeton Magazine, Backstreets and other publications. He is a three-time winner of the Asbury Music Award for Top Music Journalist and the author of Beyond the Palace (the first book on the history of rock and roll in Asbury Park) and Are You Listening? The Top 100 Albums of 2001-2010 by New Jersey Artists. In addition, he runs New Jersey Stage and the online radio station The Penguin Rocks. He can be contacted at gary@newjerseystage.com.
---