By Gary Wien
originally published: 11/21/2015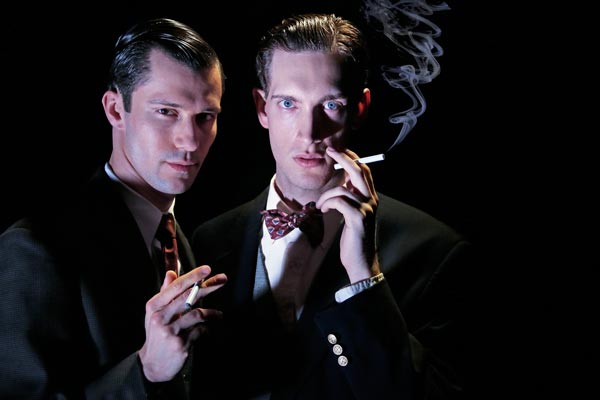 In 1924, two wealthy, intelligent college students kidnapped and murdered a teenager in Chicago.  The crime and its trial (led by famous defense attorney, Clarence Darrow) captivated the nation's attention.  Nathan Freudenthal Leopold, Jr. and Richard Albert Loeb were the two behind the murder, which was the O.J. Simpson trial of its time.  Their 'complicated' relationship is explored in the musical Thrill Me: The Leopold & Loeb Story, which has its New Jersey premiere at Luna Stage in December.
Thrill Me takes the audience inside the minds' of the two 19 year old boys.  The play focuses less on the crime and the trial of the century and more on the friendship (platonic and sexual) of Leopold and Loeb.   Portraying the duo is Joseph Bigelow and Dean Linnard, both making their Luna Stage debuts.  The production is directed by Luna Stage artistic director Cheryl Katz with musical direction by Andy Peterson.  And music is vitally important to the play.  A piano player performs live and with much of the play sung, there is music almost throughout.
"Nobody ever understood the purpose of the crime," explained Katz.  "Nobody understood why two boys that had everything going for them would do such a random act of violence for no apparent reason.  Thrill Me explores that question from a hypothetical standpoint.  Nobody knows what these two men said to each other in private, so the play puts forth a hypothesis of why they did this crime."
The two-character play was nominated for a Drama Desk award for Best Musical and has since been translated into 10 languages with over 100 productions in 15 countries. Notable stagings include Los Angeles, Chicago, London's West End and current long-running versions all across Asia.  The Luna Stage production will be the first time the play has been produced professionally in the New York region since its Off-Broadway premiere in 2005.
Katz attended New York University with Thrill Me's playwright, Stephen Dolginoff, and has known about the play from early on in its development.  She said she was fascinated by the story and loved its music.  The play had been on her radar for quite a while and this season seemed like the perfect fit.
---
The article continues after this ad
---
---
"I love historically based fiction," said Katz.  "It's one of my favorite types of writing to work on.  This is a play about obsession and I think we're all attracted to obsession at some level.  I personally have a dark side and I think I'm always attracted to materials that explore the dark side, which many of us have.  We keep our dark sides intact and live normal, moral lives, but it's fascinating to temporarily inhabit people who don't."
Many historians have suggested that Leopold and Leob were heavily influenced by the works of Nietzsche; the concept of being 'supermen' whose intellect made them unaccountable to normal morality and laws.  The pair were also fans of the detective novels of the day.  So much so that the ransom note they wrote is thought to be lifted from one of the novels they had read.  Loeb was obsessed with crime and wanted to commit the perfect crime just to prove it could be done.   Leopold was obsessed with Loeb and is thought to have gone along with the plan so their friendship would continue.
Defense attorney Darrow described their relationship as "weird and almost impossible," suggesting that the friendship itself helped the two commit a crime they were almost incapable of doing on their own.  They were called thrill seekers. They wanted to experience what it was like to take someone's life away.
"Their story took place in the 20s when organized crime was running rampant," said Katz.  "The moral fiber that had been thought to hold society together was crumbling and people were giving into their hedonistic tendencies.  I think any time that happens in our country, there's always a backlash — a pull against the drive towards hedonism.  This was like the perfect storm, a moment in time for the country and the culture to react to a crime that was void of any moral sensibility."
As Katz notes, random acts of violence happen far too often in today's world.  A crime like Leopold and Loeb's might only have lasted until the next murder came across the news cycle.   But maybe it would have rose above the fray.  The crime had everything — highly intelligent teenagers from wealthy families, thrill seeking, a homosexual love affair, and the idea that the perfect crime was possible.  The more you learn about the pair, the more you wonder if they didn't succeed.  Perhaps a part of them wanted to be caught after all.  To show that the perfect crime does not go unnoticed.  Maybe they were smarter than we think.
Thrill Me: The Leopold & Loeb Story

December 3-20

Luna Stage (555 Valley Road, West Orange, NJ)
Photo by Christopher Drukker.
---
Gary Wien has been covering the arts since 2001 and has had work published with Jersey Arts, Elmore Magazine, Princeton Magazine, Backstreets and other publications. He is a three-time winner of the Asbury Music Award for Top Music Journalist and the author of Beyond the Palace (the first book on the history of rock and roll in Asbury Park) and Are You Listening? The Top 100 Albums of 2001-2010 by New Jersey Artists. In addition, he runs New Jersey Stage and the online radio station The Penguin Rocks. He can be contacted at gary@newjerseystage.com.
---