By Gary Wien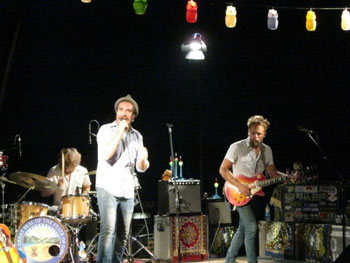 (RED BANK, NJ -- AUGUST 24, 2012) -- "So this is a Songwriters in the Park show to actually happen. I thought it would be rained out so I didn't prepare," said Rick Barry who opened the outdoor show in Red Bank's beautiful Riverside Gardens Park.

This year's lineup for the Songwriters in the Park series (put together by 90.5 The Night) was one of the best in recent memory; unfortunately, the series had to battle against Mother Nature each week with several shows being cancelled due to heavy rain (and generally thundershowers) and others fighting through a rain shower. Thankfully, the series was able to close out in style with hardly a cloud in the sky, zero chance of rain, and a truly great band on the rise nationally in Red Wanting Blue from Columbus, Ohio. For whatever reason, Rick Barry and Red Wanting Blue have been intertwined ever since the band first began playing the Jersey Shore around 2004-2005.

"I think I've played with them every time they've played a show in Asbury Park and now I'm on tour with them in Red Bank," joked Barry.

"I told you I'd make it happen," Jeff Raspe yelled from the side of the stage.

While Rick Barry's voice sounded great, his set list left much to be desired in my opinion. Song after song sounded good, yet each was a slow, peaceful number. I kept waiting for him to play something fast and maybe even rock out a bit. Not only were these just his slowest songs, but they weren't even his most popular slow songs. If I'm playing in front of a crowd much larger than I usually see I'm dragging out "Courage For A Rainy Day" or "Graphic Narrative". I don't care if I may be tired of playing them, I'm thinking about the big picture. As he was performing, I wondered what I might have thought of him as an artist if I was seeing him for the first time as opposed to the hundredth. Would his lyrics have dazzled me the way they did back then? Or would slow song after slow song put me to sleep?

I hate to say it, but I think this was another wasted opportunity by Rick. Every time he gets a chance on a big stage, it's like he doesn't want to be there. He never uses stages like this as a launching pad; he treats them like just another gig. Those in the local music scene used to joke that Rick had to leave Asbury Park to further his career. Unfortunately, I no longer think Rick's problem is that he wants to be a big fish in a small pond or that he's afraid of success, but that maybe deep down he really doesn't want it. He's someone with a ton of talent that might be trapped in an art form he doesn't enjoy being part of. If he is happy on stage, he sure doesn't show it during big opportunities like this. I'm pretty sure he never even introduced himself to the crowd ("I'm Rick Barry") until three-fourths into his set.

Rick's set was a stark comparison to the headliner. Red Wanting Blue just might be the best rock and roll band in America right now and they're certainly my favorite. It didn't take them long to turn the Songwriter show into a true rock and roll concert with guns blaring as they rolled through songs from much of their last two albums. Ironically (perhaps, perhaps not), the band kicked off their set with the song "Pour It Out" from their latest release, From the Vanishing Point. The song basically begs artists like Rick to take their work on the road.

"It ain't enough to make it up, you've got to take it town to town" sang lead singer Scott Terry. The show was something of a homecoming show for Scott who grew up in Moorestown, New Jersey and had his parents in the audience.

After the opener, the band really turned it up a notch with "The World Is Over", a full-blown rocker from their 2010 release, These Magnificent Miles. From there they went into the band's ultimate weekend song, "Where You Wanna Go" followed by "Playlist". Looking around the audience, there were people dancing and tons of people singing along. I don't think I've ever seen so many people singing along with the band as I did tonight. It's really an amazing time when you've followed a band for many years to be there at the very moment in which you can just sense that they no longer will be that band you like that nobody knows, they'll soon be that band you like that everybody knows.

"We are a band from Columbus Ohio but we've been hiding out in Asbury Park over the last years...
I think this is the biggest crowd we've ever played in New Jersey, " said Terry.

For a guy who has steadily built up a following in the area due to shows at The Saint in Asbury Park each year, tonight's crowd was by far the biggest they've played in the area. While it may have been unusual site for the band in Jersey, they routinely play to well over a thousand in clubs throughout Ohio.

Songs like followed included "Walking Shoes", "Spies and Lovers", "Gravity", and then "Dinosaur". Scott mentioned that this was either the first or second time they had ever played "Dinosaur" in New Jersey. They definitely need to keep it in the set because it is simply an excellent live song. The band takes it to a new level on stage.

And then came "Audition"...

I think I'll always think of this song as the tune from the David Letterman Show. It's hard to judge what an appearance on late night TV can do for a band, but if the crowd in Red Bank was any indication it just might have won over many more fans for the band. We'll find out when the band returns to The Saint in October. If the push continues, they should pack the place then.

The band then played "White Snow" dedicated to Jeff Raspe of 90.5 who was one of the first stations to play that track in the country.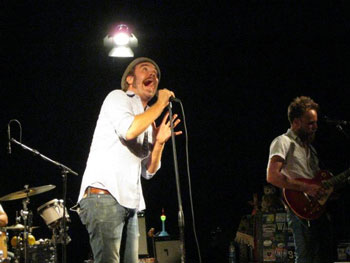 "Just to tell you a little about our band, I make a lot of silly faces when I sing," said Terry. "I'm telling you this 8 or 9 songs in -- I probably should have told you earlier -- but you all make funny faces when you sing too you just can't see it!"
"The Air I Breathe" and "Hope On A Rope" were played next. This was only the second time I had ever seen Red Wanting Blue on a big stage (the first was several years ago during the Wave Gathering Festival) but it's obviously that they're the type of band that feeds off of the audience. When given an opportunity like this, they always rise to the occasion. I'd love to see what they'd do with a sold out show at The Saint.
Interestingly, they played "You Are My Las Vegas" which is the favorite song of Scott's mother and then followed with "Cocaine", a song she doesn't really like very much!
"We want to thank Red Bank for letting a band from out of town on this stage. There are towns around the country where somebody is on stage right now playing Jimmy Buffet songs. So thank you for supporting original music and we'll see you in the fall," said Terry before heading into "Red Ryder", the band's final song.
They were dragged back on stage for an encore and delivered a brilliant take on "Your Alibi", one of my favorite songs from the band from their 2004 release, Pride: The Cold Lover. While everyone would have loved for the band to keep going, they were in the middle of some crazy tour dates (from Red Bank to Buffalo, NY for a night and down to West Virginia) for the next few days, so they to call it a night. The band did hang around and sign autographed copies of their albums and meet with fans for quite a while.
All in all, it was a tremendous way to close out the Songwriters in The Park series. It's a shame that so many good shows were cancelled due to the weather this year, but WBJB should be commended for bringing so many great artists to the area each year. If you've never been to one of these shows, you should check it out next summer. Hopefully, they'll have the reverse of this year and every Friday will be perfect weather.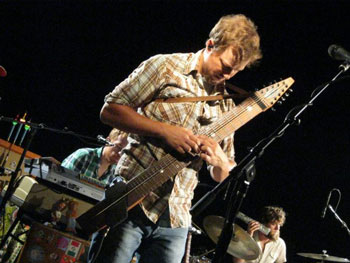 ---
Photos by Jeff Raspe
---
Gary Wien has been covering the arts since 2001 and has had work published with Jersey Arts, Elmore Magazine, Princeton Magazine, Backstreets and other publications. He is a three-time winner of the Asbury Music Award for Top Music Journalist and the author of Beyond the Palace (the first book on the history of rock and roll in Asbury Park) and Are You Listening? The Top 100 Albums of 2001-2010 by New Jersey Artists. In addition, he runs New Jersey Stage and the online radio station The Penguin Rocks. He can be contacted at gary@newjerseystage.com.
---