By Gary Wien
originally published: 05/20/2015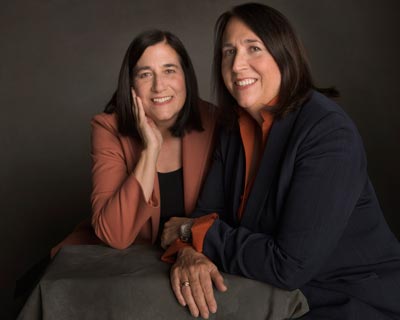 Molly Ivins was a no-holds-barred newspaper columnist from Texas who had a widely read syndicated column and helped inspire a generation of female journalists.  Red Hot Patriot: The Kick-Ass Wit of Molly Ivins celebrates this rowdy satirist and her courage and tenacity.  

Written by Margaret (pictured on the right) and Allison Engel (pictured on the left) — two sisters who themselves have had illustrious careers in journalism — the play has its New Jersey Premiere at Cape May Stage.  The production, directed by Marlena Lustik and starring Georgette Reilly Timoney as Molly Ivins, runs May 20 through June 12.

New Jersey Stage spoke with the playwrights about the play and Molly's place in history.

Molly Ivins has often been compared to Mark Twain.  Did you originally envision this play as something akin to the work that Hal Holbrook did with his Twain shows?  Allison: In the early planning, we did. Molly was so prolific on a variety of subjects that we originally thought of an anecdote-driven performance in front of a curtain on the Hal Holbrook model. But we quickly jettisoned that idea, and decided to write a real play that told the audience more about her life.

Does her Texas upbringing add a certain flair for the stage as well?  Peggy: Absolutely. Molly was well educated and spoke three languages, but her fourth language was Texas-isms. She loved the colorful expressions down-to-earth Texans use. They were a part of her writing and speaking.

Tell me about the play.  Peggy: The play is set in "the suggestion of a newsroom past its prime." The audience sees Molly struggling to write a column and, as a way of avoiding writing, she looks at events in her life and career. There are some of her well-known lines in the play, but it is not a hit parade. There are plenty of laughs in the play, as she was a genuinely funny writer and storyteller, but she used laughter as a way to get people to listen to the serious topics she felt passionately about – and we wanted the play to reflect that.



---
The article continues after this ad
---
---
Does the play take the audience inside the world of journalists? Peggy: There isn't a surplus of "inside baseball" information about journalism in the play. But as Molly looks at her life in newspapers, it is a chance to look back at newspapers themselves and at a time that will not come again. All of us who lived the excitement, sense of purpose, deadline pressure and sheer wonder of observing the parade of life that is the newsroom of a daily newspaper are mourning their decline. The play reflects that.
Both of you have accomplished writing careers, but this was your first attempt at a play.  What led you to choose the theatre to tell this story?   Allison: We both have had a lifelong love of theater, thanks primarily to our father, who earned an MA in playwriting from Columbia and who took us to plays from the time we were small. He worked for Helen Hayes at her theatre in Nyack, N.Y. I have an MA in screenwriting from the University of Southern California and when I lived in Iowa was the president of the board and head of play selection for the Des Moines Playhouse, one of the country's largest and oldest community theaters. Peggy has been on the Theatre Washington/Helen Hayes board for years in Washington, D.C., and also acted in college theater productions.
Did either or both of you know Molly personally? Peggy: I had met Molly a few times at journalism conferences, but did not know her as a friend. She and I were scheduled to be on a panel together in April 2007 and she died in January of that year.  
Was she an inspiration for you as a female journalist? Allison: Yes. Peggy and I both started our journalism careers in the early 70s, a few years behind Molly, and we read her columns avidly. She was a big deal national columnist whose words were quoted regularly. We looked up to her.
In your opinion, why is Molly Ivins important to history? Allison: Molly was a liberal (and proud of it) and also a great patriot who believed in the Bill of Rights and the Constitution. She felt that conservatives and the religious right were claiming to have an exclusive hold on patriotism. Molly's great gift was showing that dissent can be patriotic. She also is important to women, as she was one of few female nationally syndicated political columnists. She was so prescient, and she did copious original research, rather than simply weighing in on the topic of the day. And she did it all from Austin, far away from the NY-Washington political axis.
Photo by Mark Berndt
---
Gary Wien has been covering the arts since 2001 and has had work published with Jersey Arts, Elmore Magazine, Princeton Magazine, Backstreets and other publications. He is a three-time winner of the Asbury Music Award for Top Music Journalist and the author of Beyond the Palace (the first book on the history of rock and roll in Asbury Park) and Are You Listening? The Top 100 Albums of 2001-2010 by New Jersey Artists. In addition, he runs New Jersey Stage and the online radio station The Penguin Rocks. He can be contacted at gary@newjerseystage.com.
---