By Gary wien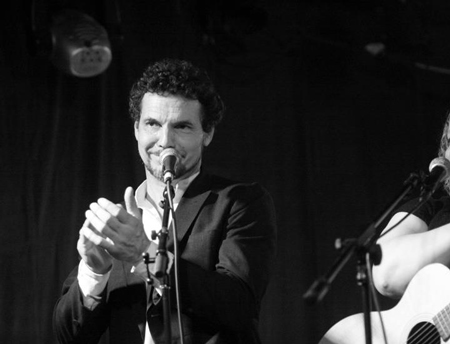 (ASBURY PARK, NJ) -- Every year I'm simply amazed at the amount of talented musicians in the Asbury Park area. Events like Cook Smith's Annual Winter Solstice Show help bring otherwise overlooked artists to the forefront. On Wednesday, December 19, the annual event returned with over 30 different artists performing holiday tunes in a rapidly moving show at the Saint in Asbury Park. While some of the artists were well known veterans of the local scene, many were artists just starting out or open mic regulars getting the rare opportunity for a true stage performance.

The Annual Solstice Show always features a great blend mix of traditional chestnuts, Christmas rarities, and the occasional original. It's one of those wonderful holiday traditions that could only happen in a music scene as special as Asbury Park. And, of course, in the spirit of the season all proceeds went to benefit the Atonement Lutheran Church Food Bank. Great music for a great cause; it doesn't get any better than that.

"Is there a drink discount, I'm playing tonight," was overheard by a musician at the bar. "Everyone here is playing tonight," was the reply. At one point Cook could be heard saying from the stage, "we've got like 37 guitars up here... It's like the 38 Special Christmas Special."

The Annual Winter Solstice show is kind of like a smaller version of the Asbury Music Awards in the way that wherever you turn you bump into a musician. More than a hundred people attended the show, which featured a house band consisting of Matt Wade on Keys, Danny Coleman on drums, Fred Doward on bass, and Jim Sickles on Percussion. Classic Christmas videos like A Charlie Brown Christmas and Rudolf the Red-Nosed Reindeer played behind the stage as artist after artist came on to perform their favorite holiday tune. While Cook was running around all night, keeping the performances moving as close to schedule as possible, Brenda Wirth and Diana Kloza were busy ensuring that there was enough food for everyone. As is usually the case, Brenda spent several hours cooking for the show and put in enough overtime to deserve her own Asbury Music Award.

Performers included names like Michael Brett, The Wag, Matt Kay, Sibling Rivalry, Moon Motel, C.M. Smith, Jenny Woods, Peter Prasa, Laura Crisci, and Bobby Strange.

Highlights of the night for me included the incredibly talented and beautiful trio of Jerzy Jung, Cat London, and Deirdre Forrest on "Winter Song". Having all three share vocals for one number is simply amazing. Lo Kloza's powerful pipes alongside Matt Wade's almost Schroeder-like keyboard made "O Holy Night" something special as well. Mitch Stevens and Sondra Huth did a great version of "Baby, It's Cold Outside" and Don Lee absolutely killed with his solo take on "You're A Mean One Mister Grinch". Chuck Lambert brought out sharp guitar and sax solos for "Merry Christmas Baby", while Cook took lead vocals for the modern classic, "Fairytale of NYC". But, for me, nothing can top those first few moments when I realize I'm hearing the opening chords to John Lennon's "(Happy Xmas) War Is Over". That's my all-time favorite Christmas tune and always puts me into the right frame of mind for the season. No matter what your favorite holiday tunes are, you're bound to hear a few of them each year during this show.

If you're looking for a great way to pass the time just before the holidays, this is the place to be. Thanks again goes out to Scott Stamper and the Saint for allowing shows like this to exist in town.
---

Photo of Cook Smith, courtesy of Bob Yellen.