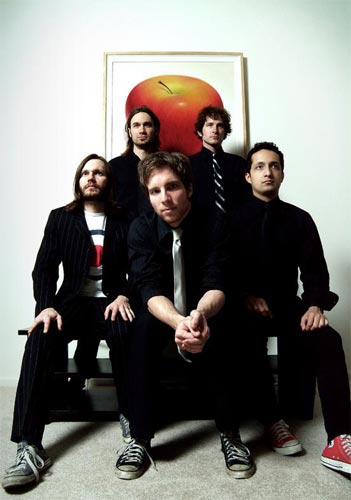 Readymade Breakup has been part of the New Jersey music scene for several years, but finally released their debut record, "isn't that what it's for". It's a brilliant disc that shows just how far the band has come from their early days when they were just a bit too eager to show how much they were fans of Ben Folds Five and were trying to create songs that they thought the record labels wanted to hear. Basically the band had to break up and take some time off before realizing what was needed to become something truly special. These days their live show is as good as its ever been, the songwriting is incredible, and their focus is exactly where it should be. We caught up with Paul Rosevear and Gay Elvis from the band to talk about the group's evolution.
I imagine you've answered this question a million times, but tell me about how the band got its name. Was it because you thought since every band breaks up, why not be prepared?
Paul: Pretty much. It's like we're just going to go into this real optimistic. We were kicking around a bunch of Readymade this and Readymade that and the name kept evolving and someone said Readymade Breakup. It's not meant to be that deep, but it had a nice ring to it and it also resonated a bit. It's like when this one goes down... at least we can tell you we told you so!
I remember seeing you guys in
Harry's Roadhouse in Asbury Park in the early days of the band...
Paul: Yeah, that was the very beginning of the band. We were a three piece. Back then it was just me, GE (Gay Elvis) and Spicy. We were doing a much more stripped down power trio thing. Now it's the exact opposite, we're trying to play a record that's very big and orchestral and are a five-piece now. We've gone through a bunch of different incarnations. It's been evolving over the past couple of years.
The band took some time off for a while. I read an interview with you where you said the band was trying a bit too hard to be what everyone else wanted you to be. What led to the break? Were you thinking the idea of the band simply wasn't working or did you just need some time off to regroup?
Paul: I think it was a lot of factors and all of those things. It was kind of not having the right goals and motivation; not having the right players involved as far as people we were trying to work with; and, ultimately, just not making the music that was resonating with us and inspiring us and playing stuff we were having fun with. So, you just lose speed pretty quickly when all those things are wrong.
GE, you left and came back.
Gay Elvis: I never left. The band just kind of fell apart. As Paul was putting it back together he was going out and doing these solo shows. And then we started doing some duo stuff. He had to sort of hook me back into it. At one point, his solo shows started doing pretty well and I'm sitting there going, "I can't have this guy grabbing all of the attention, people are forgetting about me! I want in!"
Paul: You know what was great about the duo thing? I'm thinking back to it and the duo thing was a great way to undo all of the stiffness and lack of fun that had come to characterize what the band was. The solo shows were very haphazard. I'd have Elvis come up and we'd bicker on stage, we'd just fight and hang out and being that we've been playing together for 5-6 years at this point, it was just a good way to get back to just having fun.
Was that part of the problem? It just wasn't fun anymore?
GE - That was certainly at the heart of the matter.
Was it becoming a job faster than you wanted?
GE - Exactly. The funny thing about it is that you start playing music when you're however old like in your teens and you're happy just to be in your basement playing whatever - cover songs or your first original songs that blow. And then when you find yourself at a point where you go "Oh God, I have to go to practice? I don't want any part of this." Then why even bother? It's when you're trying to support a project that your hearts not in and that's where we got. The songwriting lost an organic feel. It became very formulaic. We tried writing a certain song in a certain way to appeal to a certain market.
Paul: Yeah, we were working on demos that we were hoping would get us a deal. That was the goal. It wasn't let's just do whatever we want.
Is that why you guys never release a CD before?
Paul: Pretty much. We just made demos and demos. We have so many unreleased demos and unrecorded songs that got scrapped.
Are you guys comfortable now with just letting it happen on its own rather than try to force it like before?
Paul: Well, nothing happens on its own.
GE: That much we've learned.
Paul: We're growing up and evolving. I think we're getting better at having all of our influences and blending them together while putting our own kind of spin on them. I think at this point we're the strongest live band we've ever been. No questions asked.
I think that was always a source of anxiety. There was never the consistency that there is right now. I think there's a lot going on with the album, but I think we're doing all of it justice live and, at the same time, it hits harder live. There's such an energy there. I have never been so proud and so confident in where we've gotten and where we'll continue to go with our live show.
I'm still amazed at the impact you can have even when you play for just a handful of people in a club somewhere new. You don't need to play to a sold out crowd.
Ok, I've gotta ask... what's the deal with the Gay Elvis name?
GE: I was a camp counselor with this kid who looked like a mix of Gary Coleman and Muhammed Ali and I told him that. He had that 12-year-old mentality. He sees a guy with long hair and he goes "shut up Gay Elvis!" I told the guys in the band I was in at the time (Kid With Man Head) about it. I'm like you've got to hear this. Some kid called me Gay Elvis today and they were like you are Gay Elvis. It's not like I embraced it at first, but try running away from a nickname like that. You can't.
So were you Gay Elvis of the 50s or 60s?
GE: Oddly enough, over time, I've gone through both. I was quite chubby at the time and had to lose some weight. So, yeah, I've been the fat Elvis. I've worn both masks.
Remember when they put those Elvis stamps out several years ago? I saw the disgusting fat Elvis stamp and I didn't want to be that. I wanted to be the handsome, svelte Elvis.
So, it was the stamp that inspired you?
GE: It was. Stamps inspire me in many ways.
Here's where you can see Readymade Breakup live this summer:
June 7 @ Maxwell's, Hoboken, NJ
June 14 @ Rocks, Richmond, VA
June 29 @ World Cafe Live, Philly, PA
July 6 @ Hi-Fi Concert Club, Lakewood, OH
July 12 @ Central PA Festival of the Arts,
State College, PA
For more info visit readymadebreakup.com
or myspace.com/readymadebreakup