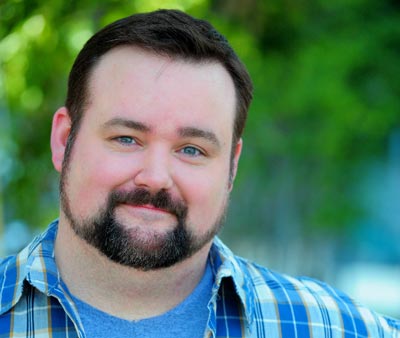 American Theater Group, New Jersey's newest professional theater company, opens their 2014-2015 season with the East Coast premiere of Raymond McAnally's one-man show, SIZE MATTERS. The production runs November 12 through November 23 at the Hamilton Stage at Union County Performing Arts Center (360 Hamilton Street) in Rahway, NJ.
In this play, heavy-set everyman, Raymond McAnally, weaves a comedic tale of his current life as a plus-sized actor, new husband, and uncle to an admiring overweight ten year old nephew, Morgan. Seeing a chance to save Morgan, as well as himself, Raymond searches his life for just how much, or how little size matters. Size Matters is a heartfelt and eye-opening comedy that will resonate for anyone - male or female - who's every wrestled with body issues.
"Size Matters is not a dieting play, a self help play, a do it yourself play, or any work that guides you on your way to slimness," says Ed Stern, who directed the world premiere at Ensemble Theatre Cincinnati . "It is filled with humanity and humor. And, fortunately, for all of us every moment is filled with the uniqueness and wonderfulness that is Raymond McAnally."
McAnally, from Franklin, Tennessee, is the son of the late Raymond Houston McAnally, an international cattle broker, and Patricia E. McAnally, retired attorney and former Miss Tennessee. He earned a B.A. in Philosophy from Sewanee: The University of the South and holds a Masters of Fine Arts in Acting from Mason Gross School of the Arts, Rutgers University. He acts, writes, and has done stand-up comedy.
New Jersey Stage spoke with McAnally about the play.
Tell me about Size Matters. Is it based on your own life or a purely fictious story?
SIZE MATTERS is autobiographical and 95% of it is 100% true (can you tell I barely passed Statistics in college?). The story takes place during the year I got married and the central relationship is between myself and my nephew, who was ten years old at the time and my body type. So, in the show I play myself, my nephew, my Dad, my wife, and then eleven fictional characters who might or might not be based on real people (no lawsuits, please).
It seems like dealing with body issues is really a rather universal problem. When you first performed this play, did you discover that to be true?
Absolutely, the universal nature of the central theme is why I was encouraged to finish the show by friends and mentors like Judy Gold, to whom I am eternally grateful. In fact, Ensemble Theatre Cincinnati wanted to produce SIZE MATTERS with only half of it written, because it was obvious that the theme would resonate with audiences. Every night after the show, people would be waiting in the lobby to share their stories and how the show related to them. They left talking about it and would write me emails. It's a rewarding feeling to be starting dialogue like that. I can't wait to do it again.
Ed Stern who directed the original production of SIZE MATTERS described it a "relationship play" much more than a play about weight loss. He mentioned the relationship between husband and wife and uncle to nephew. Is that how you view the play too?
Yes. It's important to me that they play does not seem like a self help book. I don't have some definitive answer or agenda. I have a story, a very personal one, and that's what the show is about.
What do you hope people leave the theatre with after seeing Size Matters?
I hope audience members leave with a stronger sense of empathy for people they know and meet who struggle with confidence and body issues. No one is alone in their struggles with self judgement, so I hope through the comedy and personal nature of my show, that can become more clear. Empathy is an amazingly advanced human ability. We could use more of it in our daily interactions.
Do you think performing stand-up comedy helps prepare you for doing solo performances like this? Do you think stand-up is something every actor should try?
Standup is its own beast, mainly because of the liberty the audience feels they have with the performer. Nothing but wild cards every night. It teaches you a lot and can certainly be beneficial. It was actually a one man show experience that gave me the confidence to try standup, so for me the two are very intertwined.
Finally, regarding your personal career, how did a boy from Tennessee wind up at Mason Gross? What was your experience with Rutgers like? Was their a little culture shock at going from the South to the East Coast?
I came from a very academically rigorous undergraduate, Sewanee, so I had done my research on graduate programs. Rutgers was my top choice and I'm so glad I ended up there. Of course it was a culture shock from Tennessee. I didn't fit in a lot of places. Literally, most apartments were too small for me to turn around in. So, I started doing yoga and things got better.

For more information on the playwright, visit http://www.raymondmcanally.com