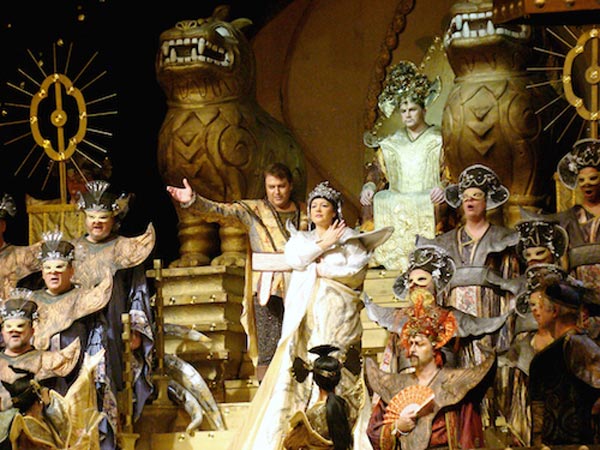 My boss, the CEO of OPERA America, has a favorite "first question." Every time he interviews an opera creator, artist, board member or business partner, he asks them, "What is the first opera you saw? Who took you?"
For nearly 10 years, I've lived in dread that he'd ask me that question in public – because I just don't remember. I mean, I know I went to some in school (pre-high school), but I just can't seem to remember when I first went, and which opera that was.
But I always figured that when he DID ask me that question, I'd flip it so that I could talk about the one opera that has made three significant appearances in my early life: Puccini's "Turandot:"
When I was in high school in northern New Jersey, our school would get free dress rehearsal tickets to The Metropolitan Opera. So about twice per year, the music teacher would trek a small group of his music students to Lincoln Center to see an opera. And while I saw a bunch during my years there, one of the ones that made the biggest impression on me was "Turandot." Partially because I was taking a music history class at the time, so we studied it A LOT, but also because this was the famous Franco Zeffirelli production, which was crazy opulent. And I remember that, even though this was before Met Titles (where you get an English translation of the Italian text on the seat in front of you), that I understood every moment of the opera because it just resonated with me.

In college, I studied abroad in Rome. My best friend and I decided to buy tickets to an opera that was being performed in the old Olympic Stadium, which turned out to be "Turandot." While that night was memorable for so many reasons, one of the things that made a big impression was how connected the whole audience was to the performance. I mean, it was a given that the native Romans in the crowd knew every note of the score (Puccini comes in only slightly second to Verdi in the nation), so not only did they hang on every note, many of them actually sang along. I was also fascinated to see how well they seemed to embrace the woman singing the role of Turandot – Sharon Sweet, who was American (OK, maybe not as well-embraced as the Italians who sang Calaf and Liù, but still).

Almost 10 years later, my first job in opera was for the now-defunct Opera New Jersey. And one of the productions we mounted was "Turandot." With Sharon Sweet.
Hopefully those stories will get me off the hook with the boss when that time comes. But in the interim, I get to share my love of this work with you!
And, luckily for you, the New Jersey Association of Verismo Opera is performing this beloved work on Sunday, April 22 at 3:00 p.m. at Bergen Performing Arts Center in Englewood. This is the first time in the company's 29-year history that Verismo Opera is presenting this particular opera.
One thing to keep in mind with this "Turandot," though, is that it was composed by an Italian in the early 20th century, yet focuses on a story in ancient China (the libretto actually says "legendary times," I believe). So not only are there plot contrivances that make you sigh, there is a strong thread of exoticism throughout the work. But I honestly believe that Puccini was coming at this work from a place of love, not mockery. And there are sections and characters like Ping, Pang and Pong (especially at the beginning of Act II) that might set off your alarm bells, it's important to remember that Puccini was operating through another mindset: Italian theatre. For example, Ping, Pang and Pong are actually meant to be reminiscent of the commedia dell'arte tradition, which is an important aspect of Italian theatre tradition.
And of course, not to bury the lead or anything, but "Turandot" contains probably the most famous opera aria of all time: "Nessun Dorma." You'll hear that come up at the beginning of Act III.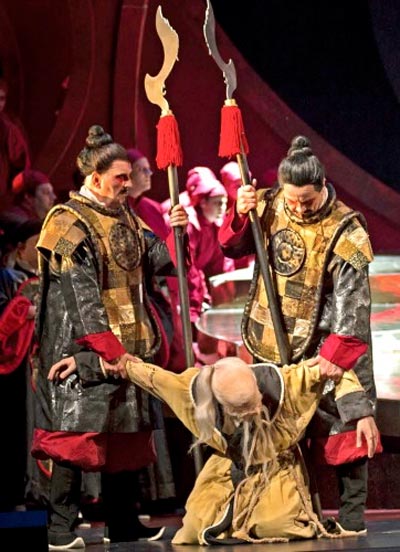 The Plot
OK, so in Beijing, China, there's this beautiful princess, Turandot. If any man wants to marry her, he has to correctly answer her three riddles. If he fails, then he loses his head. Literally. (Yeah, I've never understood why guys just didn't give that whole area a wide berth, but whatever.)
ACT I– As the opera opens, the Prince of Persia has just failed the riddle test and is going to be beheaded. In the chaos at the palace gates, a blind old man is knocked to the ground and his slave girl (sigh), Liù, cries out for help. A young man, Calaf, hears her cry and helps, suddenly recognizing the old man as his long-lost father, Timur, the deposed king of Tartary. Timur tells Calaf that only Liù has remained faithful to him. Liù says that it's because once, long ago, Calaf once smiled at her.
In the morning, when the Prince of Persia is about to die, the crowd implores Turandot to have mercy on him. She doesn't. And of course, Calaf catches a glimpse of her and falls in insta-love.
Calaf is about to ring the gong three times, declaring that he wants to try his hand at the riddle, when the king's ministers Ping, Pang and Pong appear and try to change his mind. Timur and Liù (who, unsurprisingly, secretly loves Calaf) also beg him to change his mind. He doesn't.
---
ACT II– Ping, Pang and Pong start off the act preparing for the either a wedding or a funeral for Calaf. They yearn for their lives outside the palace and lament having to accompany so many princes to their deaths.
In the next scene, Turandot's father, the Emperor Altoum, tries to get Calaf to withdraw his challenge, but he refuses. Turandot appears and explains her reasons for the brutal challenges: an ancestor of hers, a thousand years ago, reigned over the kingdom and didn't wish to wed. However, a foreign prince invaded her lands, ravished and murdered her. In revenge, Turandot has sworn never to wed. (That part I can understand. But it's beyond me why she takes it a step further and beheads all who fail the riddles.)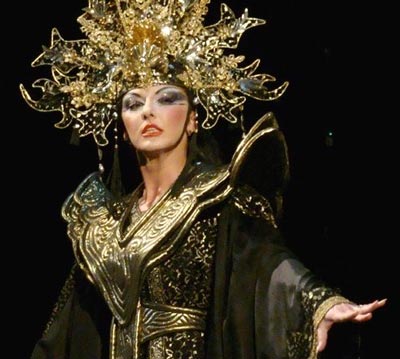 So, here comes the riddle part. Question one: "What is born each night and dies each dawn?" Calaf correctly answers "Hope." Unnerved, Turandot goes to question two: "What flickers red and warm like a flame, but is not fire?" Calaf again correctly: "Blood." Really nervous now, Turandot asks the third question, "What is ice which gives you fire and which your fire freezes still more?" After a moment, Calaf proclaims "It is Turandot! Turandot!" (To which I've always thought, "Duh. Sounds like she really WANTED someone to solve the riddle. Or maybe that's just because I read too many romance novels.)
Turandot begs her father not to make her marry Calaf. The Emperor says (essentially): "No welching – you're stuck." So Turandot turns to Calaf and asks if he'll take her by force. Calaf turns the tables and says that he has a riddle for her. Since she doesn't know his name, if she can figure it out by dawn, he will die instead of marrying her. (To which I always thought, "Well this guy has a death wish…")
---
ACT III– As the kingdom is ordered to seek out Calaf's name (with punishment for all being death), Calaf sings that most famous aria "Nessun dorma" (Nobody shall sleep!).
Ping, Pang and Pong appear and offer Calaf riches if only he'll give up Turandot, but of course he refuses. Then soldiers appear, bringing in Timur and Liù. People have seen them talking to Calaf, so they figure that they have to know his name. To keep Timur from being hurt, Liù says that only she knows his name. So of course, Turandot has her tortured. Liù says the prince's true name is "Love" and gets tortured more. Eventually, Liù seizes a dagger from a soldier (great security there) and stabs herself. Everybody is really upset and everyone but Calaf and Turandot leave. Calaf tells Turandot that she is very cruel, then kisses her.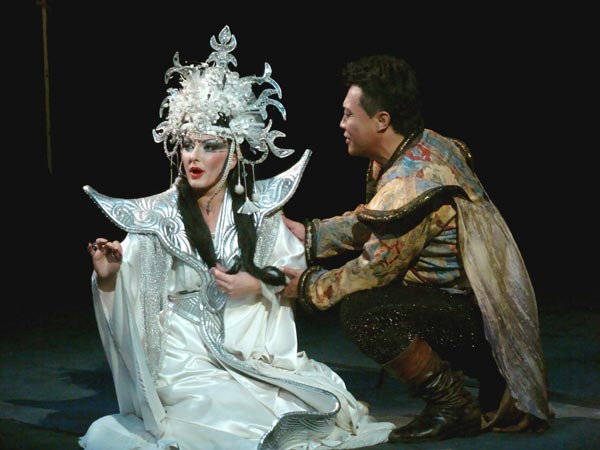 Calaf tries to convince Turandot to love him (because yeah, that always works). At first, she's disgusted, but then she reconsiders and says she both loves and hates him. So, she tells him to leave, and she won't try to discover his name anymore. At this point Calaf tells her his name (sigh) and leaves his life in her hands, since it's not yet dawn.
In the final scene, Turandot and Calaf approach the emperor's throne. She declares that she knows the prince's name and it is… (wait for it) LOVE! (Hey, she stole Liù's line!) And yeah, the two are cheered by the crowd. –So, happily ever after, I guess?
---
Another really interesting thing about this opera is that it was Puccini's last. In fact, he died before completing it. He had fully finished through Liù's death, with sketches for the final sections. (Don't worry, "Nessun dorma" was written by Puccini himself.) Puccini left instructions for Riccardo Zandonai to complete the opera for him, but Puccini's son objected, and so Franco Alfani was eventually chosen to finish it.
The first performance of the opera was conducted in Milan by Arturo Toscanini. Famously, he put down his baton after Liù's death and said, "Here the opera ends, because here the Maestro laid down his pen." Of course, in all subsequent performances of the opera, the final scenes by Alfano are added to complete the work.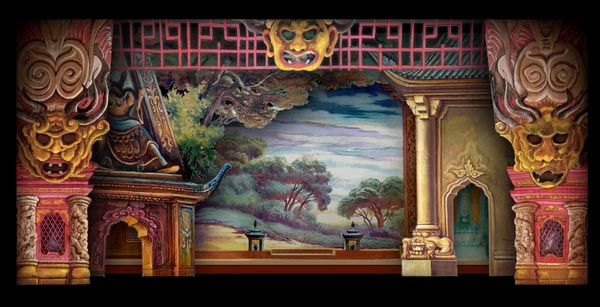 The New Jersey Association of Verismo Opera has been part of the state's music scene since 1989, when it began with a vocal competition and opera workshop. It has been under the artistic direction of Lucine Amara, Metropolitan Opera star, since 1993. Not only does Verismo Opera perform repertoire standards like "Turandot," but it also presents rarely-heard works – I'd list them, but really, I promise you've never heard of them.
Turandot will be conducted by Lucy Arner, music director and principal conductor. She is the company's first female to hold these positions. (Of course, as soon as I heard that, my ears perked up.) There's a big movement (ahem) in the field to further the work of female composers, conductors and administrators these days, led in part by OPERA America, but also with programs like The Dallas Opera's Hartt Institute for Female Conductors. (And of course, female conductors and composers are also a major plot line in the current season of "Mozart in the Jungle.)"
I asked Maestra Aner about how she got into conducting. She said that she was always interested in it, "but found that women were not encouraged to consider orchestral conducting — they were subtly but definitely discouraged. Opera seemed to be more of an option." Maestra Arner further explained that opera singing has always been an interest of hers because great singing gives her the same kind of rush that a full orchestra does, and also includes elements of poetry and history.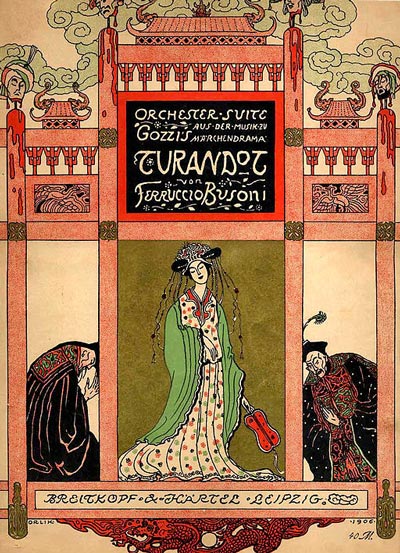 I'm fascinated about seeing a female conductor work on a piece like "Turandot" that I see as having female characters that are strong and powerful, yet weak and stereotypical. So, of course, I asked her about this. Maestra Arner sees that both Turandot and Liù are strong female characters: "Turandot is afraid to love and is afraid of being perceived as weak and vulnerable. Liù is the slave girl who acts nobly out of love for Calaf, and demonstrates a quiet strength and bravery that is incredibly touching. … These contrasting characters, and the contrasting nature of the music that Puccini has written for each of them, is one of the things that I find most compelling about the opera, in addition to the orchestration and the many colors that Puccini creates."
When I asked Maestra Aner about "Turandot"'s relevancy in our current era, she said, "I think great opera is always relevant, because the emotions expressed through the music are universal. And the human voice is the most expressive instrument there is, the one that we all have in common. 'Turandot' is a fairy tale that takes place in a very different world from today's #MeToo awareness, but it has important things to say about things that are always relevant, such as the importance of loyalty, fidelity, the power of love and the realization that we are all diminished by when we stand by and see others treated with cruelty and a lack of humanity."
And on that note, I too, lay down my pen.
---
The Details
The New Jersey Association of Versimo Opera performs Puccini's "Turandot" on Sunday, April 22 at 3:00 p.m. at the Bergen Performing Arts Center, located at 30 North Van Brunt Street in Englewood, NJ. Tickets ($25, $35, $45 and $55) are available at bergenpac.org. For more information about Verismo Opera, visit verismopera.org.